Boris Johnson 'Cost Lives' With COVID Handling, Opposition Leader Says
British Prime Minister Boris Johnson has been accused of "serial incompetence" over his handling of the COVID-19 crisis after his chief medical officer warned U.K. hospitals are facing the worst weeks of the pandemic.
Opposition Labour leader Sir Keir Starmer said Johnson's "indecision and delays" in response to rising COVID cases has "cost lives and cost people's jobs" that could have been saved. "Every time there's a big decision to make, Boris Johnson gets there too late," Starmer said.
He attacked the PM for being "too slow" to act early on in the pandemic and accused him of ignoring "warnings to prepare for a second wave" during the Summer months when case numbers from the first wave fell. "In September he ignored the science and delayed a 'circuit-break' only to introduce a longer lockdown a month later," Starmer said. The Labour leader had called on the PM to introduce the temporary two-week "circuit-break" shut down at the time, as cases began creeping up.
Starmer said: "In December, there was the debacle around household mixing over Christmas and then when he was told by scientists on December 22 that a national lockdown was needed, he delayed again for nearly two weeks."
Johnson plunged England into its third national lockdown on January 4 as the new, more easily transmissible variant of the COVID virus saw cases surge and hospital admissions threaten to overwhelm the National Health Service. Some hospital trusts have already warned they will run out of beds before the end of the month, while in London, where as many as one in 20 people are thought to have COVID, Mayor Sadiq Khan has declared a "major incident".
England's Chief Medical Officer Professor Chris Whitty has warned that Britain is now entering the "most dangerous time" of the pandemic with over 30,000 people and rising being treated in hospital for COVID. It comes as the U.K. opens seven mass COVID-19 vaccination centers across England in Bristol, Surrey, London, Newcastle, Manchester, Stevenage and Birmingham, as the government aims to vaccinate up to 15 million of Britain's most vulnerable people as well as healthcare workers by mid-February.
Health Secretary Matt Hancock has said a vaccine is a route out of the pandemic but comes after the number of COVID-19 deaths in the country surpassed 80,000, with only the U.S., Brazil, India and Mexico recording more deaths, according to data from John Hopkins University. Johnson faces growing pressure to toughen the current lockdown rules, as scientists and MPs warn the current regime may not succeed in reducing case rates fast enough.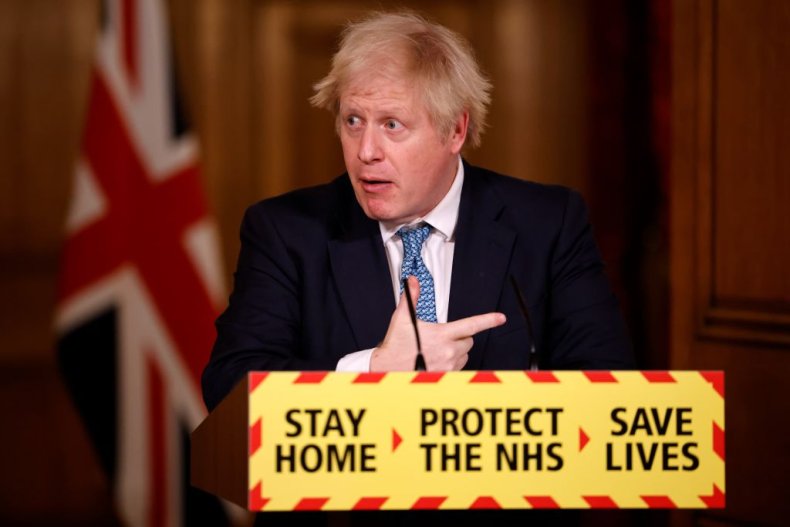 Under the current rules, schools are closed for all but the most vulnerable and children of key workers. Summer exams have been canceled for older pupils, while the reopening of university campuses has been delayed until at least mid-February. People must work from home unless it is impossible to do so, one of only five legally permitted reasons for people to leave the house. The others are shopping for essentials, exercising once a day, providing care, or attending a medical appointment.
Those at risk of domestic violence or abuse are also exempt from the stay at home rules. Household mixing is banned unless you are part of a childcare or support bubble. Childcare bubbles allow someone to provide or receive childcare from one other household if the child is under 14, while support bubbles allow a single person to mix with one other household.
Restaurants, cafes, bars and pubs are closed as are hotels, hairdressers and non-essential shops. International travel is banned unless for essential journeys, such as for work.
Just six people are allowed to attend weddings and civil ceremonies, while 30 people are allowed to attend a funeral, with strict social distancing in place. Police officers have been granted powers to fine people in breach of the rules. In his address to the nation announcing lockdown, Johnson said: "It's clear that we need to do more together to bring this new variant under control while our vaccines are rolled out."
Last week the chief medical officers for England, Wales, Scotland and Northern Ireland said in a joint statement: "We are not confident that the NHS can handle a further sustained rise in cases and without further action there is a material risk of the NHS in several areas being overwhelmed over the next 21 days."