Prince William Accused of Muzzling Diana by Biographer Who Told Her Story
Prince William "led the calls to posthumously muzzle Diana" when he denounced a bombshell 1995 interview she gave to the BBC, said biographer Andrew Morton, whose 1992 book Diana: Her True Story exposed Prince Charles' affair with Camilla, the Duchess of Cornwall, for the first time.
Princess Diana famously said on BBC's Panorama, "there were three of us in this marriage, so it was a bit crowded" during her most famous tell-all media appearance at the height of the disintegration of her relationship with Charles.
However, Prince William has since called for the program never to be aired again after controversy surrounding how journalist Martin Bashir secured the scoop. And it appears he may get his wish, at least in part, after the BBC committed not to show it in full or license it to other broadcasters.
However, Morton recently told The Daily Beast the 1995 interview was a historical artifact and it should be part of the public record.
"It is a supreme irony that it is her son who has led the calls to posthumously muzzle Diana, to silence her, to prevent her from being heard, from saying what she spent her life trying to articulate," Morton said.
William Says Diana's Interview 'Holds no Legitimacy'
Diana's 1995 Panorama interview has been mired in controversy after it emerged that Bashir used forged financial records as part of a campaign to secure the scoop of the decade.
The star interviewer—who also famously made a documentary about Michael Jackson—supplied faked documents that appeared to suggest staff working for both the princess and her brother Charles Spencer had been taking bribes, according to an internal investigation conducted on behalf of the BBC by Lord John Dyson.
The Duke of Cambridge responded to the report's publication in 2021 by calling Diana's interview a "false narrative" that should never be broadcast again.
In a rare, emotional statement, he said: "It is my view that the deceitful way the interview was obtained substantially influenced what my mother said. The interview was a major contribution to making my parents' relationship worse and has since hurt countless others.
"It brings indescribable sadness to know that the BBC's failures contributed significantly to her fear, paranoia and isolation that I remember from those final years with her."
"It is my firm view that this Panorama program holds no legitimacy and should never be aired again," William added. "It effectively established a false narrative which, for over a quarter of a century, has been commercialized by the BBC and others. This settled narrative now needs to be addressed by the BBC and anyone else who has written or intends to write about these events."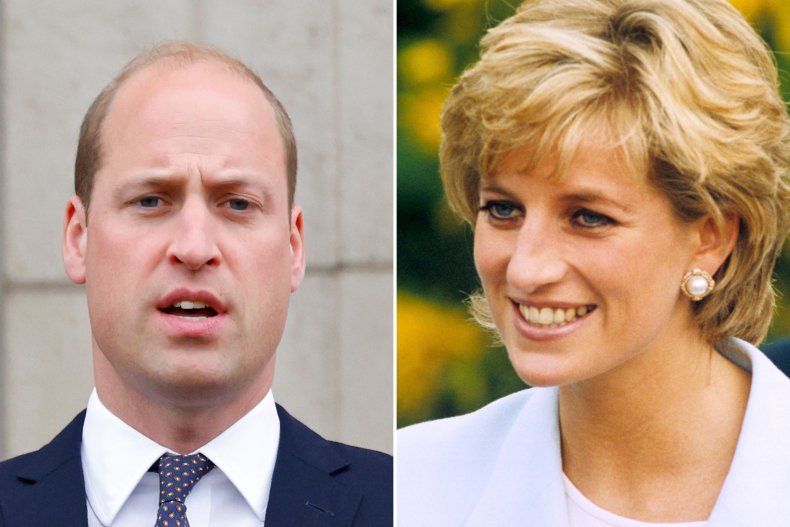 BBC Director General Tim Davie appeared to largely comply with William's request when he confirmed in July 2022 that the BBC would no longer license the footage to other broadcasters and would only show clips in limited circumstances.
"Now we know about the shocking way that the interview was obtained, I have decided that the BBC will never show the program again; nor will we license it in whole or part to other broadcasters," Davie said in a statement. "It does of course remain part of the historical record and there may be occasions in the future when it will be justified for the BBC to use short extracts for journalistic purposes.
"But these will be few and far between and will need to be agreed at executive committee level and set in the full context of what we now know about the way the interview was obtained."
What Diana Said Was 'Not an Aberration'
However, Morton pointed to the fact at least some of what Diana outlined to Bashir had already been included in the secret tapes she made for him for his 1992 book.
The princess smuggled recorded confessions to the author through an intermediary containing a devastating account of Charles' affair, her experiences with bulimia and several suicide attempts during her time in the royal family.
That testimony came three years before the Bashir interview, and a transcript of those tapes was published in later editions of Morton's book released after Diana's death.
Prince William has never said which aspects of Diana's interview he believes represent a "false narrative," making it difficult to determine to what extent Morton's tapes challenge his view.
Morton told The Daily Beast: "This [Panorama] is an important, historic interview that should be part of the public record. No accurate history or documentary of Diana can be made without referencing that interview.
"What she said was not an aberration; indeed, much of the ground it covered had been revealed in my book, Diana, Her True Story. For the BBC to lock it away in a vault is wrong."
"The methods Martin Bashir used to get Diana to sit down and talk to him were underhand and deceptive," Morton continued, "but the truth is that once the cameras were rolling, he didn't twist her arm to say anything, and many of the things she said, such as discussing her bulimia, her suicide attempts, her husband's relationship with Camilla Parker Bowles and the fact that she didn't consider him fit to be king, were not aberrations.
"She was well known for saying these things to those in her circle, to the extent that they had become a kind of schtick."
Princess Diana's 'Paranoia'
Prince William did not make clear what specifically he was referring to when he used the term "paranoia" but Bashir's false account wrongly suggested Charles also had an affair with his children's nanny, then known as Tiggy Legge-Bourke.
The nanny, now Tiggy Pettifer, was awarded damages from the BBC over Bashir's false account that she had an abortion after Prince Charles got her pregnant.
Lord Dyson's 2021 report read: "I am satisfied that, by the time of the meeting [with Bashir], Princess Diana had paranoid fears about various things, including that she was being spied on and in danger of her life.
"Mr. Bashir was aware of some of these fears but the princess had expressed a number of fears for her physical safety before her death, the report added. "Mr. Bashir would have little difficulty in playing on her fears and paranoia."
For more royal news and commentary check out Newsweek's The Royal Report podcast: