Prince William was "appalled" when Queen Elizabeth II recorded a Christmas message without a picture of Prince Harry and Meghan Markle on her desk, according to a new biography by Tina Brown.
The Duke and Duchess of Sussex were in Canada for Christmas 2019 just before they quit royal duties the following month.
And the monarch's annual broadcast that year had a notable absence—a picture of the couple which had been present the year before. Former magazine editor Tina Brown describes in her new biography, The Palace Papers, how Prince William feared the move would trigger a tantrum from his brother.
In the book, published on April 26, she wrote: "William was said to have been appalled when he saw the Sussexes had been edited out. He knew his brother well enough to predict a Category 5 tantrum brewing."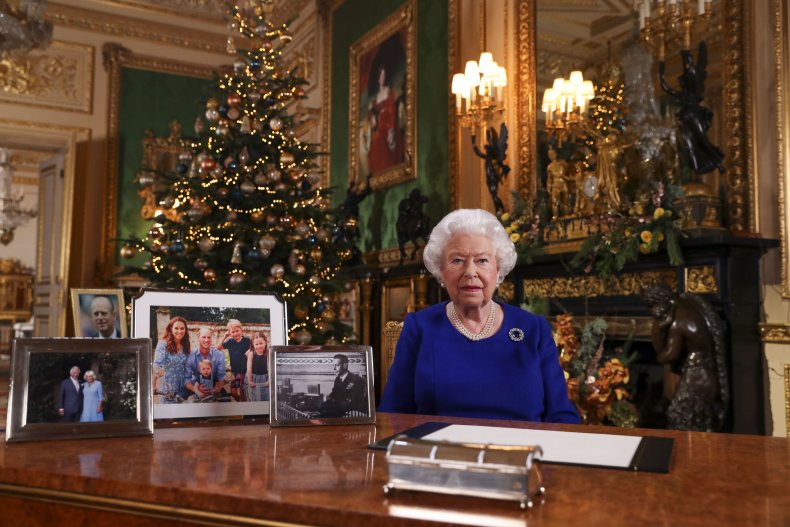 There were already signs Harry and Meghan wanted out from royal life before the queen's pre-recorded address but was the moment it became time to "pull the trigger," according to the book.
Brown wrote: "The previous Christmas, a family portrait of Charles, Camilla, the five Cambridges and Harry and Meghan was exhibited at Her Majesty's elbow. But in December 2019, the Sussexes had evaporated, their image excised as skilfully as Stalin would have done to an apparatchik out of favour."
She added: "Her Majesty pointed at a winsome portrait of Harry, Meghan and baby Archie. 'That one,' said the Queen. 'I suppose we don't need that one.'"
The book points out the photo selection was allegedly no accident and has been "artfully changed" every year since Elizabeth first began issuing a televised annual Christmas broadcast in 1957.
Brown wrote: "If the Sussexes had any residual misgivings about whether they wanted out, those doubts vanished when they viewed the queen's 2019 televised Christmas message. With their own eyes, they saw that they had been kicked to the margins of the Monarchy. Her Majesty eloquently made the point in her speech by saying nothing. The subtext was all in the flotilla of carefully arranged family photographs positioned on her writing desk."
Just weeks later, news broke on the front page of U.K. tabloid The Sun that Harry and Meghan were planning to spend more time in North America. On the back of that disclosure, the Sussexes published their own detailed road map for a new post-royal life in which they would continue to serve the queen but also have more independence.
The duke told Oprah Winfrey in March 2021 how he tried to arrange a meeting with the queen prior to publishing their plans on their now defunct Sussex Royal website.
For more royal news and commentary check out Newsweek's The Royal Report podcast:
He suggested, however, that royal staff blocked the meeting, leaving the queen telling him she was too busy to get together.
"That announcement that we put out on 8 January in 2020 (on stepping aside as working royals)—the contents of that were put into a letter to the institution—to my father, which was then shared at the end of December, when we were in Canada," Harry said.
"And to then get back on the 6th after my grandmother had said 'the moment you land come up to Sandringham, we'd love to have a chat, come and have tea—why don't you stay for dinner because it's going to be a long drive and you're going to be exhausted,'" he added.
"The moment we landed in the U.K. I got a message from my private secretary, Fiona at the time...cutting and pasting a message from the Queen's private secretary, basically saying 'please pass on to the Duke and Duchess of Sussex that he cannot come to Norfolk. The Queen is busy, she's busy all week...do not come up here.'"
Brown wrote that Harry and Meghan were trying to blur the line between Elizabeth's role as grandmother and as Britain's head of state by arranging an informal meeting to discuss a major issue.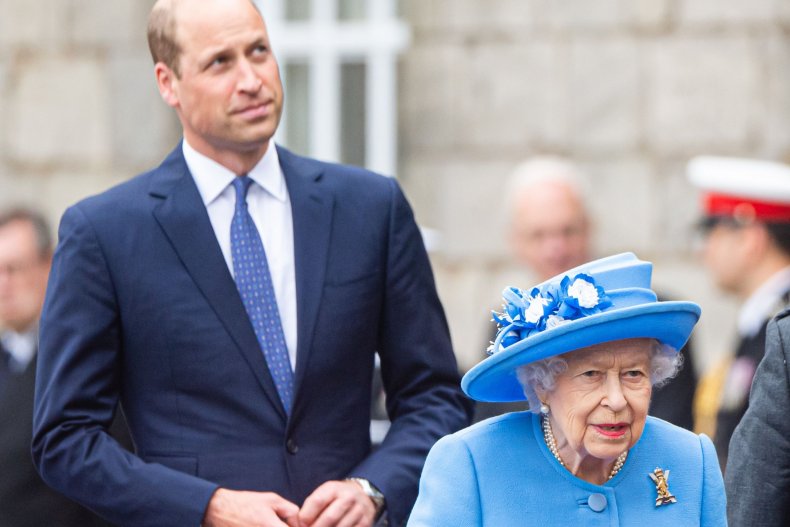 She quotes a palace source: "Such conversations would have to be done in the spirit of Elizabeth II as sovereign so there would've been agendas. Talking points would've been agreed on beforehand between private secretaries...What the Sussexes tried to do was circumnavigate that and go and see her because, on her own, she famously says yes. She caves."
Brown added: "It sometimes falls to the Queen's private secretaries to alert her to family members trying to blur the lines to secure inappropriate outcomes. In corporate terms, it's called CEO deniability. In this case, Harry's goal to make an end run past the queen's advisers was very clear."
When Harry and Meghan instead published their plans online the British media accused them of blindsiding the queen.
Harry refuted the allegations to Oprah: "No, I would never blindside my grandmother, I have too much respect for her."
Brown, however, appeared to take the media's view, writing: "Whatever the conversations Harry insists had taken place, the Sussexes fully baked proclamation of intent on their website was an insult just by its very existence.
"'It was total madness,' was the verdict of a palace source. For once, the monarch and the Prince of Wales were united in feelings of offence."
She added: "Laying out rules of the new 'working model' was a bit like making public your terms of employment as a fait accompli before any job had actually been offered.
"Hollywood public relations-speak was naively apparent in the manifesto's language. After their redefinition of their roles, it declared, the Sussexes would continue to 'collaborate' with Her Majesty the Queen, as if the monarch were the co-executive producer of a TV series. But the Queen does not collaborate. She commands—as her impetuous grandson was about to find out."
The book says Harry and Meghan were bounced into a hard exit in which the duke would ultimately have to give up his honorary military titles.
A former advisor told Brown: "Harry and Meghan were really stunned. They did not expect that to happen."