Meghan Markle Found Oprah Winfrey Interview 'Liberating,' Prince William Was Furious—Book
Meghan Markle felt "safe to finally share" bombshell allegations she had previously "been too afraid to say" during her Oprah Winfrey interview, according to a biography.
The Duchess of Sussex felt liberated by telling a global audience of millions about her experiences in the royal family, a new epilogue to book Finding Freedom states.
However, the extraordinary allegations left Prince William 'furious' that private family matters had been made public, co-authors Omid Scobie and Carolyn Durand wrote.
Meghan told Oprah she experienced suicidal thoughts amid negative publicity but the palace refused requests to go to a mental hospital because it would make the monarchy look bad.
And she accused an unnamed royal of expressing concern her unborn child's skin might be too dark, though the couple ruled out Queen Elizabeth II and Prince Philip.
Quoted in The Independent, a new epilogue to Finding Freedom reads: "All the things she had kept to herself or been too afraid to say [as a working member of the royal family] she felt safe to finally share. It was liberating."
However, the book says the interview went down less well at Kensington Palace, where Prince William "was understood to be 'furious' that private family matters were being discussed in the public domain."
The tell-all was broadcast by CBS on March 7 and days later Prince William told a journalist: "We are very much not a racist family."
However, the re-released version of Finding Freedom says the Duke of Cambridge is now not likely to discuss the issue again.
The Independent also reported Prince Harry was "saddened and disappointed by the decision" to refuse his requests to lay a Remembrance Sunday war wreath in November.
The royal family gathers at The Cenotaph in London each year for the U.K.'s equivalent of Memorial Day but the duke could not make it in person due to COVID-19.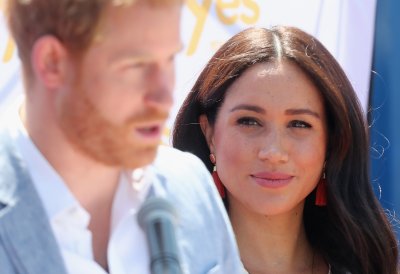 He requested permission for a wreath to be laid on his behalf and one was even made up, reading: "To all of those who have served, and are serving. Thank you."
However, it went to waste after the palace blocked the request on the basis he was no longer a working royal.
A source told the authors of Finding Freedom: "Ten years of service and a lifetime commitment to the military community and this is how it's been acknowledged by his family."
Finding Freedom triggered global headlines after it was published last summer accusing Prince William of snobbery.
It is being re-released in paperback on August 31, the anniversary of Princess Diana's death, with a new epilogue.
An earlier extract published in People read: "The Queen's 'recollections may vary' comment 'did not go unnoticed' by the couple, who a close source said were 'not surprised' that full ownership was not taken.
"A pal of Meghan's added: 'Months later and little accountability has been taken. How can you move forward without that?'"
The comments triggered a backlash in Britain where they were interpreted as a criticism of the queen.
However, Scobie told his Twitter followers that his source intended to refer to accountability for the royal institution as a whole, rather than Elizabeth.