Meghan Markle, during an interview with Oprah Winfrey on CBS Sunday night, said members of the Royal family had concerns about her unborn child having dark skin color when he was born.
Markle has a mixed-race background, and her mother is Black, with whom she has a close relationship with. Markle told Winfrey that she learned her son, Archie, would not have a prince title or the security that comes with a member of the royal family.
"All around this same time, we have in tandem the conversation of he won't be given security, he's not going to be given a title and also concerns and conversations as how dark his skin might be when he's born," Markle said.
Oprah replied with, "what?" before the program went to commercial.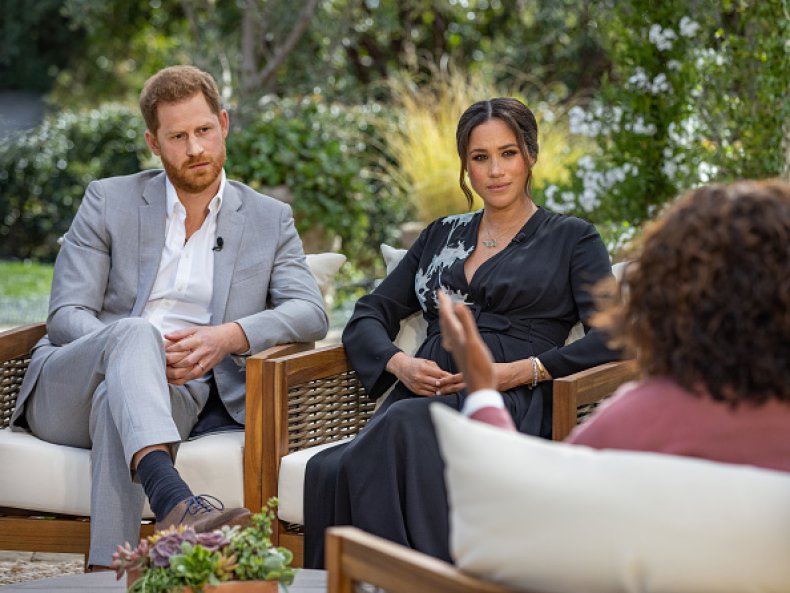 Winfrey asked Markle who was having that conversation, and she responded by saying Prince Harry relayed information to her.
"That was relayed to me from Harry from conversations that family had with him," Markle told Winfrey. Markle said the assumption of her child, Archie, being brown was going to be a problem with the family.
Markle said when she found out she was pregnant with Archie, but before they even knew the gender of the child, that she was told the child would not have a title of prince, and that he would not have security.
"How does that work," Oprah asked.
Markle said that it wasn't her and Harry who wasn't making him a prince.
"If you're saying without a title is what's going to affect their protection, we haven't created this monster machine around us in terms of click-bait and tabloid fodder," Markle said. "You've allowed that to happen, which means our son needs to be safe."
Winfrey quizzed Markle again about having the great grandson of Queen Elizabeth II, but he would not have a title nor any protection. Markle's response was simple.
"There's no explanation."
Markle said she heard these things directly from Harry, but also from other family members surrounding Buckingham Palace that they deemed these actions "appropriate," she said.
Marcelo said although she's had jobs now as a waitress, an actress a princess and a Duchess, "the most important title I'll ever have is mom, I know that."
"But the idea of our son not being safe, and also the idea of the first member of color in this family, not being titled in the same way that other grandchildren would be ... the other piece of that conversation is there is a convention. ... When you're the grandchild of the monarch, so when Harry's dad becomes king, automatically, Archie and our next baby would become prince or princess."
Markle said it's about safety and protection, and not a title.
Even though tabloids and world media said it was Harry and Meghan's choice to not let Archie have a title, Meghan said it wasn't their choice to make that.
This is a developing story.