Meghan Markle and Prince Harry's New Royal Rift Over Queen's Response to Oprah
Meghan Markle and Prince Harry believe "full ownership" was not taken by the royal family after their bombshell Oprah Winfrey interview, according to a biography.
A friend of the Duchess of Sussex told the authors of Finding Freedom that Queen Elizabeth II's post-interview assertion that "some recollections may vary" showed "little accountability" had been taken over claims made by Harry and Meghan.
The book sparked global headlines when it was first released last summer, accusing Prince William of snobbery and saying a royal referred to Meghan as "Harry's showgirl."
Now it is being re-released in paper back with a new epilogue outlining Meghan and Harry's feelings since their Oprah tell-all.
An extract published by People read: "The Queen's 'recollections may vary' comment 'did not go unnoticed' by the couple, who a close source said were 'not surprised' that full ownership was not taken.
"'Months later and little accountability has been taken', a pal of Meghan added. 'How can you move forward with that?'"
Harry met his family for the first time post-interview at Prince Philip's funeral in April, when he was seen talking to his brother Prince William outside St George's Chapel, in Windsor Castle.
According to U.K. newspaper The Daily Telegraph, author Omid Scobie wrote that the sombre occasion had "broken the ice, pushed a closed door slightly ajar."
However, Harry still believed that without "accountability" from those within the palace most moving on would be difficult.
Quoted in the newspaper, Scobie said: "I think he is quite willing to own his part in everything but I have been told that he is also waiting to see some of that from the other side. As of now, there hasn't been that."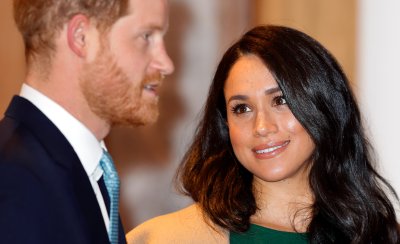 Meghan told Oprah she experienced suicidal thoughts under the pressure of negative publicity and said she was told she could not go to a mental hospital to recover because it would make the institution look bad.
The queen waited 36 hours before issuing a short statement in response to the interview which expressed sympathy, but also hinted the royals disputed some aspects of Harry and Meghan's account.
It read: "The whole family is saddened to learn the full extent of how challenging the last few years have been for Harry and Meghan.
"The issues raised, particularly that of race, are concerning. While some recollections may vary, they are taken very seriously and will be addressed by the family privately.
"Harry, Meghan and Archie will always be much loved family members."
The phrase "saddened to learn" also suggested the couple had not told the family the full details before making them public to a global audience of millions.
The new paperback edition of Finding Freedom is not the first hint that the statement was not well received by Harry and Meghan.
Actress Janina Gavankar, a friend of Meghan, went on ITV's This Morning shortly after the interview with Meghan's knowledge.
Asked about the statement, Gavankar said: "I thought I'm so thankful that they [Buckingham Palace] are finally acknowledging the experience. But on the other side I thought I know that the family and the staff were well aware of the extent of it and though their recollections may vary, ours don't because we lived through it with them. And there are many emails and texts to support that."
She added: "I don't know who knew, I know that the family and the staff knew. I think she spoke very well about how she felt."
Scobie gave an interview to People accompanying the extract from the book and said Meghan and Harry are thriving in America.
He told the magazine: "They seem to be existing in a different place, and that place is much healthier. Meghan famously spoke about that it was not enough to survive — we are now in the thrive chapter."
Lawyers for Meghan confirmed she had authorized a person to give at least some information to the book's authors, Scobie and Carolyn Durand, during a lawsuit against the Mail on Sunday.
However, they also disputed a number of the factual claims in the unauthorized biography, court filings revealed.