Prince William's Beard Goes Viral After Harry's 'Spare' Jealousy Claim
A TikTok video showing Prince William with a grown-out beard has gone viral on TikTok reaching over one million views after Prince Harry's claims that his brother demanded he shave his off before his 2018 wedding to Meghan Markle because he had been asked to do the same years earlier.
Uploaded to the social media platform by user 2000sfemme, the video shows images of William taken on Christmas Day at Queen Elizabeth II's Sandringham estate in 2008.
William had grown out the facial hair during a navy special boat service training operation with the British Royal Navy in Barbados earlier that December, though he was restricted in how long he could keep the beard owing to the British military's differing rules on appearance.
The Royal Navy allows servicemen to sport a full beard with permission from their commanding officer. Other royals who have grown out their beards while serving in the navy include William's father, King Charles III, and grandfather, Prince Philip.
In January 2009, William was due to start a training course with the Royal Air Force to become a search and rescue pilot. Unlike the Navy, the RAF does not allow its servicemen to sport facial hair so the prince shaved off his beard before reporting for duty.
A number of TikTok users have praised the prince after viewing the viral video which has received more than 147,000 likes and 1,300 comments.
"Handsome Prince," wrote one user, who added a blushing emoji, with another writing: "He's honestly still good looking - just needs to shave his head and get that beard back!"
The video's reaching viral status comes soon after the release of Prince Harry's memoir Spare, in which he recounted the process of growing out his own beard after leaving the Army and how he had to ask permission from Queen Elizabeth II to appear in uniform with the facial hair for his wedding to Meghan Markle.
"A beard was thought by some to be a clear violation of protocol and long-standing norms, especially since I was getting married in my Army uniform," he wrote. "Beards were forbidden in the British Army. But I was no longer in the Army and I desperately wanted to hang on to something that had become an effective check on my anxiety."
He continued: "I explained all this to Granny, and she said she understood. Plus, her own husband liked to rock a bit of scruff now and then. 'Yes, she said, you may keep your beard.'"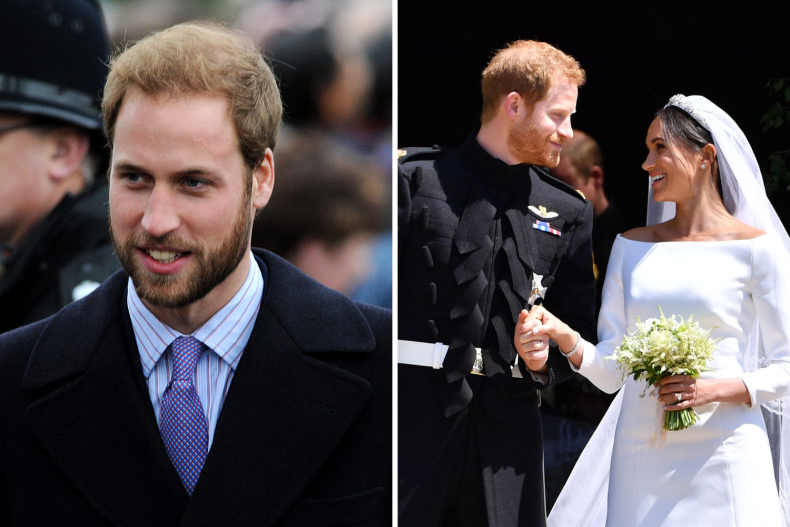 The royal then explained that though his grandmother appeared not to have a problem with the facial hair question, his brother, William, did.
"At one point he actually ordered me, as the Heir speaking to the Spare, to
shave," he wrote, asking his brother: "'Are you serious?'"
"'I'm telling you, shave it off,'" the prince claims was William's response.
"'For the love of God, Willy, why does this matter so much to you?'
"'Because I wasn't allowed to keep my beard,'" William said.
"Ah—there it was," Harry wrote. "After he'd (William) come back from an assignment with Special Forces, Willy was sporting a full beard, and someone told him to be a good boy, run along and shave it. He hated the idea of me enjoying a perk he'd been denied."
William and the wider royal family have not responded to claims made by Harry in his book or media appearances promoting it. Following its release, Spare broke records to become the fastest-selling non-fiction book of all time.
After his time spent in the RAF, William did not regrow his beard and has not appeared in public with facial hair again since the 2008 Christmas period.
James Crawford-Smith is Newsweek's royal reporter based in London. You can find him on Twitter at @jrcrawfordsmith and read his stories on Newsweek's The Royals Facebook page.
Do you have a question about King Charles III, William and Kate, Meghan and Harry, or their family that you would like our experienced royal correspondents to answer? Email royals@newsweek.com. We'd love to hear from you.