Prince William Booed in English Pub After Attending Women's Soccer Final
Video footage of Prince William being booed in an English pub as he congratulated England's victorious women's soccer team was a result of "a general anti-establishment mood" in crisis-hit Britain, a fan told Newsweek.
The Duke of Cambridge hugged players from England's "Lionesses" as they collected winners' medals following a 2-1 victory over Germany in the final of the UEFA Women's European Championship on Sunday.
However, at The Albion pub in Sheffield, his presence at the game was greeted with boos from soccer fans who had gathered to watch the final on a big screen.
Josh Davies posted footage of the moment on Twitter, where his video has been viewed more than 82,000 times.
Davies told Newsweek be believed the reaction was nothing personal against William and that other establishment figures, such as outgoing Conservative Party Prime Minister Boris Johnson or Tory leadership candidate Rishi Sunak, would have got a similar response.
He said: "My feeling was that it was was a general anti-establishment mood—people had come together to support the women's team at a time where we're all struggling with our bills and it felt like an aristocrat was coming on TV to take our moment away from us. It would have been the same if it was Boris Johnson or Rishi Sunak."
Britain is in the midst of a cost of living crisis, similar to America's, with household energy bills soaring and the Office of National Statistics reporting inflation at 9.4 percent in July, according to the BBC.
William has been booed as a symbol of the establishment before, including ahead of the prestigious FA Cup Final, at Wembley Stadium, in May.
William posted a video before Sunday's match wishing the England team good luck with daughter Princess Charlotte.
The Duke of Cambridge said: "We both want to wish the Lionesses the best of luck for tonight. You've done amazingly well in the competition and we're rooting for you all the way."
Charlotte added: "Good luck and hope you win, bye."
After England triumphed in added time, William hugged many of the players as they collected their medals.
Following the game, he posted on Twitter: "Sensational. An incredible win @lionesses and the whole nation couldn't be prouder of you all. Wonderful to see history in the making tonight at Wembley, congratulations! W."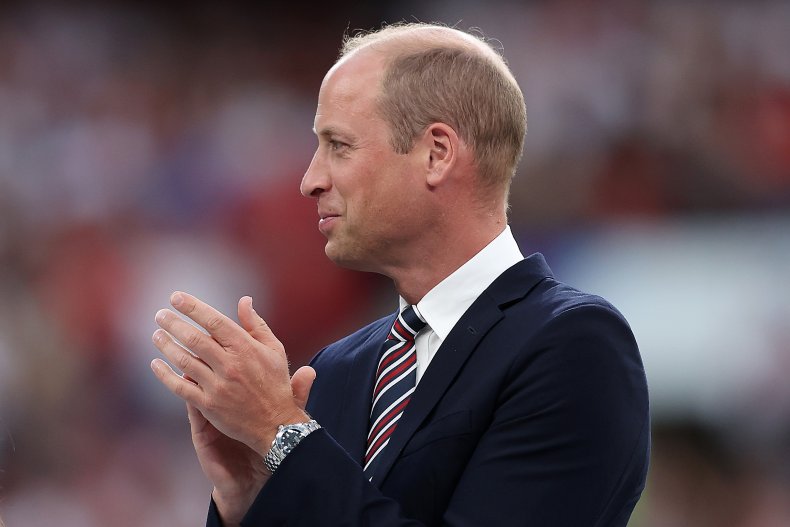 Queen Elizabeth II said in a statement released by Buckingham Palace: "My warmest congratulations, and those of my family, go to you all on winning the European Women's Football Championships. It is a significant achievement for the entire team, including your support staff.
"The Championships and your performance in them have rightly won praise. However, your success goes far beyond the trophy you have so deservedly earned.
"You have all set an example that will be an inspiration for girls and women today, and for future generations. It is my hope that you will be as proud of the impact you have had on your sport as you are of the result today."
For more royal news and commentary check out Newsweek's The Royal Report podcast: