William Reduces Some to Tears as He Hugs England Women's Soccer Winners
Prince William hugged England's European Women's Championship winning "Lionesses"—as they brought home the country's first international soccer trophy since 1966 on Sunday.
The Duke of Cambridge joined in the celebrations in his role as President of the Football Association and broke with the increasingly outdated tradition that royals do not hug the public.
William congratulated the players as they went to collect their winners' medals after beating Germany 2-1 in added time.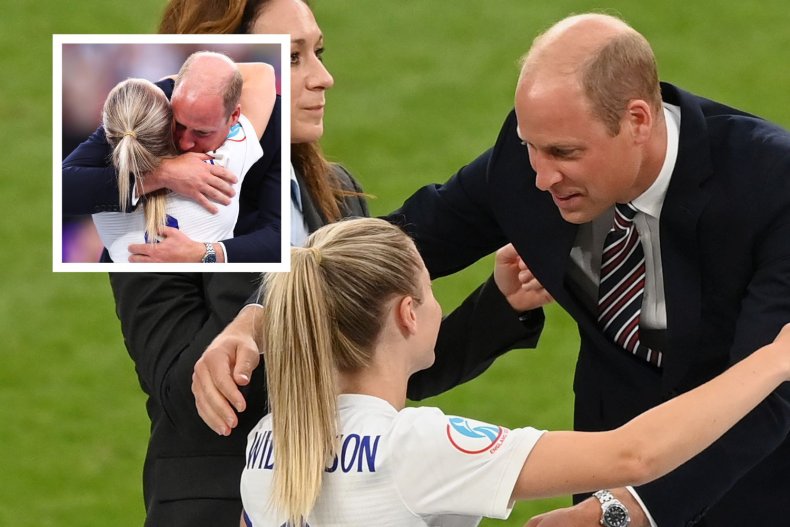 English actress Lisa Riley was among those to seize on the moment as she told her 132,000 Twitter followers: "Prince William hugging the players.....making me cry my eyes out!!!! 🏆🏆🏆🏆🏆 the true meaning of the word CHAMPIONS 🦁🦁🦁🦁🦁🦁 the whole country is behind you @Lionesses you are a credit to #england and #football CONGRATULATIONS 🥳🥳🥳 #Lionesses #LionessesLive."
Broadcaster Alastair Stewart wrote: "By appointment to HRH Prince William, a hug for @leahcwilliamson !"
He added: "Well done HRH Prince William! That's genuine enthusiasm…and pride!!!!"
William later sent the team a message through his official Twitter account, proclaiming them an inspiration.
He wrote: "Sensational. An incredible win @lionesses and the whole nation couldn't be prouder of you all. Wonderful to see history in the making tonight at Wembley, congratulations! W"
William then quoted a Tweet by the Lionesses official account which read "we have done it." He added: "Yes you have and you've inspired a nation too."
Queen Elizabeth II also released an official statement congratulating the team through her office at Buckingham Palace.
Signed, Elizabeth R, it read: "My warmest congratulations, and those of my family, go to you all on winning the European Women's Football Championships. It is a significant achievement for the entire team, including your support staff.
"The Championships and your performance in them have rightly won praise. However, your success goes far beyond the trophy you have so deservedly earned.
"You have all set an example that will be an inspiration for girls and women today, and for future generations. It is my hope that you will be as proud of the impact you have had on your sport as you are of the result today."
Royals have not historically been known for engaging in physical contact with members of the public, however, there are no formal rules forbidding it and the modern family are far more tactile than in the past.
The royal family's own website reads: "There are no obligatory codes of behaviour when meeting the queen or a member of the Royal Family, but many people wish to observe the traditional forms.
"For men this is a neck bow (from the head only) whilst women do a small curtsy. Other people prefer simply to shake hands in the usual way."
The royals have been increasingly willing to skip the formalities in recent years, to the point there was a significant debate about how touchy-feely Prince Harry and Meghan Markle were at royal events after she first moved to Britain.
More recently, William was praised for hugging a man, William Burns, 66, who was overcome with emotion after meeting the future king on a walkabout in Glasgow in May.
For more royal news and commentary check out Newsweek's The Royal Report podcast: