Prince William Capitol Riots Letter Got Different Response to Meghan, Harry
Prince William's heartfelt letter to the partner of Capitol riot police officer Brian Sicknick delved into U.S. politics but did not draw the criticism often levelled at Prince Harry and Meghan Markle.
The Duke of Cambridge's gesture clearly touched grieving Sandra Garza who told CNN on Friday that he had "reached out to honor Brian's memory."
The move was well-received in the British media, with the Daily Mail noting how it "breaks from the royal tradition of not weighing in to politics at home or overseas" but without explicitly criticizing him.
The wider commentariat also did not subject William to the kind of backlash that Harry and Meghan have faced when straying into U.S. politics, which at its height included calls for them to stripped of their royal titles.
One factor may be sensitivity towards the tragic loss of Garza's partner. However, Meghan was subject to criticism from a more limited number of commentators after a visit to Uvalde to pay respects to Texas school shooting victims.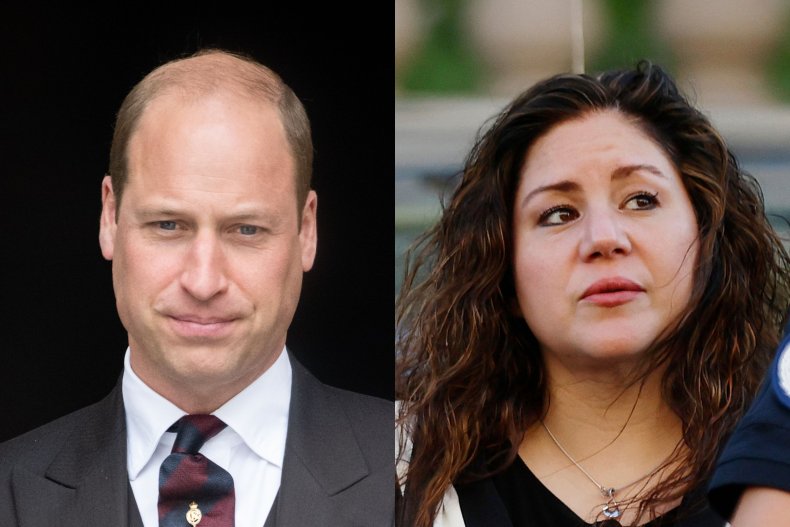 Prince William's Letter to Sandra Garza
William took a step out of the safe terrain the royals normally travel on when he shared his own feelings about the Capitol riots.
Writing in November 2021, he said: "Please forgive me if I am intruding but I wanted to write and let you know how sorry I am about the death of your partner, Brian.
"Having recently watched documentary footage of the harrowing events that took place at the Capitol building I wanted to acknowledge the patriotism and selflessness of Brian."
Crucially, he added: "I was terribly saddened to hear that he passed away the following day and hope that you can take some comfort from knowing that it is thanks to law enforcement officers like Brian that the situation did not escalate further and democracy was upheld."
The reference to democracy being upheld delves into controversial political terrain, in part because it amounts to an explicit statement the rioters were wrong and strays, less clearly, in the general direction of a hint the election itself was fair and not rigged, as alleged by Donald Trump.
Many may agree with William on both points, particularly in Britain where a recent YouGov poll suggested 14 percent of U.K. adults liked the former president compared with 70 percent who disliked him.
However, it is not customary for royals—and working royals doubly so—to pick sides in matters relating to the politics of another country.
The level of William's reputational exposure was made plain during Garza's CNN interview in which she made the letter public.
She said: "Trump does not give two c**ps about law enforcement or Brian and yet Prince William took the time to honor me and Brian."
Newsweek contacted Kensington Palace for comment.
Harry and Meghan on the U.S. Election
Harry and Meghan sparked a backlash after calling for Americans to vote in the November 2020 presidential election during the first few months of their post-royal lives.
The couple's comments did not explicitly back the Democrats but appeared at times to touch on popular criticisms of Trump.
Meghan told Michelle Obama's When We All Vote initiative: "We all know what's at stake this year. I know it.
"I think all of you certainly know it and if you're here on this fun event with us then you are just as mobilized and energized to see the change we all need and deserve."
Any talk of change in the context of an election tends to lean towards unseating the incumbent and Meghan had denounced Trump before becoming a royal, so the world already knew where she stood on the subject.
Harry too left little to the imagination when he said in September 2020: "As we approach this November, it's vital that we reject hate speech, misinformation and online negativity."
Piers Morgan, then still a presenter of Good Morning Britain, was among those to condemn the couple.
He wrote on Twitter in August 2020: "The Queen must strip the Sussexes of their titles. They can't remain as royals and spout off about foreign elections in such a brazenly partisan way."
Prince Harry on the Capitol Riots
Prince Harry has commented on the Capitol riots themselves, which he branded a "coup" during a conversation for Wired magazine.
He said of then Twitter CEO Jack Dorsey: "I warned him his platform was allowing a coup to be staged. That email was sent the day before. And then it happened and I haven't heard from him since."
Sarah Palin was among those leading the criticism of Harry when she told GB News: "Wow, I wonder where he pulled that out of, that's a strange one.
"I haven't heard anyone claim that they were prophetic and providential as to be able to predict that.
"I don't like people airing dirty laundry about their family in public, I mean there's enough attacks on the family unit today."
Robert Rinder, a prominent U.K. television personality, told Good Morning Britain: "What? I don't understand at all. I mean Prince Harry, with the greatest respect in the world, what qualifies him more than anyone else to say I believe there's going to be a riot. This is open source stuff."
Meghan Markle's Visit to Uvalde
The Duchess of Sussex donated blood and paid her respects to victims of the Robb Elementary School shooting which killed 19 children and two teachers on May 24.
She was photographed laying flowers while dressed down in a baseball cap, jeans and a gray T-shirt by media operating in Uvalde, Texas.
Sharon Osbourne, told British television show The Talk, that Meghan should have visited her father Thomas Markle who was in hospital at the time having experienced a stroke.
The reality TV star said: "When I saw the picture [in Uvalde] I did say, 'what about her father.'"
Osbourne described the photo itself as "a great publicity shot."
Meghan's half-brother Thomas Markle Jr. also told GB News: "It feels like a publicity stunt. She wants people to think she's trying to solve things, I don't know what her agenda is, but it's totally wrong.
"It's the most insensitive thing I've seen in my life, that little walk she did, like she was on a stage."
For more royal news and commentary check out Newsweek's The Royal Report podcast: