Prince William 'Didn't Actually Invite Harry' to Diana Statue Party
Prince William did not invite Prince Harry to a party in Princess Diana's honor in a sign of how deep their rift goes, a royal author said.
The royal brothers unveiled a statue of their mother at Kensington Palace on what would have been her 60th birthday on July 1, 2021.
The event was billed as a moment of reconciliation following years of tension, in particular over Harry and Meghan Markle's Oprah Winfrey interview.
The brothers did reunite but Harry did not go to a party later in the year to thank supporters, friends and family who contributed to the project.
At the time, the Duke of Sussex was criticized for missing the event but royal expert Katie Nicholl has now suggested it was Prince William who did not invite his brother.
The royal author, who wrote Harry and Meghan: Life, Loss, and Love, told Entertainment Tonight: "And don't forget when William had a party over here last year to thank those that had been involved with the Diana statue, he didn't actually invite Harry to that.
"He didn't ask him to come back over from the States for it, so I think that's some indication as to how tense and how difficult that relationship is, and that may well be why Harry suggested to his father that they may need something of a mediator in all of this, because it's a sticky relationship here.
"The one that's much harder to get back on an even track is William and Harry."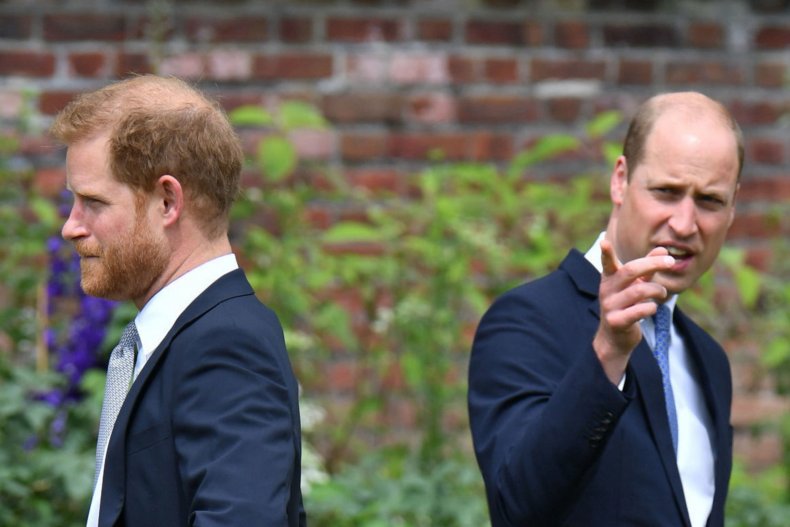 Nicholl suggested Prince Charles wants to repair the relationship with his second son but the far more difficult bridge to rebuild is between Harry and William.
"Harry, I'm told, suggested perhaps that they might get some sort of a mediator in on sort of these talks, to make some progress," she said.
"It was something that he had suggested to his father. He's made it very clear that he wants to sort things out. He wants things to be improved."
However, the mediator would not be required to help with Charles as both sides want a resolution to the rift in that relationship, she said.
"I would imagine it's more to do with his brother," Nicholl added. "I would imagine that that idea of wanting a mediator is probably more to do with him and William.
"His relationship, really, is at a bit of a crossroads. We have been told for many months now that they're not close at the moment. It has been very, very difficult."
This is not the first time that the issue of a mediator has been raised in relation to Prince Harry and his family.
Historian Robert Lacey described how Prince William asked Prince Harry to slow down his relationship with Meghan in the early days, before they got married.
However, the comment went down badly, leading the older royal brother to ask their uncle on Diana's side, Charles Spencer, to step in.
"Charles Spencer was called in earlier, right at the beginning of the courtship [between Harry and Meghan] and it didn't work," he previously told Newsweek.
Battle of Brothers reads: "The response from Harry was a brusque and offended pushback—and after several more peppery reactions, William turned to his uncle Charles Spencer for help.
"From time to time Diana's younger brother had played something of an honorary godfather to both boys in the years since the death of their mother, and their uncle agreed with William to see what he could do.
"The result of the Spencer intervention was an even more bitter explosion. Once again Harry refused to slow down."
For more royal news and commentary check out Newsweek's The Royal Report podcast: