Prince William and Harry 'Lightsaber Fight' Shared By Fans: 'Foreshadowing'
Footage of Prince William and Prince Harry mock-fighting with prop lightsabers on the movie set of Star Wars: The Last Jedi in 2016 has gone viral on social media, following recent revelations regarding the brothers' strained relationship.
William and Harry visited the Star Wars set at Pinewood Studios in Elstree, England, in 2016. While there, they were guided through production workshops and met members of the creative teams.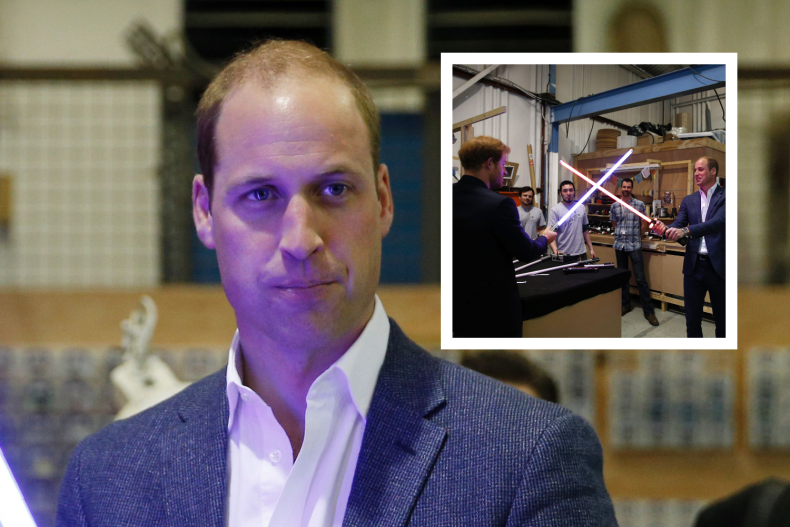 News footage from the visit shows the brothers meeting with props directors who oversaw and handled the famous "lightsaber" weapons used by characters in the sci-fi movie franchise.
Both William and Harry took turns using the heroes' weapon, which featured a light-colored beam, and then the villains' weapon, colored red, as they play-fought against one another.
After a short battle, William joked: "This is where we get into a massive issue!"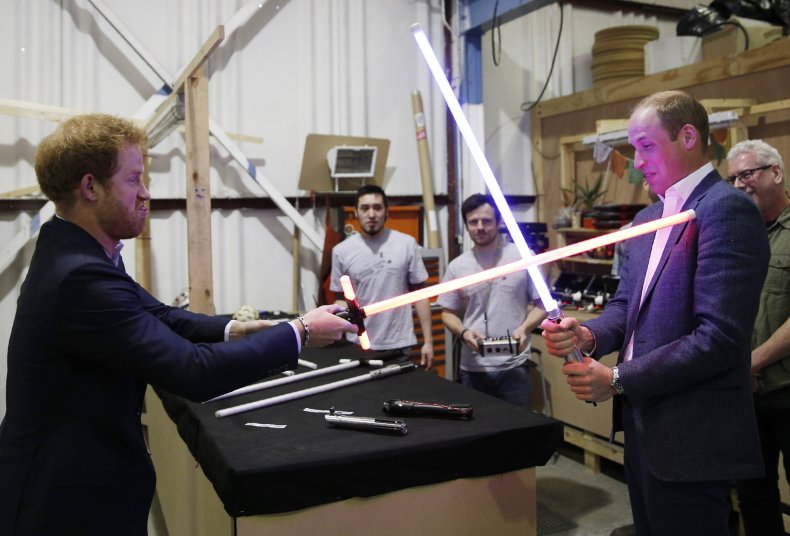 A clip from this footage resurfaced on social media after being uploaded by TikTok account moviemaniacs. The video, captioned "Prince William and Harry in a lightsaber fight on Star Wars set," has been viewed over 600,000 times and received in excess of 8,000 likes and 100 comments.
A number of users have praised the princes in the video, while others have made reference to the current state of their relationship, laid bare by Harry in his recently released memoir, Spare, and Netflix docuseries: Harry & Meghan.
In Spare, released in January to become the fastest-selling non-fiction book of all time, Harry made a number of allegations against his brother, including an account of a physical attack from William during a 2019 argument over Meghan Markle's treatment of palace staff.
Speaking to 60 Minutes' Anderson Cooper at the time of the book's release, Harry said that he and William were not "currently" speaking, though added: "I look forward to us being able to find peace."
For his part, William has not made any public reference to Harry's media projects or the allegations made within them.
"Lots of foreshadowing here," wrote one TikTok user of the viral video showing the brothers' lightsaber fight.
"Notice who has the good lightsaber and who has the bad one," noted another, while a further user posited: "They will always be brothers 🥰🥰"
After their visit to the Star Wars set in 2016, Harry and William attended the star-studded movie premiere together in London where they walked the red carpet alongside the franchise's Stormtrooper characters.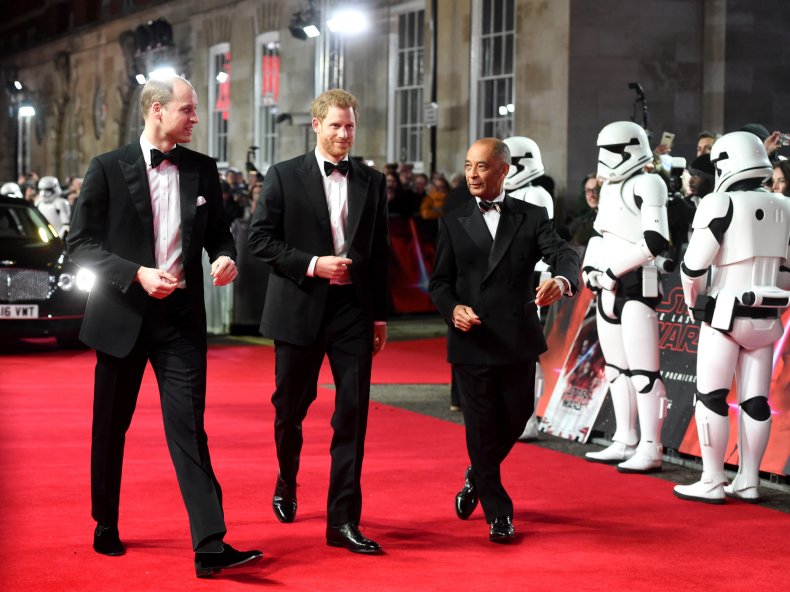 This is not the first time members of the royal family have visited film or TV sets. In 2015, Kate Middleton visited Ealing Studios where she met with the cast and production team behind the hit historical drama Downton Abbey.
In 2019, King Charles met with actor Daniel Craig on the set of the latest James Bond movie in his capacity as Royal Patron of The British Film Institute and the Intelligence Services.
James Crawford-Smith is Newsweek's royal reporter based in London. You can find him on Twitter at @jrcrawfordsmith and read his stories on Newsweek's The Royals Facebook page.
Do you have a question about King Charles III, William and Kate, Meghan and Harry or their family that you would like our experienced royal correspondents to answer? Email royals@newsweek.com. We'd love to hear from you.