Prince William and Kate Middleton's Most Adorable Caribbean Tour Moments
Throughout Prince William and Kate Middleton's tour of the Caribbean there have been many headlines, both positive and critical.
The visits paid by the royals to Belize, Jamaica and the Bahamas raised important questions about the monarchy's association with historic slavery and racism, and also brought up discussions surrounding reparations and removing Queen Elizabeth II as independent Caribbean nations' head of state.
Perhaps lost among these broader discussions were some of the sweeter moments of the royal tour, with William and Kate interacting on an intimate and personal level with each other and with the people they met along the way.
Newsweek rounds up William and Kate's most adorable Caribbean tour moments:
Dancing in Belize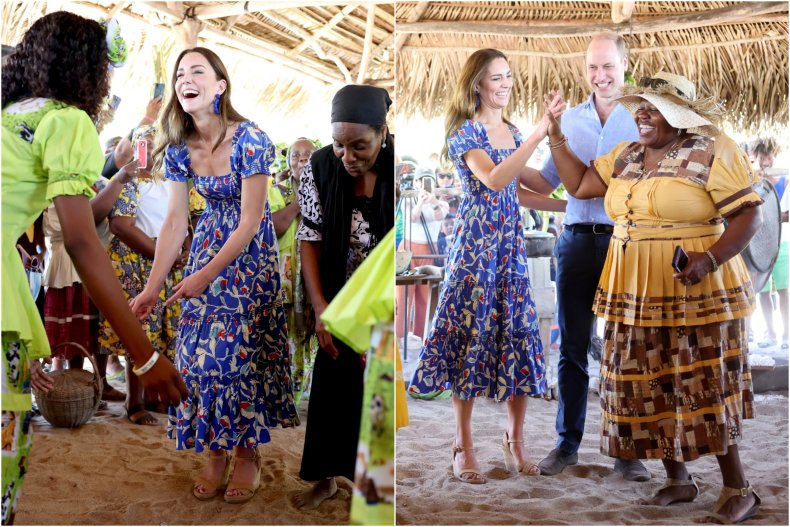 Early on in the tour the couple made an appearance at a traditional Garifuna festival in Belize. This celebration of Garifuna culture features traditional dancing, which the royal couple were encouraged to participate in by their hosts.
William and Kate soon got into the spirit of the event, with Kate playfully dancing over to her amused husband amid a fit of giggles.
Joking in Caracol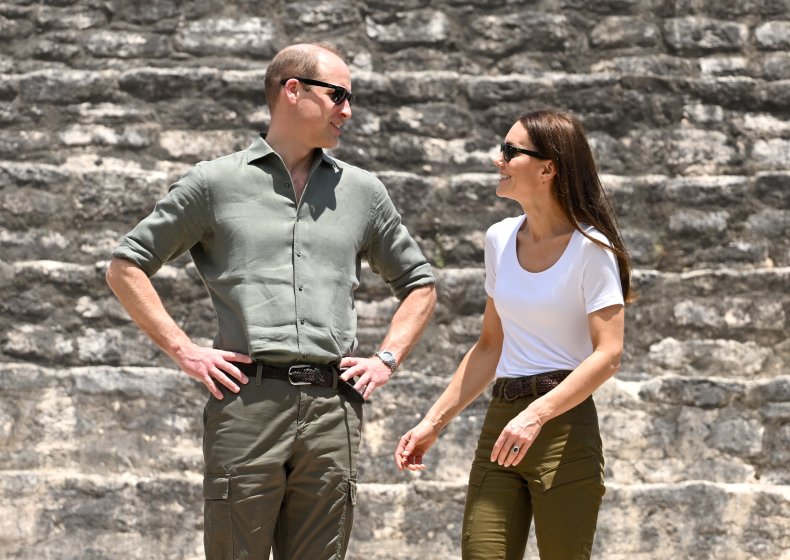 On a visit to view the ancient Mayan ruins at Caracol in Belize, William and Kate were followed by a large number of reporters and photographers. While posing for pictures William began to joke with Kate, who soon broke into laughter.
A Helping Hand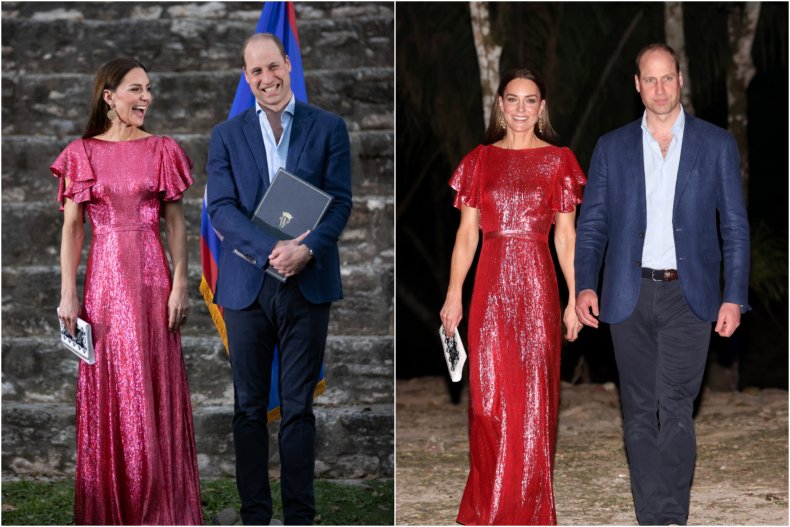 On the final evening of their visit to Belize, William and Kate put on their best clothes to pay respects to their host—the governor general, Queen Elizabeth II's representative in that country.
The evening reception was held at the world famous Cahal Pech archeological site, featuring ancient Mayan ruins. Kate wore a spectacular gown by The Vampires Wife and high heels from Jimmy Choo.
After the reception the royals had to navigate steep uneven steps and so William held Kate's hand to steady her. This adorable display of public affection was quickly picked up on social media.
Jamaican Bobsled Team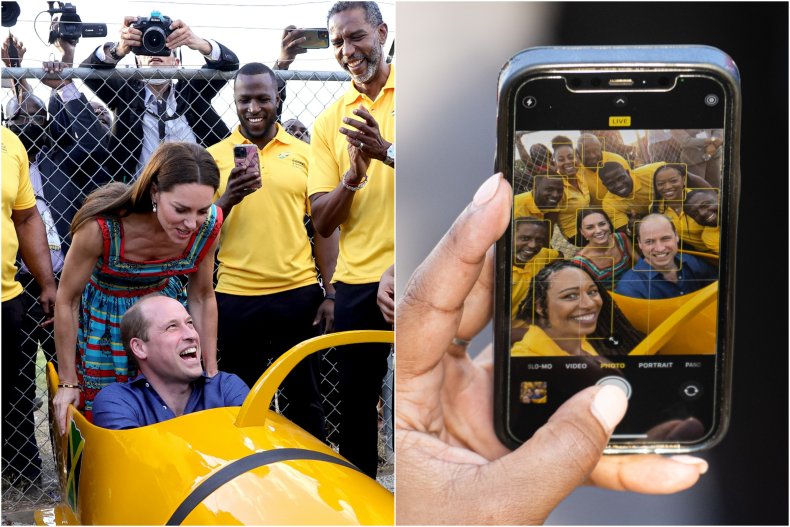 Though the royals' arrival in Jamaica may have been overshadowed by a protest regarding the British monarchy's role in the enslavement of the Jamaican people and demands for reparations, William and Kate still undertook a visit to Trench Town not far from the British High Commission.
While on the visit the couple met members of the Jamaican bobsled team who had competed at the 2022 Winter Olympics in Beijing. William and Kate were invited to sit in the team's sled, which both eagerly tried to do at the same time resulting in a royal squash and laughter from the team. While inside the sled the couple posed for an adorable selfie with the athletes.
Kate Watches From the Sidelines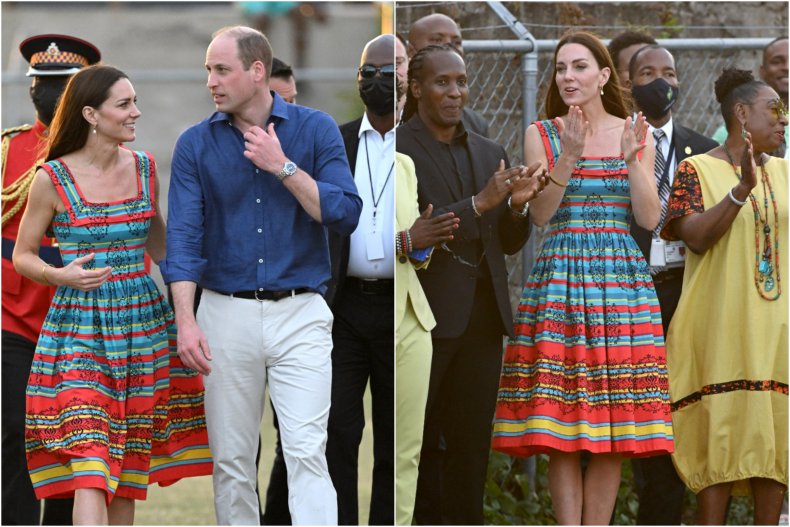 In another sporting moment in Trench Town, William and Kate met Jamaican-born England football player Raheem Sterling, whose charitable foundation seeks to benefit underprivileged children in the area.
William played a quick game of football with Sterling and some local team members, while Kate watched on adoringly from the sidelines.
"Out of Depth" William Charms Teachers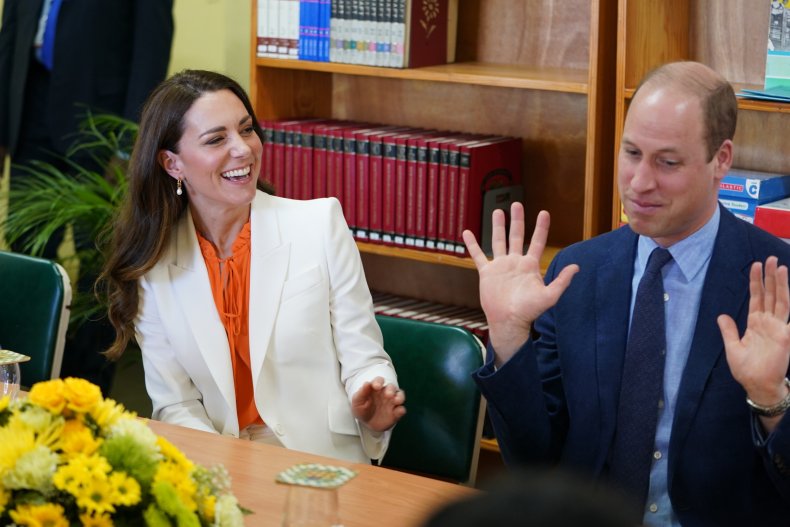 William and Kate visited the Shortwood Teaching College on their second day in Jamaica, and the pair shared many charming moments for the cameras.
When sitting at a round table discussion William gave his wife some gentle encouragement to open the proceedings. He said "go on you start - I'm way out of my depth here!"
Later when speaking with school children, the prince charmed a shy little girl, introducing himself with "hello, I'm William." The prince's gesture toward the child echoed the ease for which his mother Princess Diana is lovingly remembered.
A Flower Girl Fighting Bullies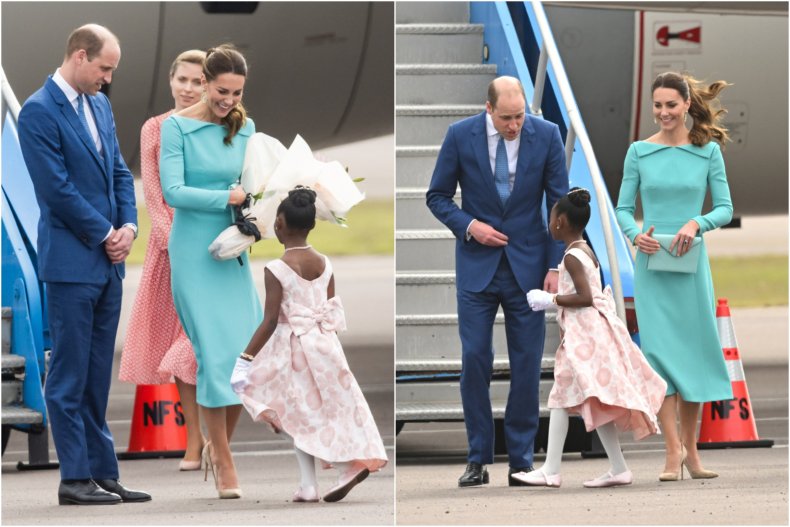 On landing at Lynden Pindling International Airport in the Bahamas on Thursday afternoon, the Cambridges were honored to be presented with a bouquet of flowers by eight-year-old Aniah Moss.
Moss charmed William and Kate as she made her presentation dressed in a beautiful pink party dress and white gloves. In a later interview with local media channel Moss was asked what she would say to her school friends about meeting the royals; she said she would tell them: "You guys can't bully me anymore. You guys can't tell me what to do."
The Competitive Cambridges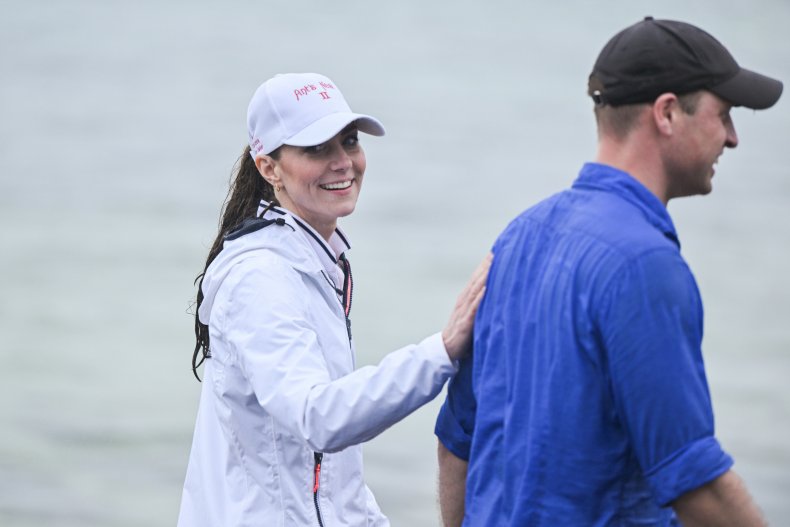 Ultra competitive on the sporting field, Kate and William took part in a traditional sloop sailing race while on a visit to the Bahamas. The couple started the race evenly, but William's team pushed forward to victory. In his speech later that evening William couldn't help but bring up his win in an affectionate tease.
He said: "I know as well that my grandfather, the Duke of Edinburgh, had a soft spot for The Bahamas. Catherine and I were thinking about him today as we celebrated the return of sloop sailing here by racing off Montagu Beach. He would have been in his element!
"As for the race result? Discretion is the better part of valour. Particularly if you have won, and your wife has come last."
Bahamas P.D.A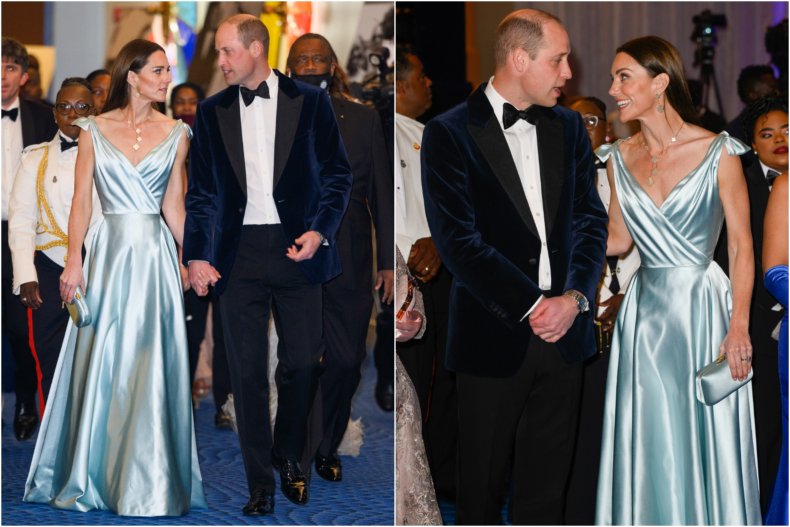 Kate and William appeared together at a reception hosted by the governor general at Baha Mar Resort in Nassau dressed to impress. Kate wore an ice blue slip-shoulder gown by London based designer Phillipa Lepley and William complemented her look with a midnight blue velvet smoking jacket.
The couple were adorably affectionate to one another during the course of the evening, entering the event holding hands and sharing a personal joke during a choral performance.
Prince's Penalty Shootout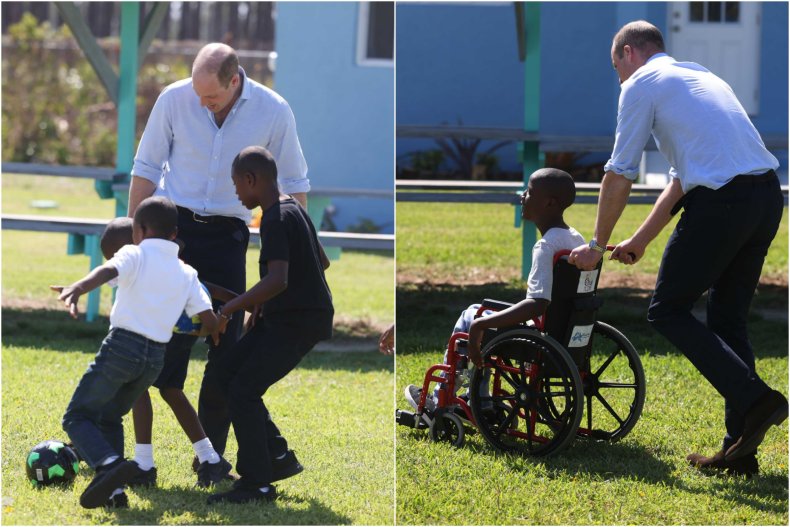 Prince William played an unexpected game of football with residents of the Grand Bahama Children's Home in Freeport, Bahamas, on the last day of his Caribbean tour. The prince spent time with the children learning about their experiences and how they enjoyed living together at the home.
Meeting and Greeting in Great Abaco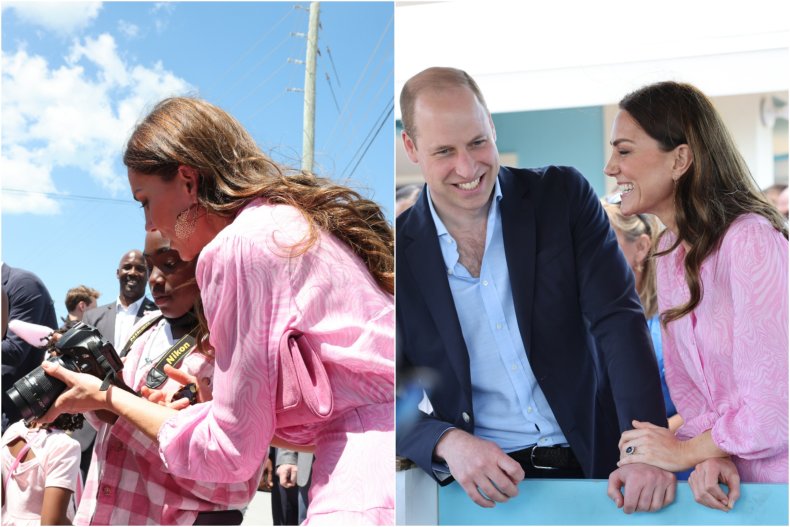 As part of the Cambridges' final day of their Caribbean tour they visited Great Abaco in the Bahamas. The area had been devastated by Hurricane Dorian in 2019, which damaged around 75 percent of homes.
Spotting a little girl with a camera in the crowd on a walkabout, William learned that she wanted to show Kate some photographs she had taken, as Kate is an avid photographer. Social media footage posted online shows the prince taking the girl over to Kate, where she was allowed to show off her work.
On the same day, William and Kate attended a fish-fry and tried some local delicacies. The couple teased each other in front of the cameras before bursting into laughter.