William and Kate's New Home Is 'Disgraceful' During Cost of Living Crisis
Prince William and Kate Middleton are adding a new home "to their luxury lifestyle" while "ordinary households are struggling with their energy bills," pressure group Republic says.
The anti-monarchy campaigners hit out at the Duke and Duchess of Cambridge for moving their family to Adelaide Cottage, in Windsor, where they will be closer to Queen Elizabeth II.
The couple are holding on to Anmer Hall, their country retreat in Sandringham, Norfolk, and their apartment at Kensington Palace, where their office is based, the BBC reported.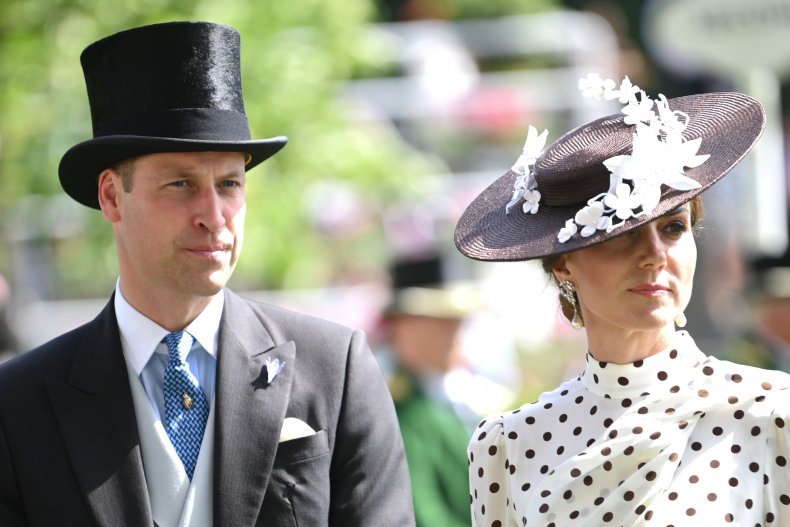 Earlier in August, the Bank of England forecast a prolonged recession while financial services group Citi predicted inflation will hit 18 percent in the first quarter of 2023.
The U.K. is on the cusp of a further rise in annual energy bills this October and they could hit $6,200 by April 2023, according to energy consultancy Cornwall Insight.
Graham Smith, chief executive of Republic, said he believed the couple were likely to make use of an additional home next to Adelaide Cottage for their staff.
In a statement, he said: "Adelaide Cottage is a huge house by any standards, and it's attached to another home which we can assume will be for servants and staff.
"This fourth home is in addition to the multi-story mansion William and Kate have in Kensington Palace, the 10-bedroom home in Sandringham and the large house they use when in Scotland.
"While the country faces an ever-growing cost-of-living crisis it is shocking to see William and Kate acquire a fourth home, at great expense to the taxpayer."
British taxpayers will not directly buy the property, which is already owned by the Crown Estate, but Smith suggested the move will still cost them due, for example, to the added security bill for police to protect an additional home.
He said: "All these palatial homes require round-the-clock protection, heating and staffing, and two of those homes belong to the Crown Estate, a state-owned property empire that is supposed to make money for the treasury.
"While ordinary households are struggling with their energy bills and facing crippling inflation, why are we giving yet another home to William and Kate? This is disgraceful.
"It is worse still to see this spun as moving into a more modest home, when they're adding a fourth large house to their luxury lifestyle. This is an abuse of public money, and it needs to stop."
Peter Hunt, the BBC's former royal correspondent, also noted that Adelaide Cottage is not as small as it may sound from its name.
He wrote on Twitter: "Dictionary definition of cottage: a small house.
"Royal definition: 4 bedrooms, decorated with gilded dolphins, verandah."
The same can be said of their "apartment" at Kensington Palace, which Hello! reported contains five reception rooms, three main bedrooms, dressing rooms, and both night and day nurseries among 20 rooms in total.
Notably, £4.5 million (around $5.3 million) of public money was spent refurbishing their home at Kensington Palace before they moved in.
William and Kate announced they are moving their three children to a new school in Berkshire, around 7 miles, or 15 minutes, from Adelaide Cottage, Kensington Palace announced on Monday, August 22.
Lambrook school fees are £19,344 per term (around $23,000) for the oldest pupils, although the couple will pay a little less for Charlotte and Louis while they are younger.
For their money, the three royals will have the opportunity to do activities ranging from beekeeping to scuba diving, as well as a nine-hole golf course and 25-meter swimming pool.
A Kensington Palace press release said: "The Duke and Duchess of Cambridge have today announced that Prince George, Princess Charlotte and Prince Louis will attend Lambrook School in Berkshire from September 2022.
"Their Royal Highnesses are hugely grateful to Thomas's Battersea where George and Charlotte have had a happy start to their education since 2017 and 2019 respectively and are pleased to have found a school for all three of their children which shares a similar ethos and values to Thomas's."
William and Kate's relocation to Windsor has been rumored in the U.K. press for almost exactly a year, with a report in The Mail on Sunday suggesting they were considering the move in August 2021.
It will bring them geographically closer to the queen, who has been living at Windsor Castle since the start of the coronavirus pandemic, in 2020.
Prince Andrew also lives nearby and it has long been suggested that this gave him privileged access to the monarch, and a means to influence her decision making.
However, it also frees the couple's children from Kensington Palace's famous goldfish bowl, surrounded by tourists, royal fans and even journalists.
The Daily Mail is based a short, 10 minute, walk away and its staff have been known to occasionally bump into royals in the local area.
By contrast, Adelaide Cottage offers the family the privacy of Windsor Great Park while being close enough to London to be a base for work.
For more royal news and commentary check out Newsweek's The Royal Report podcast: