Prince William and Prince Harry's Africa Rivalry Was 'Super Colonial'
Prince William and Prince Harry's competitiveness over Africa is "extremely unhealthy," a British author has told Newsweek.
Harry's describes in his memoir, Spare, how he wanted to make charity work in Africa a major plank of his royal life but encountered an obstacle when William said the continent was "his thing."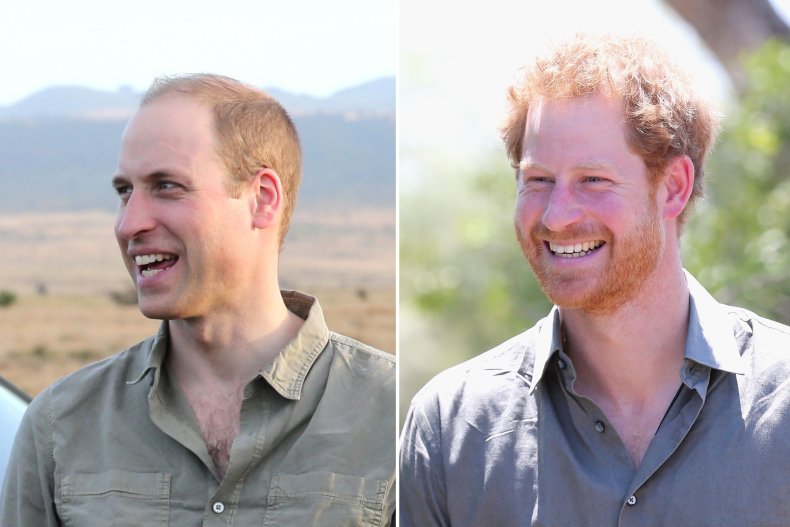 The memoir reads: "One small problem: Willy. Africa was his thing, he said. And he had the right to say this, or felt he did, because he was the Heir.
"It was ever in his power to veto my thing, and he had every intention of exercising, even flexing, that veto power."
Nels Abbey, co-author of Think Like a White Man, told Newsweek: "Prince Harry's argument was that Prince William wasn't trying to do good there or even to do well but to do better than his brother.
"Basically, they became territorial. When you read that on paper as someone of African descent, it comes across as very, very vicious to read.
"It came across as, dare I say, super colonial and paternal in a way that is just extremely unhealthy. I couldn't for a second see how it would happen in reverse, two African princes arguing about who London belongs to."
Spare describes how "We'd had some real rows about it," and, "one day, we almost
came to blows in front of our childhood mates."
Harry wrote: "One of the sons asked: Why can't you both work on Africa? Willy had a fit, flew at this son for daring to make such a suggestion. 'Because rhinos, elephants, that's mine!' It was all so obvious. He cared less about finding his purpose or passion than about winning his lifelong competition with me."
Abbey also saw problems in a remark made by Harry during an interview at his father's Highgrove estate, marking his 21st birthday. It was contained in archive footage, rather than the book.
The prince spoke about doing charity work in Lesotho: "When it comes to kids, I love kids. And it's something about African kids that are just even more special. They're so underprivileged yet anything you give them, any little present, whatever it is, they'll be so appreciative about it. They'll think it's Christmas."
Harry, for his part, has described, both in Spare and in interviews, how he has gone on a journey of self-awareness since the arguments over Africa in the book.
Specifically, since quitting the royal family, he has spoken out against unconscious bias in the media, and taken criticism from the British press for doing it, including in summer 2020 in relation to confronting Britain's colonial past.
Abbey said Charles has done positive things in Britain, including when stories leaked through an anonymous source that he felt a U.K. government plan to deport asylum seekers to Rwanda while their claims are processed was "appalling." He was Prince of Wales at the time, in June 2022.
Abbey said: "I think the royal family is always a conduit for whatever Britain wants to reflect to the world. King Charles does do some progressive stuff.
"When the U.K. government's most-racist policy of my adult life was announced, which was the Rwanda plan, Charles came out and took a strong stand against it, which is an amazing thing to see for a future monarch.
"There's the public proclamations, such as taking a stand against the Rwanda plan and, then there's what's going on in the royal household. Now, getting the Meghan situation wrong has damaged the perception. It's damaged the brand," added Abbey.
"There's things that could be learned from this too. So it's a process of growth, continued understanding and continuing to recognize that if you want to remain in the world, you have to be a force for good in the world, particularly on this subject."
Jack Royston is Newsweek's chief royal correspondent based in London. You can find him on Twitter at @jack_royston and read his stories on Newsweek's The Royals Facebook page.
Do you have a question about King Charles III, William and Kate, Meghan and Harry, or their family that you would like our experienced royal correspondents to answer? Email royals@newsweek.com. We'd love to hear from you.