Prince William Says Living in a Castle is 'Tricky' During Belize Tour
Prince William said living in a castle is "tricky" in a light-hearted exchange during his tour of Belize.
The Duke of Cambridge had a jokey chat with Vkeveen Martinez, 15, as he met the Garifuna community in Hopkins on Sunday, March 20.
Quoted by People, Martinez, a member of the Light of Hopkins dance group, said she asked what it was like to live in a castle.
She said: "He said 'it's tricky—my grandmother lives there.'"
The teenager added: "It was amazing. It was a lot to get a prince out to dance, and I held his hand."
Queen Elizabeth II, William's grandmother, has been living at Windsor Castle as her main residence since the start of the pandemic.
William, Kate and their three children, Prince George, Princess Charlotte and Prince Louis, split their time between Kensington Palace and country retreat Anmer Hall in Norfolk.
The duke and duchess have been in Belize as part of a Caribbean tour celebrating Queen Elizabeth II's Platinum Jubilee, marking 70 years on the throne.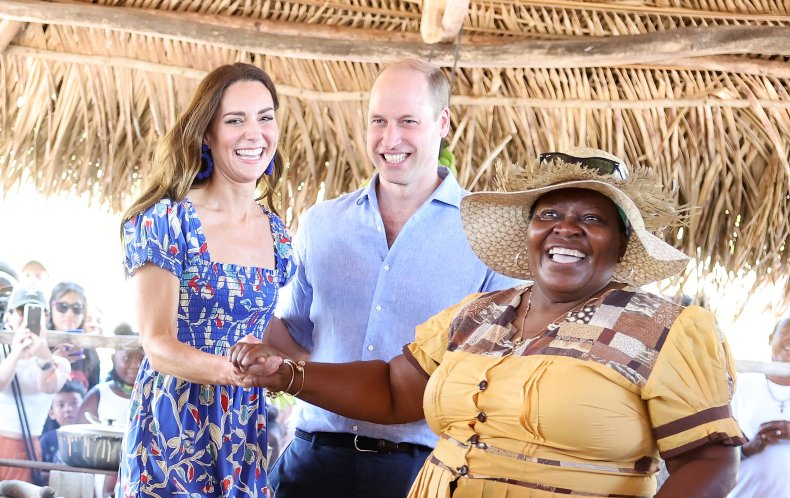 The visit got off to a rocky start after one stop on their itinerary was canceled due to local protests in Indian Creek.
There are further protests highlighting Britain's colonial history planned in Jamaica, at the British High Commission, in capital city Kingston, on March 22.
The royal charm offensive comes after Barbados removed the queen as head of state in November, breaking its ties with the colonial period.
William and Kate continued their visit on Monday, March 21, when the couple learned jungle survival with the British Army Training Support Unit (BATSUB).
They also visited breathtaking Mayan ruins at Cahal Pech, near San Ignacio, and Prince William spoke in support of Ukraine at a reception.
The duke described how maintaining democracy required vigilance and said: "Sadly, elsewhere in the world, that vigilance is being tested today in Ukraine.
"Belize has joined many others in condemning the invasion and standing up for the
principles of international law, peace and security.
"Today we think of those struggling in Ukraine and we stand with them in solidarity."
For more royal news and commentary check out Newsweek's The Royal Report podcast:
He also referenced trips by Prince Philip to the Caribbean country ahead of a memorial service to the Duke of Edinburgh due to take place in London on March 29.
William said: "You take your responsibility as custodians of nature very seriously, and you are world leaders at protecting your natural heritage for future generations.
"The fact that nearly 40 percent of Belize has protected status is a testament to that.
"I know that this is something that my grandfather, the Duke of Edinburgh, found
particularly inspiring on his visits to Belize with WWF."