Prince William's gesture of hugging members of the England women's soccer squad after their victory at the UEFA Women's Euros championship was a move "typical" of the late Princess Diana, according to her bodyguard.
Former police protection officer Ken Wharfe was in charge of security for the late Diana from 1987 to 1993, leaving the royal shortly after her painful public separation from Prince Charles.
Wharfe has written extensively of his time in the royal service and has become a regular commentator of royal events. To mark the 25th anniversary of the death of Diana which will pass on August 31, Wharfe has co-authored a tribute book titled Diana: Remembering the Princess with Ros Coward.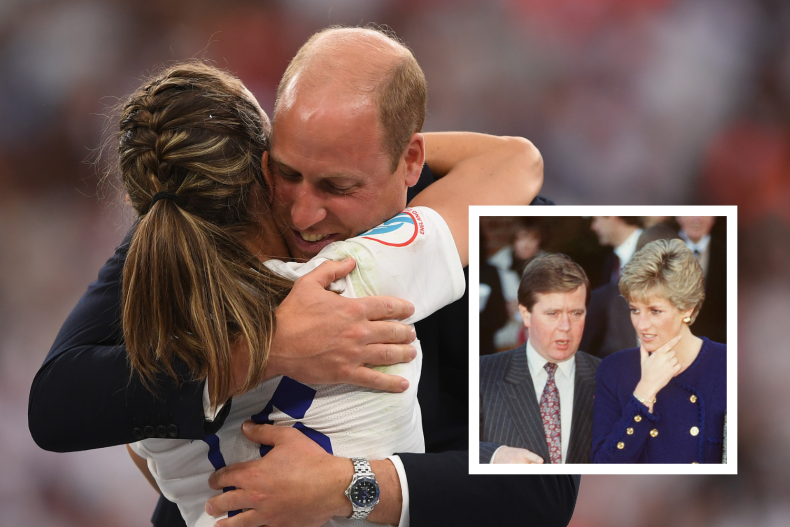 Appearing on British television to discuss the book, Wharfe told Lorraine show host Ranvir Singh that the princess' pioneering closeness with the public during the course of her working life is visible in Prince William and Prince Harry.
Speaking of William's tactile gesture of hugging members of the women's England soccer squad nicknamed the "Lionesses" after their tournament win on Sunday, Wharfe said:
"What I loved about that was the way that Prince William was there presenting the trophy, and in the past we've seen so many royals present trophies at football matches, this is the first time I've seen any member of the royal family hug somebody and give them a kiss effectively."
"I think if you need to know what the legacy of Diana is you really need to look at that," he continued.
"This was typical Diana, working with the public and the closeness that she did and felt during her short time."
The former bodyguard then went on to add: "That we see in William particularly and even Harry."
William attended the UEFA Women's Euros championship final at Wembley Stadium on Sunday in his capacity as president of the Football Association, a position he has held since 2005.
The royal visited the team in June at their training ground ahead of the tournament and mentioned that his children Prince George, 9, and Princess Charlotte, 7, are both fans of the game.
"Charlotte wants me to tell you she's really good in goal," he told the team.
"She said 'please tell them that,'" before adding that she is "a budding star for the future!"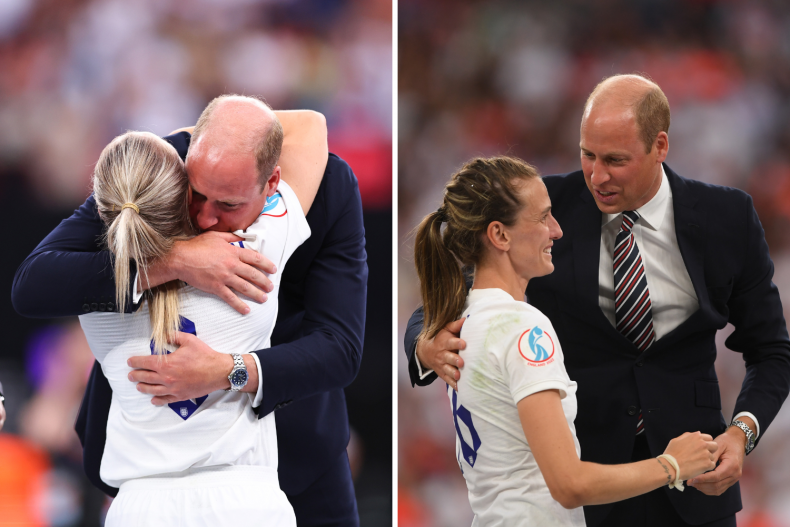 After the Lionesses 2-1 win against Germany, William hugged team captain Leah Williamson and was praised on social media with English actress Lisa Riley posting on Twitter:
"Prince William hugging the players.....making me cry my eyes out!!!! 🏆🏆🏆🏆🏆 the true meaning of the word CHAMPIONS 🦁🦁🦁🦁🦁🦁 the whole country is behind you @Lionesses you are a credit to #england and #football CONGRATULATIONS 🥳🥳🥳 #Lionesses #LionessesLive."
Speaking on the England football YouTube channel after the match, Williamson talked about the prince's reaction as she went to receive her medal.
"I think I went to shake his hand and he said, 'Leah, bring it in' and I said, 'Thank you sir,'" she explained.
Despite Wharfe stating that William's gesture was very strongly allied to the public engagement of his late mother, the bodyguard had also stated that the princess' legacy was more "clearly visible" in the life of Prince Harry, particularly after he moved to the U.S. with his young family.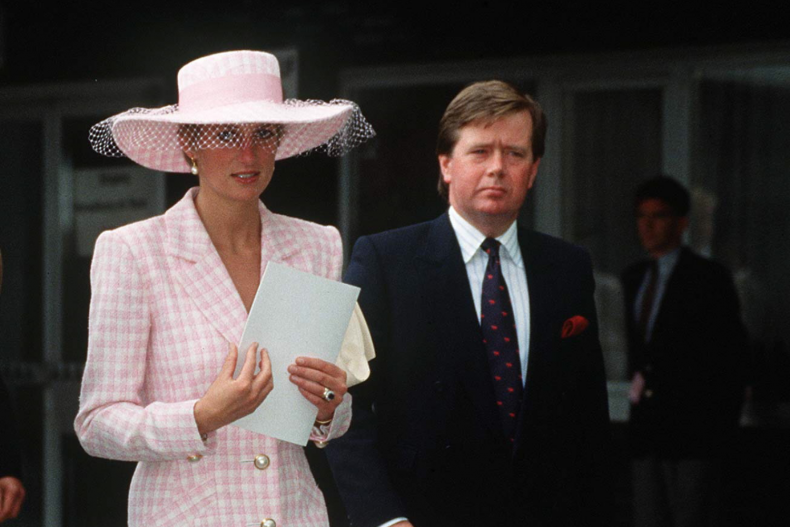 In an extract from Diana: Remembering the Princess which was run by the Mail on Sunday, Wharfe wrote: "There is no doubt in my mind that [Diana] would completely understand the position Harry finds himself in and would probably have been jetting across the Atlantic on a regular basis to offer help."
"William and Harry are very much their mother's boys in so many ways, even though there are differences between them," he continued. "Although William has perhaps reverted to a world away from the limelight when it comes to his children, he does try to engage and to bring a more modernized approach.
"But with Harry, we can see Diana's legacy more clearly – and when he returns into the Royal fold, which I think he will do, I believe that will be even clearer."
Newsweek reached out to Ken Wharfe's representatives for comment.
Diana: Remembering the Princess by Ken Wharfe and Ros Coward is available in the U.K. now (RRP £20) (Publisher: John Blake).