Prince William's 'Top Gun' Jet Shoes Custom Made by 'James Bond' Brand
Prince William and Kate Middleton stepped out at a glamorous royal movie premiere on Thursday and for once it's not the duchess's footwear that's got everyone talking.
It would seem that William has taken a leaf out of his wife's fashion playbook of paying small tributes to the events she attends through her wardrobe as he stepped out in a pair of custom slippers embroidered with a tribute to the movie of the night, Top Gun: Maverick.
William and Kate attended the special 75th Royal Film Performance as it raised funds for The Film and TV Charity of which Queen Elizabeth II is patron. The couple came face to face with Hollywood royalty on the red carpet on Thursday evening in the form of the movie's leading man, Tom Cruise.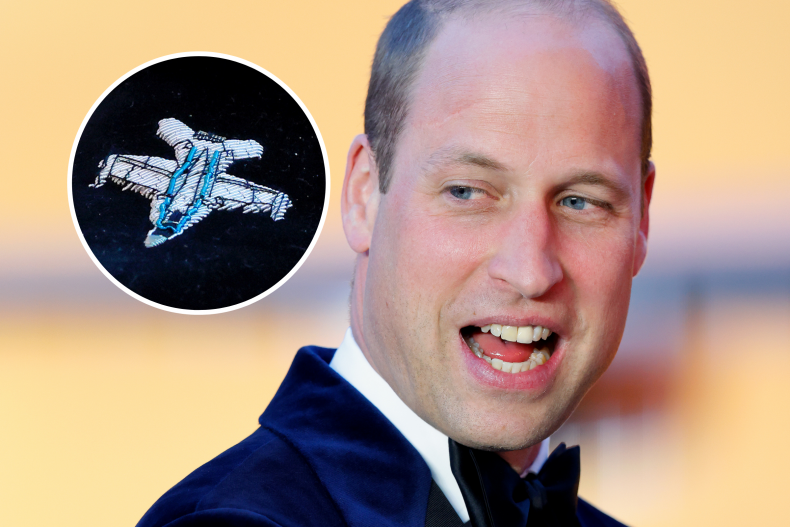 Cruise caused some controversy online during the event after he held Kate's hand as she walked up a set of steps. Social media users debated whether Kate looked pleased with the offer, or if she moved her clutch bag to her other hand following it to avoid repeating the gesture at the next flight of steps.
Kate wore an elegant floor-length evening gown in black with a white-banded neckline with black Prada pumps but it was William's choice of footwear that stole the show.
With his velvet dinner jacket and black tie, the prince sported a pair of velvet slippers with fighter jets embroidered on the toe. This was a humorous tribute to the original Top Gun movie which centered around Cruise as a United States Navy fighter pilot.
William himself learned to fly during his time with the Royal Air Force and after his marriage flew rescue helicopters for the East Anglian Air Ambulance service.
The makers of the prince's slippers are the British footwear brand Crockett & Jones who told Newsweek:
"We can confirm that the slippers are Crockett & Jones. Having the Royal Warrant for HRH Prince Charles meant that we were gratefully approached to produce the slippers for HRH Prince William on this occasion, proudly turning the slippers around in just 2 weeks, usually a 2-month process. One has little choice but to jump around for such a prestigious customer."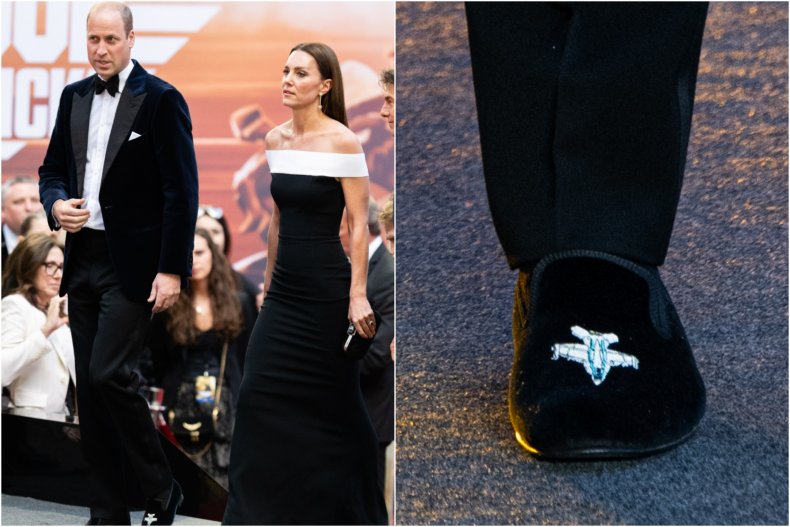 The brand's royal warrant was given by Charles as an official supplier of footwear.
A royal warrant is an official seal of approval that can only be bestowed by senior members of the royal family. At this time only the queen and Charles are able to grant them.
Companies must regularly receive orders from the royals to qualify to apply for a warrant and the process is strictly monitored by the Royal Warrants Association which oversees the process. In order to qualify for a warrant, the royals must pay for their services, they cannot receive goods free of charge.
"It gives us great pride to be associated to such a wonderful and historic family," Crockett & Jones said, "and to have two members of the Royal family wear our footwear, just a few weeks before the Jubilee celebration, is nothing short of incredible."
Though proud they may be of their royal clientele perhaps the most high-profile action hero who has famously worn their shoes isn't the rescue helicopter pilot prince but the legendary spy James Bond.
For the movie Skyfall released in 2012, Daniel Craig wore four pairs of Crockett & Jones shoes during his portrayal as Ian Fleming's Bond. The star was outfitted in footwear by the brand for the two subsequent releases including Craig's final in the character for No Time To Die.
Crockett & Jones' products are made in their factory located in Britain's historic shoe-making area of Northampton. The company offers a special bespoke service like the one taken advantage of by William with prices starting from $935 (£750).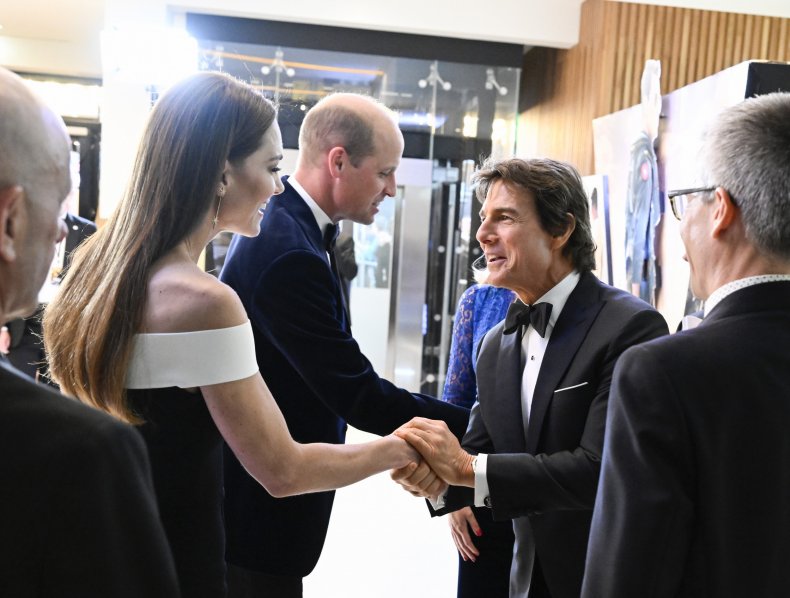 At the Top Gun: Maverick premiere, the prince won a fan in Cruise who told the Press Association after the event the pair "have a lot in common. We both love England, and we're both aviators, we both love flying."
Cruise's love for the royals was demonstrated previously this month when he confused fans by acting as a special guest host at the Platinum Jubilee equestrian tribute to the queen. Speaking to ITV before his appearance, Cruise said that the 96-year-old monarch was a woman who he admires, adding: "I think she's someone who has tremendous dignity and I admire her devotion."
"What she's accomplished has been historic...I have great respect for her and when they asked [me to take part in this event] I said instantly, 'it would be my honor' to be here."