William Says 'Very Difficult' Procession for Queen Reminded Him of Diana
Prince William has told well-wishers in Sandringham that walking behind Queen Elizabeth II's coffin was "very difficult."
The Prince of Wales said the experience reminded him of doing the same for his mother Diana at her funeral 25 years ago, according to royal reporter Richard Palmer.
William and his wife Kate Middleton met members of the public and inspected floral tributes on Thursday during a walkabout at Sandringham, the Norfolk estate where the queen traditionally spent Christmas holidays.
Palmer wrote on Twitter: "Prince William told a woman sympathising with him at Sandringham that the procession yesterday had been 'very difficult' and had reminded him of walking behind his mother's coffin. He told another woman: 'Don't cry now, you'll start me.'"
The Princess of Wales told a well-wisher that inspecting the handwritten notes left in honor of the queen had made her emotional.
Quoted by MailOnline, Fran Morgan, 62, said: "She said she couldn't believe how many cards and flowers there were. But she also said 'I can't read them all or I would cry.'"
William and his brother Prince Harry put aside their differences on Wednesday to walk side-by-side behind Elizabeth's coffin as it was carried on a gun carriage from Buckingham Palace to Westminster Hall.
They joined a 500-strong military procession led by King Charles III as Big Ben's famous bell sounded among gun salutes and the drums of a military band.
The princes' wives went by car to Westminster Hall. The Princess of Wales traveled with Camilla, the Queen Consort. Meghan Markle, the Duchess of Sussex, rode in the second car with Sophie, Countess of Wessex.
Prince William made a subtle reference to Diana's death in his first public tribute to the queen, which was released on Saturday.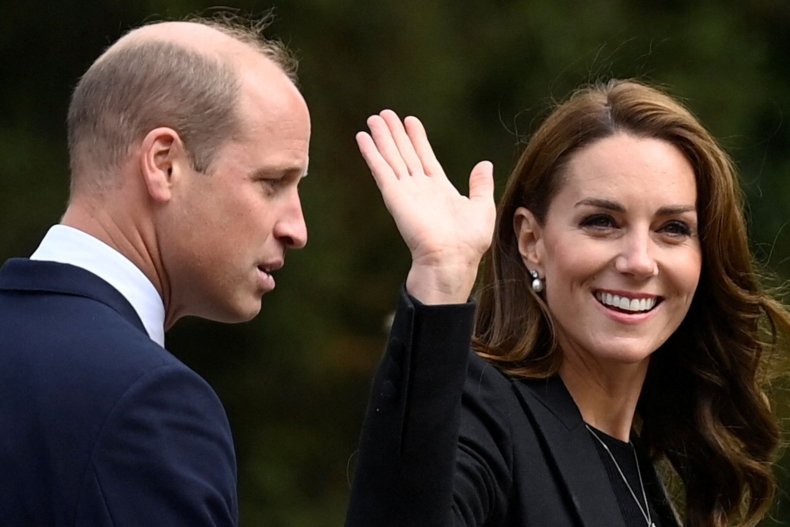 He said: "I have had the benefit of the queen's wisdom and reassurance into my fifth decade. My wife has had 20 years of her guidance and support. My three children have got to spend holidays with her and create memories that will last their whole lives.
"She was by my side at my happiest moments. And she was by my side during the saddest days of my life. I knew this day would come, but it will be some time before the reality of life without Grannie will truly feel real."
The queen died on September 8 at Balmoral, the Scottish estate where the young William and Harry were on holiday when they learnt Diana had died in 1997. It was the queen who kept the boys in the privacy of the Aberdeenshire castle to allow them to grieve before they had to travel to London for their mother's funeral.
The monarch was heavily criticized at the time for not returning to the capital to reassure the public.
However, Princess Anne has previously defended the decision in footage that surfaced after Elizabeth's death: "I just don't know how you could think that that would have been a better thing to do… I don't think either of those two [William and Harry] could, would have been able to cope if they'd been anywhere else.
"That was the only good thing that happened was that they were there, and they had that structure. They had people around them who could understand, give them the time, little time that they had, which was never going to be very much, to try and come—even in a fleeting sense—to terms with what had happened.
"It's not possible for most people to do that in that space, never mind children at that age."
In London the two brothers were expected to walk behind Diana's coffin at her funeral while crowds watched on.
Prince Harry told Newsweek in 2017: "My mother had just died, and I had to walk a long way behind her coffin, surrounded by thousands of people watching me while millions more did on television. I don't think any child should be asked to do that, under any circumstances. I don't think it would happen today."