Clip of Princess Diana at Event Recreated in 'The Crown' Goes Viral—'Angel'
Archive footage showing Princess Diana as she attended one of Prince William's first days at Eton College has gone viral, three months after the event was painstakingly recreated for Netflix's controversial royal drama, The Crown.
Diana attended her eldest son's first day at the school on September 6, 1995, accompanied by Prince Harry and Prince Charles, presenting a unified family front despite the prince and princess formally separating three years earlier.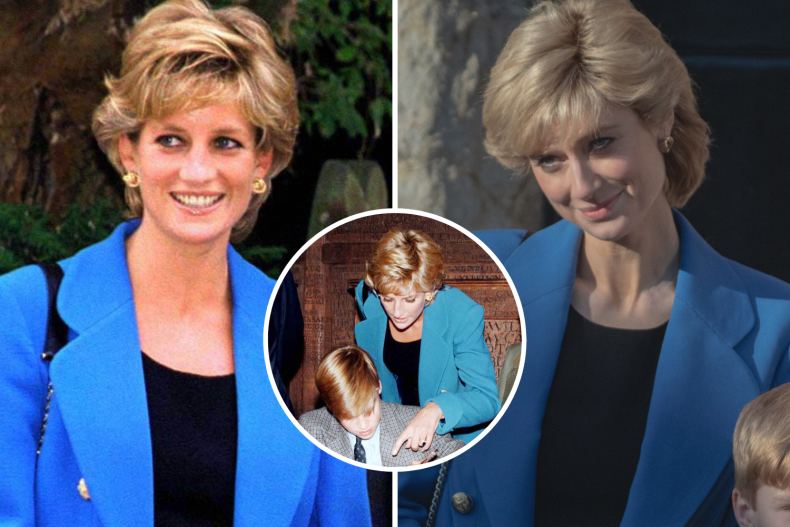 The Waleses decided not to send their sons to Charles' alma mater, Gordonstoun school in Scotland, after the royal experienced bullying and isolation so far away from his family, who were based in Windsor and London for the majority of the school year.
Eton College is less than a mile away from Windsor Castle and during their school years, William and Harry would regularly see their family members based around the castle, including their grandmother, Queen Elizabeth II.
In the archive clip, Diana is seen wearing a striking blue blazer, over a simple line black dress as the family group moved towards a table where William signed his name in the pupil registration book.
The video, uploaded to TikTok by user, theroyalfamilywindsor, has been viewed over 150,000 times and received in excess of 12,000 likes and 60 comments, with many praising the princess, who died just two years after it was filmed.
"Loved and will always love Princess Diana," wrote one user, with another adding: "Angel."
This moment in the royals' lives was recreated by Netflix for Season 5 of their drama, The Crown, where the princess was portrayed by Australian actress Elizabeth Debicki, Prince Charles by Dominic West and Prince William by Senan West.
The series, which portrays events in the life and reign of Queen Elizabeth II and her family, has caused considerable controversy since its first season was released in 2016.
Ahead of the release of Season 5 in November 2022, a number of high profile figures, including Dame Judi Dench and past cast member Dame Eileen Atkins, called for the show to display a disclaimer informing viewers that what they were watching wasn't based wholly on facts, but was a fictionalized retelling of events.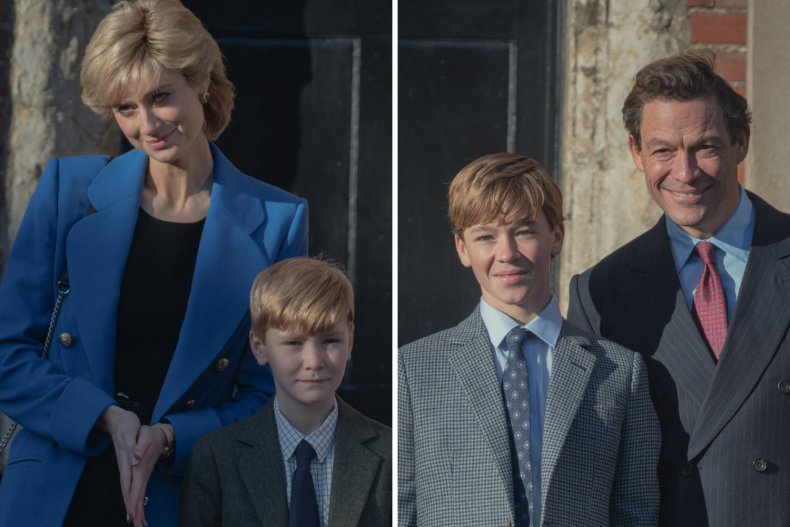 The season's release coming just weeks after the death of Queen Elizabeth also provoked commentary, but the main point of contention seemed to revolve around the portrayal of Diana and her dramatized relationship with Charles.
Buckingham Palace declined to comment on the show, but Netflix appeared to bow to some pressure by adding a short disclaimer to promotional material, despite stopping short of putting a notice at the beginning of each episode.
2022 also marked an important milestone relating to Princess Diana, being the 25th anniversary of her death in a Paris car crash with then-boyfriend Dodi Fayed, who was also portrayed in The Crown's fifth season, by actor Khalid Abdalla.
Though the anniversary wasn't marked in any official formal capacity, both Princes William and Harry paid tributes to their mother throughout the year. Most explicitly, Harry said he wished that the day would be one full of "memories."
James Crawford-Smith is Newsweek's royal reporter based in London. You can find him on Twitter at @jrcrawfordsmith and read his stories on Newsweek's The Royals Facebook page.
Do you have a question about King Charles III, William and Kate, Meghan and Harry, or their family that you would like our experienced royal correspondents to answer? Email royals@newsweek.com. We'd love to hear from you.