Princess Diana and Fergie's Ski Slope 'Silliness' Becomes Viral Hit
A video showing Princess Diana and her royal sister-in-law Sarah "Fergie" Ferguson play-fighting during a skiing vacation with Prince Charles and Prince Andrew in 1987 has gone viral on social media, receiving over 2 million views in 72 hours.
The princess and Fergie were close friends during the early years of their married lives. However, the pair are reported to have fallen out by the time of Diana's death in a 1997 Paris car crash.
Seen as the naughtier members of the royal family in the 1980s, Diana and Fergie made headlines whenever they were together. Journalists were eager to spot them misbehaving, one example being an occasion at Royal Ascot in 1987 when they were photographed jabbing a member of their party's backside with their umbrellas.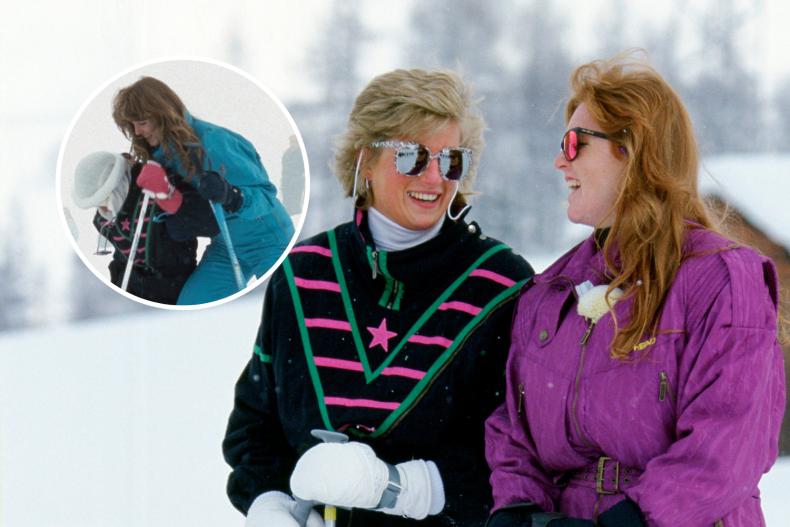 In the viral clip, the sisters-in-law were filmed play-fighting on the ski slopes of Klosters in Switzerland where they were vacationing with their husbands and a group of friends.
In footage not shown in the viral clip, Prince Charles intervened between Diana and Fergie. He offered to help his wife to stand so that photographers could take their shots as part of an official press call.
The clip has been viewed over 2 million times and received more than 655,000 likes. Many of the 500 comments praise the princesses and highlight the unamused looks of their husbands.
"The way they both stared at Diana and Sarah," one user wrote.
"I can hear Diana laughing," wrote another, with a further commenter adding: "Their silliness was amazing. They always got into trouble together."
During the 1980s, Diana and Charles went on a number of skiing vacations and were often accompanied by Andrew and Fergie. In 1988, Fergie was with the couple when an avalanche occurred at the Swiss ski resort they were staying at, endangering the life of Charles and killing friend Major Hugh Lindsay.
The event was depicted in the fourth season of Netflix's The Crown, where Diana was played by actress Emma Corrin and Charles by actor Josh O'Connor.
Diana told her biographer Andrew Morton, per transcripts of her conversations with friend James Colthurst that contributed to the 1992 book Diana: Her True Story, that both she and Fergie learned the news of the avalanche together.
"We went off skiing. I had flu, I had been in bed for two days. Third day in bed," Diana said. "Fergie came back in the afternoon at 2.30 p.m. [...] both of us were in the chalet and we heard this helicopter go up. I said to her: 'There's been an avalanche,' and she said: 'Something's gone wrong.'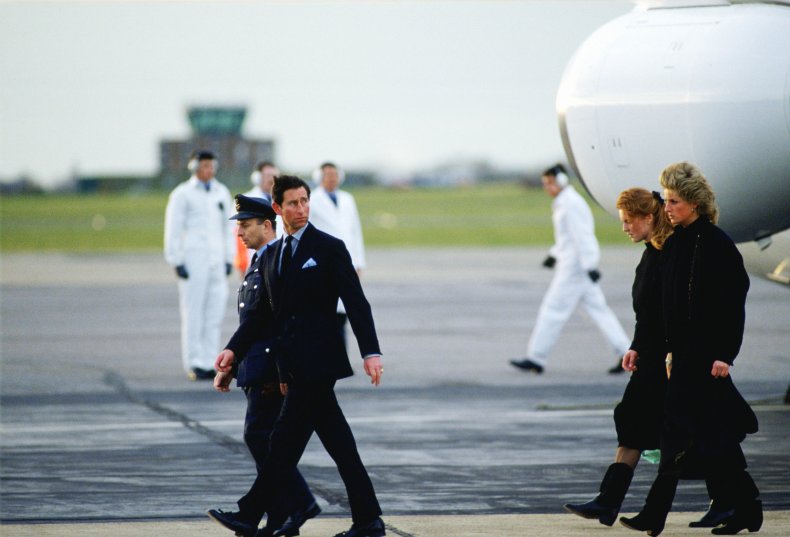 "We heard Philip Mackie [royal aide] come into the chalet. He didn't know that the two girls were upstairs. We heard him say: 'There's been an accident', so I shouted down: 'Philip, what's going on?' 'Oh, nothing at all, nothing at all, we'll tell you soon.'
"I said: 'Tell us now.' He said: 'There's been an accident and one of the party is dead.' So we sat there, we just sat on top of the stairs, Fergie and I, and we didn't know who it was."
Charles, Diana and Fergie travelled back with Hugh Lindsay's body to the U.K. where his wife, Sarah, who worked at Buckingham Palace, was waiting.
Both Fergie and Diana grew closer together as their marriages failed, with Andrew and Fergie divorcing in May 1996, just three months before the divorce of Charles and Diana.
In late 1996, the ex-royals had a falling-out, reportedly after Fergie mentioning Diana in her memoir published that year and in post-divorce interviews.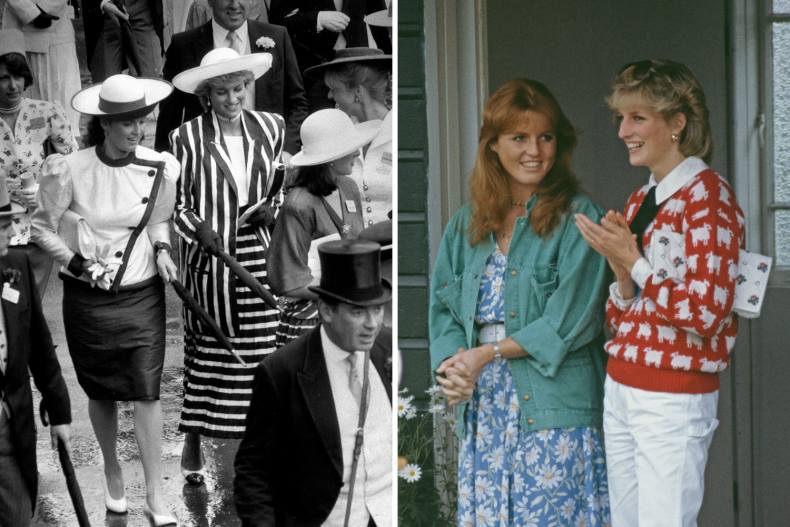 Since her death, Fergie has spoken of her admiration and love for the late princess. In 2022, she told U.K. newspaper Metro:
"I think of her all the time and especially because she and I were the only two who really understood what it was like back in the '80s–the pressure was ferocious and yet together, the two of us were powerful. Not powerful in the sense of strength or importance, but in the love we had for each other, and the way we helped each other cope. Nobody else is left who understands those days."
Today, Fergie lives with Prince Andrew at Royal Lodge, an expansive property on the Windsor Castle estate, Berkshire, England, formerly the home of Queen Elizabeth the Queen Mother.
In September 2022, the former daughter-in-law of Queen Elizabeth II was invited to the state funeral of the 96-year-old monarch. She was given a prominent seat behind the Prince and Princess of Wales.
James Crawford-Smith is Newsweek's royal reporter based in London. You can find him on Twitter at @jrcrawfordsmith and read his stories on Newsweek's The Royals Facebook page.
Do you have a question about King Charles III, William and Kate, Meghan and Harry, or their family that you would like our experienced royal correspondents to answer? Email royals@newsweek.com. We'd love to hear from you.