Princess Diana Shading King Charles in Old Clip Delights Fans: 'Girlboss'
An 1982 archive video clip of Princess Diana and King Charles (when Prince of Wales) with an infant Prince William has gone viral after royal watchers uploaded an edited version to social media platform TikTok.
The footage, shot as part of an photoshoot with infant William and his parents at Kensington Palace, shows Diana cleaning up a vomit spill by the prince, only then to offload the napkin she was using on an unsuspecting Charles.
The video, posted to TikTok by user ollaboutrf, has been viewed over 900,000 times and received in excess of 179,000 likes and 170 comments.
Many social media users have praised the princess, who separated from Charles after a turbulent marriage in 1992 when William was 10 years old. The couple eventually divorced in 1996, just a year before the princess died in a high-speed Paris car crash at the age of 36.
"The way she dumped it on him 😂," commented one TikTok poster on the video, referring to the soiled napkin.
"Girlboss💅" wrote another, with a further user adding: "The way Charles 1000 percent isn't even bothered by it 😂."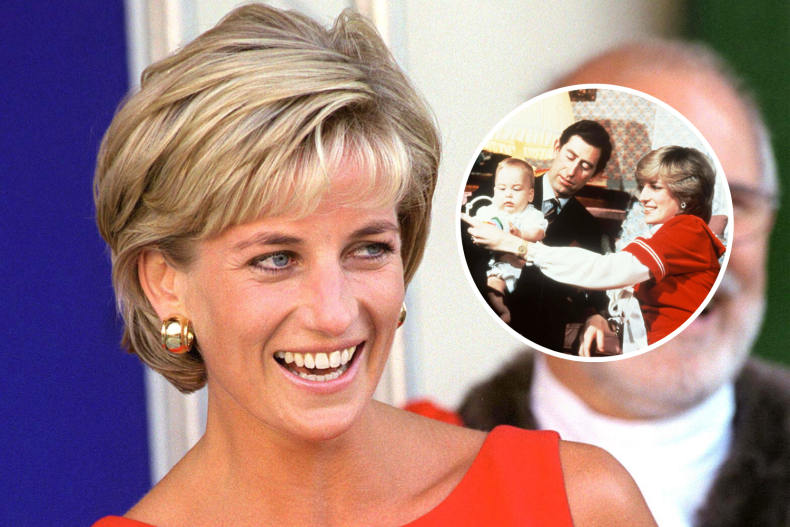 The clip is the latest in a number relating to Diana that have gone viral in the months since the 25th anniversary of her death in August 2022.
Though it was not marked in any official capacity, both Princes William and Harry paid special tributes to their mother throughout the year, including Harry stating in a polo speech that he wanted the anniversary to be a day of "memories" of his mother.
William has spoken about his mother on occasion throughout the years since her death, most extensively in 2017 to mark the milestone twentieth anniversary of her passing.
Opening up about losing his mother at the age of 15, the prince told the documentary Diana, 7 Days that he didn't want the experience to "break" him.
"When you have something so traumatic as the death of your mother when you are just 15, as very sadly many people have experienced and no one wants to experience, it leaves you, you know, it'll either make or break you, and I wouldn't let it break me," he said.
"I wanted it to make me. I wanted her to be proud of the person I would become. I didn't want her worried or that her legacy would be that, you know, William and or Harry were completely and utterly devastated by it and that all the hard work and all the love and all the energy she put into us when we were younger would go to waste."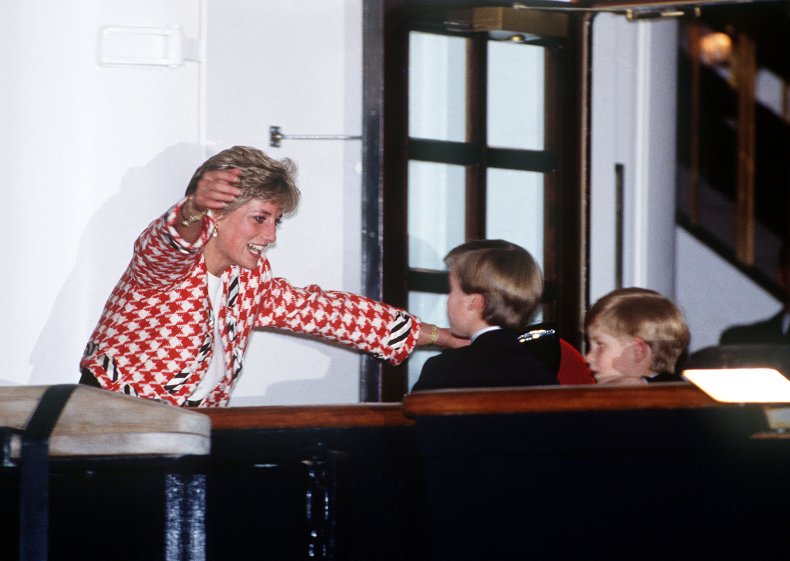 The princess has seen a number of representations in popular culture in recent yeas including in the 2021 Oscar nominated movie Spencer, which starred actress Kristen Stewart as Diana.
Another major entertainment project recreating the highs and lows of the royal's public and private life was the latest season of The Crown, which starred Elizabeth Debicki in the role of the princess.
The Crown faced controversy over its portrayal of Diana and Charles' relationship among other perceived factual inaccuracies, prompting calls for a disclaimer to be played before each episode. Netflix refused to enact such a measure maintaining its audience understood the series was a scripted "drama."
Prior to release, the streaming giant appeared to make a conciliatory effort to appease these concerns, adding a textual disclaimer to promotional material describing the show as being "inspired by real events."
James Crawford-Smith is Newsweek's royal reporter based in London. You can find him on Twitter at @jrcrawfordsmith and read his stories on Newsweek's The Royals Facebook page.
Do you have a question about King Charles III, William and Kate, Meghan and Harry, or their family that you would like our experienced royal correspondents to answer? Email royals@newsweek.com. We'd love to hear from you.