Princess Diana's Most Enduring Style Legacy
Princess Diana created a role for herself during the course of her married life which has become the standard for generations of royal women that have followed her.
There are many ways in which Diana modernized the image of a princess for a new millennium, from the charities she chose to patronize (and those that she didn't) to the way she interacted with the public and the way she dressed. These last two points combine in what has become one of Diana's most enduring style legacies which she normalized as a way to connect with the people—a move as simple as removing her gloves.
Diana's ending of the centuries old tradition of royal women wearing gloves in public when shaking hands and meeting people was radical. Even Princess Margaret—the queen's sister—who had been heralded the enfant terrible of the royal family in the 1950s kept her fist tightly clenched in her velvet glove until she retired from royal duties in the early 2000s.
Even in the fallout of the coronavirus pandemic, gloves still have not been picked back up from where Diana left them. But why?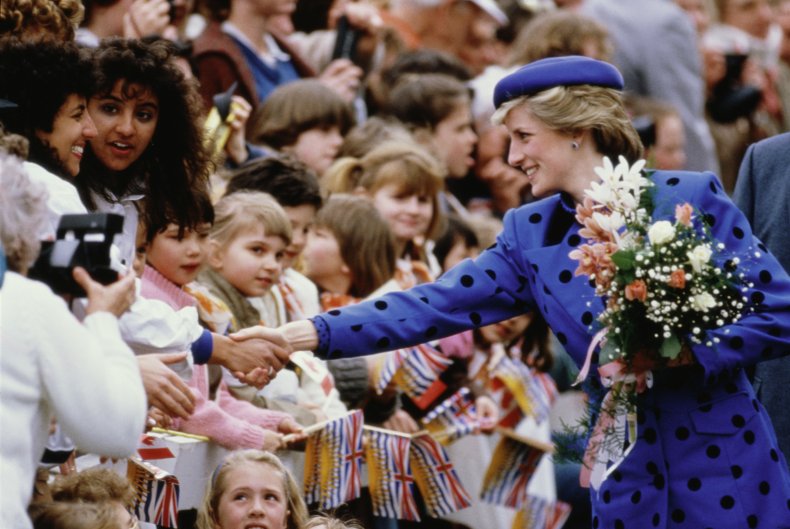 Queen Elizabeth II has worn gloves on public engagements near constantly for over 70 years. It is said that she does this for two reasons, to keep her hands clean and to avoid picking up any germs and illnesses which would interrupt her busy schedule. When Diana married into the royal family in 1981 this was the example she was expected to follow as the queen's only daughter, Princess Anne had done.
From the beginning Diana did not see the need for gloves and on her first official tour as a member of the royal family, a visit to Wales, the absence of gloves during walkabouts and meetings with officials was noted by the fashion press.
Speaking to People ahead of the 2017 exhibition "Diana: Her Fashion Story" staged at the princess' former home, Kensington Palace, curator Eleri Lynn commented that Diana, "abandoned the royal protocol of wearing gloves" pretty much as soon as she married, "because she liked to hold hands when visiting people or shake hands and have direct contact."
This desire to make personal contact and a connection through touch is something that Diana is still remembered for to this day. Perhaps the most memorable moment and enduring image of Diana related to not wearing of gloves was when she was photographed shaking hands with an HIV patient in 1987—when the disease, and its spread, was still feared and misunderstood and those diagnosed with it vilified.
Author Claudia Acott Williams wrote in The Crown in Focus: Two Centuries of Royal Photography that on her visit to the first purpose-built HIV and AIDS unit in Britain, Diana "requested to be photographed shaking hands with patient Ivan Cohen, who agreed on the condition that his back was to the camera [...] by removing her gloves, Diana challenged the widely held misapprehension that HIV/AIDS could be transmitted through touch."
The impact that the image of Diana and Cohen has is still felt today. HIV and AIDS charities would remain an important charitable passion of Diana's until her death and has been continued through the work of her son, Prince Harry.
Though she forewent wearing gloves for public meetings, Diana did factor them into her evening wear wardrobe. On occasions throughout the 1980s the princess accompanied her famous dresses with evening gloves, though never one to be conventional, these gloves ranged from shocking pink satin to mismatching red and black pairs.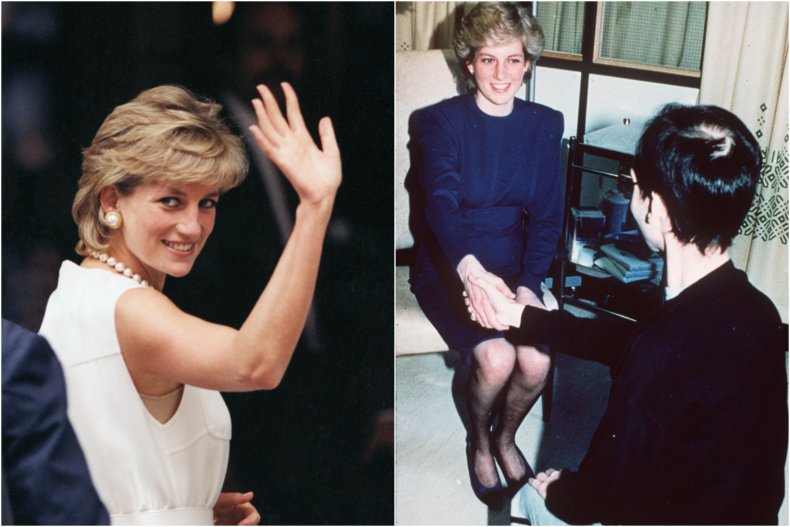 One of Diana's key aims was to remove the barriers that were placed between her and the general public because of the fact of who she was. Gloves were just a physical embodiment of this and by removing them she sought to connect more intimately with the people she met. This radical thinking for the 1980s has been adopted by her two daughters-in-law Meghan Markle and Kate Middleton, who interact in their public work on a gloveless and more intimate footing than previous generations of royals.