How Much Does Princess Eugenie's Engagement Ring Cost? Jeweler Weighs In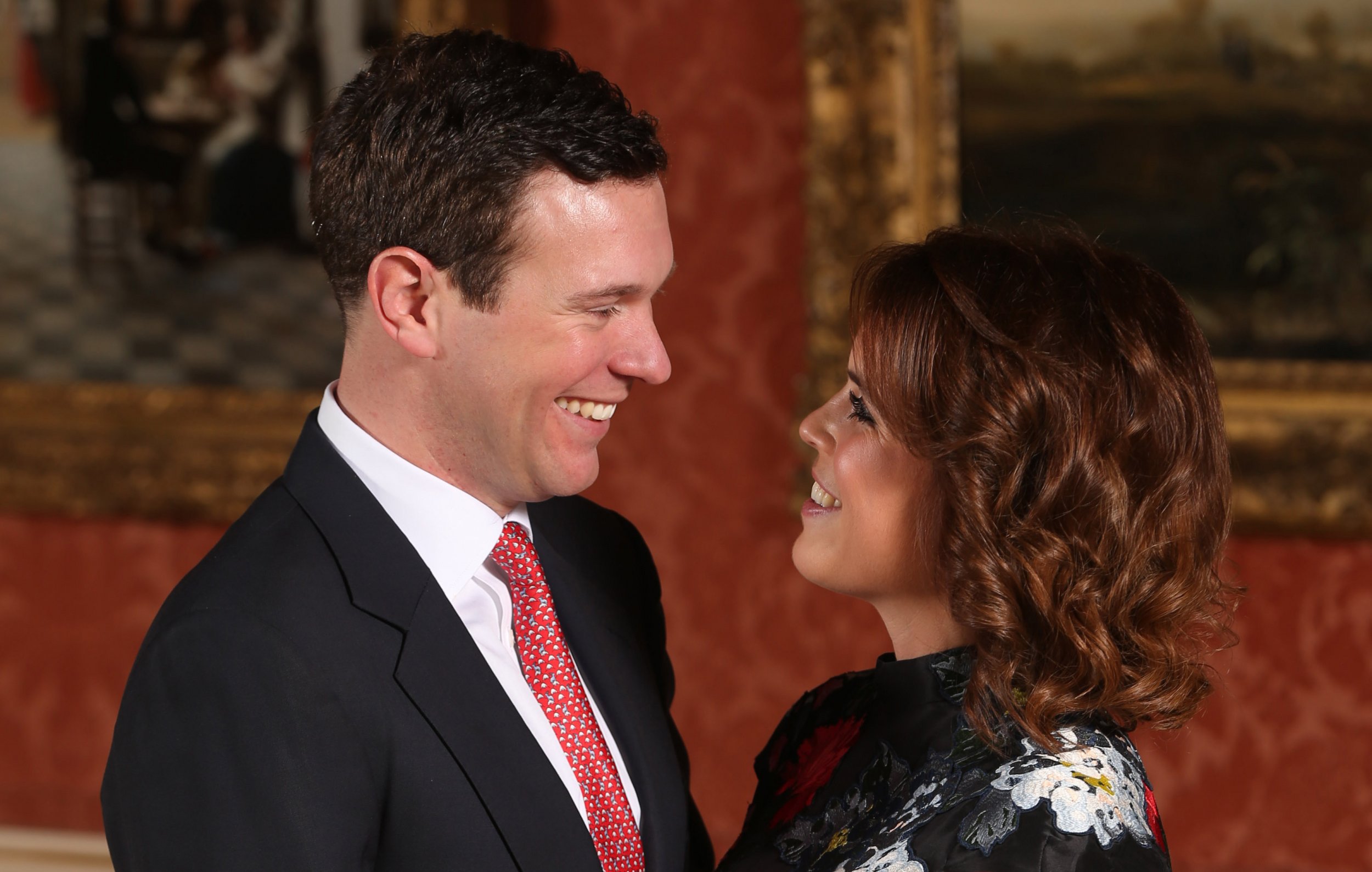 When Princess Eugenie and longtime boyfriend Jack Brooksbank announced their engagement on Monday, the royal couple accompanied the happy news with a Buckingham photoshoot, featuring several close-ups of Eugenie's shiny new rock.
After seven years of dating, Brooksbank finally got down on one knee in front of a volcano in Nicaragua, where the couple was vacationing earlier this month. "The lake was so beautiful. The light was just a special light I had never seen," the princess told BBC News on Monday. That light probably looked even better reflecting off her new hunk of sapphire.
​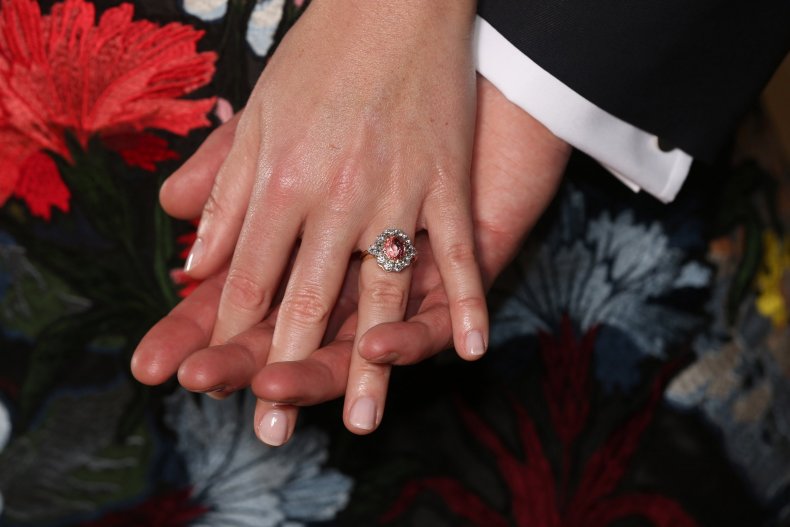 The ring features a padparadscha sapphire surrounded by diamonds. According to Kathryn Money, vice president of strategy and merchandising for fine jewelers Brilliant Earth, the sapphire gem looks to be roughly 10x8mm, or 3 carats. Money told Newsweek the princess's ring is especially unique because of it's color—rather than the traditional blue or green you'd expect from regular sapphire, Eugenie's gem is pinkish orange.
"Padparadscha sapphire is considered among the most beautiful and valuable of corundum gems," said Money. "While these types of sapphires may not be very well known to the general public, they are treasured by gemstone connoisseurs." The label "Padparadscha," Money explained, is derived from the Sanskrit word for "lotus flower." When the gem was discovered in Sri Lanka, it was named for the resemblance to the region's peach-colored flowers.
Money also points to the ring's metal band—mixed yellow and white gold—and the "vintage-inspired" diamond halo as a stand-out feature.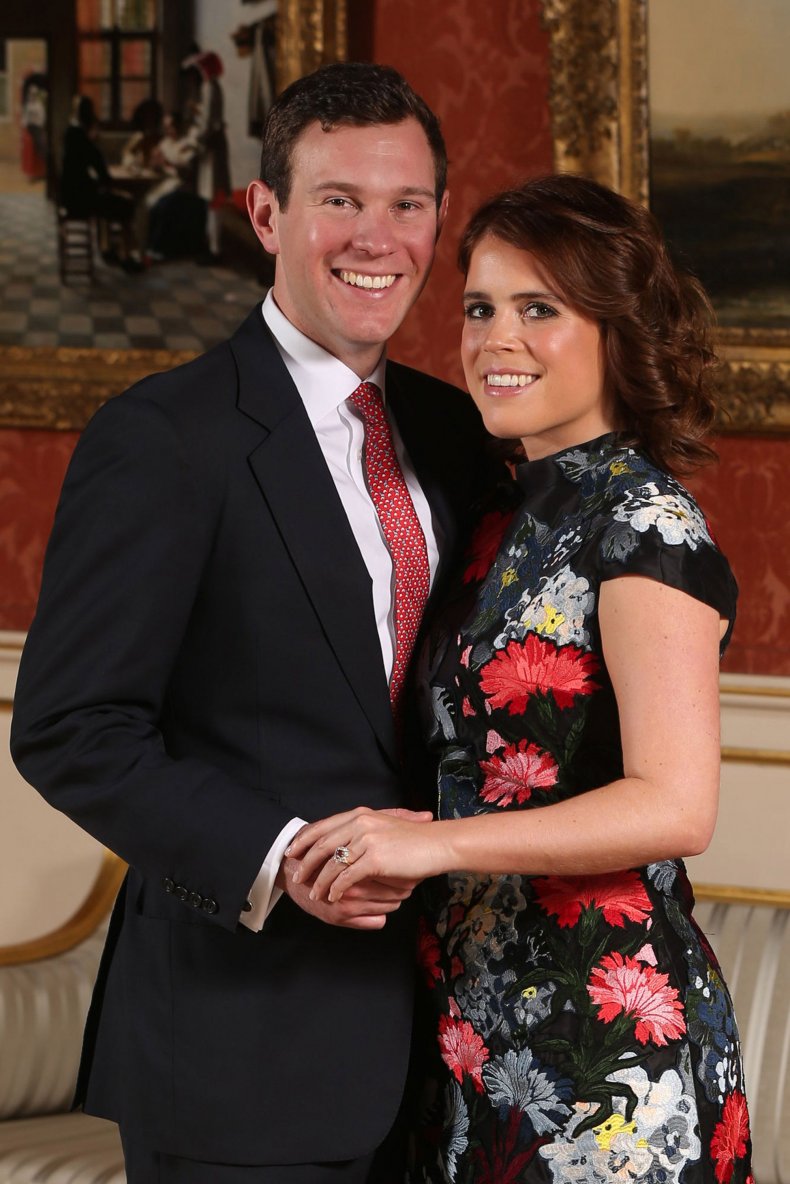 So what's this rare and beautiful piece of jewelry worth? Hard to say for sure without a peak at Brooksbank's credit card statement, but Money estimates somewhere between $30,000 - $50,000 USD.
"A rare and unique type of sapphire that commands a premium," Money said, explaining her estimation process. "Our estimate for the gemstone is approximately $25,000-45,000. Then the setting includes pear and round brilliant diamonds weighing approximately two-and-a-half or three carats. We estimated the setting at roughly $5,000-7,000."
Brooksbank didn't skimp his fiancé, in other words. It's not just the hefty price tag that makes the ring fit for the princess. As Majesty magazine points out, Eugenie's ring bears a striking resemblance to the ring belonging to her mother Sarah, Duchess of York.
Sapphires run in the royal family: Kate Middleton's engagement ring, which once belonged to Princess Diana, was a deep blue 12-carat sapphire and diamond ring, estimated to be worth nearly $500,000. Meghan Markle, who got engaged to Prince Harry in November, is the outlier: She is wearing an all-diamond ring, custom-designed by the prince himself.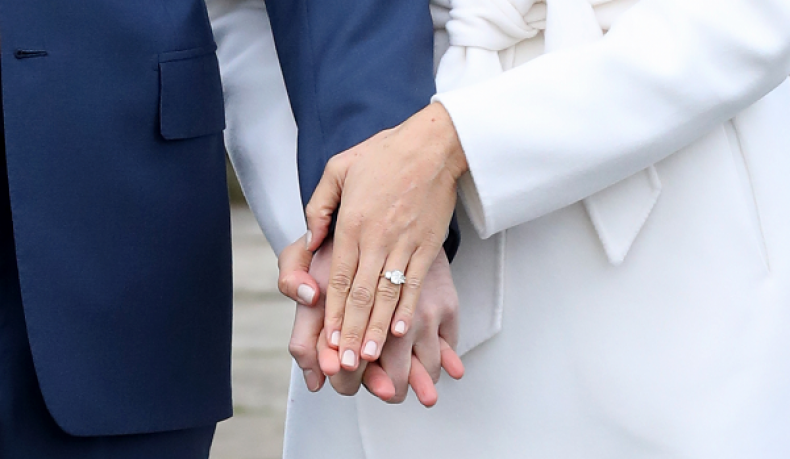 Princess Eugenie and Brooksbank will wed this fall at St George's Chapel in Windsor, the same venue where Prince Harry and Markle will marry in Mary.