Princess Eugenie Announces She is Pregnant With Second Child
Princess Eugenie announced she is expecting her second child in the summer and said she is "so excited," in an Instagram post.
Eugenie, 32, is the younger daughter of Prince Andrew and Sarah Ferguson and cousin to Prince Harry and Prince William. She also knew Meghan Markle before Meghan met Harry.
The princess, who is niece to King Charles III, had her first child, August, with husband Jack Brooksbank, at the Portland Hospital in central London, in February 2021.
A Buckingham Palace statement on January 24 read: "Princess Eugenie and Mr Jack Brooksbank are pleased to announce they are expecting their second child this summer.
"The family are delighted and August is very much looking forward to being a big brother."
On her first Mother's Day, in March 2021, Eugenie wrote on Instagram: "I'm so excited to be August's mum and as you can see I'm enjoying my first Mother's Day.
"I'm also celebrating my beautiful Mumma with this picture of us from March 1990. You've taught me so much."
On August's first birthday, she wrote: "Happy 1st Birthday to our little hero Augie. You are such a special soul that brightens every room with your smile and wave. You have made us so very proud. We love you!"
More recently, at the World Economic Forum in Davos, Eugenie said: "My son is going to be an activist from two years old, which is in a couple of days. Everything is for them."
She added: "Every decision we now make has to be for August, what he's going to be able to look at and do, and how he's going to live his life."
Eugenie described how "as a mother, you, all of a sudden, totally change" during the interview with Reuters in which she also revealed her family is "as much as possible" trying to cut plastic out at home.
She said: "There are 49 million people estimated in slavery today and we know that when the climate is vulnerable, the most vulnerable people are affected by it.
"We're going to see that more and more, each time there's a crisis happening, that people are going to be vulnerable and taken into difficult situations.
"So climate goes hand in hand with it really."
Princess Beatrice, Eugenie's younger sister, gave birth for the first time in September 2021, to daughter Sienna who joined her stepson Wolfie, the first child of her husband Edoardo Mapelli Mozzi.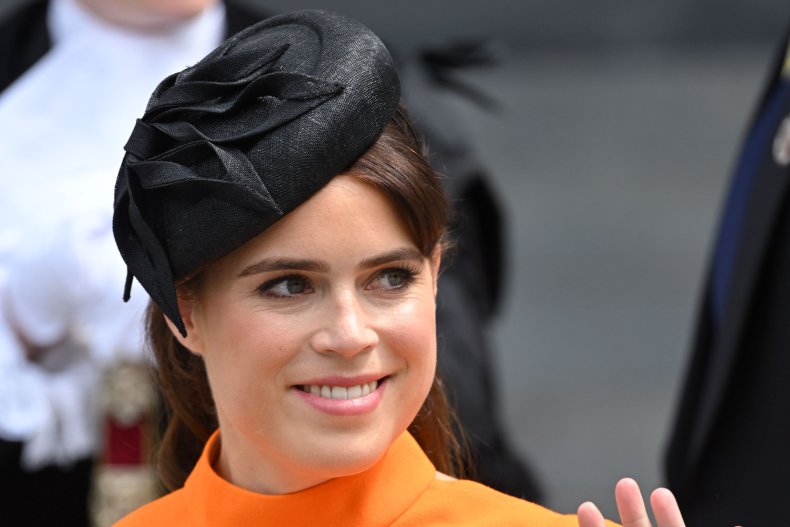 Jack Royston is Newsweek's chief royal correspondent based in London. You can find him on Twitter at @jack_royston and read his stories on Newsweek's The Royals Facebook page.
Do you have a question about King Charles III, William and Kate, Meghan and Harry, or their family that you would like our experienced royal correspondents to answer? Email royals@newsweek.com. We'd love to hear from you.