Prison Guards on Duty at Time of Jeffrey Epstein Death Reject Plea Deal: What Are They Accused Of?
Two correctional officers responsible for guarding Jeffrey Epstein on the night of his death have reportedly rejected a plea deal that would have seen them admit they falsified prison documents. This suggests that the Department of Justice is preparing to bring criminal charges against them.
An August report by The New York Times citing law enforcement and prison official sources claimed that the two prison guards from the Metropolitan Correctional Center (MCC) in New York were asleep on duty, did not check on Epstein for three hours (30 minute checks were required), and falsified prison logs to cover this up.
People familiar with the matter have now told The Associated Press that the plea bargain was offered to the two correctional officers after it was made known to them that charges of fabricating official prison log entries were being prepared. The sources spoke on the condition of anonymity as they are not permitted to publicly comment on the investigation.
The two MCC correctional officers have been placed on administrative leave while the FBI and the Justice Department's inspector general investigates. The MCC prison warden was also reassigned to a desk post at a regional office, according to The Associated Press.
Newsweek has contacted the Department of Justice for comment.
At the time of his death on August 10, Epstein was awaiting trial on federal charges accusing him of operating a sex trafficking ring from 2002 to 2005 at his Manhattan mansion and his Palm Beach estate.
He had been placed on suicide watch on July 23 after he was found on his cell floor with bruises on his neck, but began to be supervised less just a week prior to his death, multiple sources said.
A source also told CNN that it is protocol for inmates coming off suicide watch to share their cells with another inmate, as Epstein had done, but that person was removed from the cell for unknown reasons. The New York Times reported that Epstein's cellmate was removed from the cell the night before Epstein died.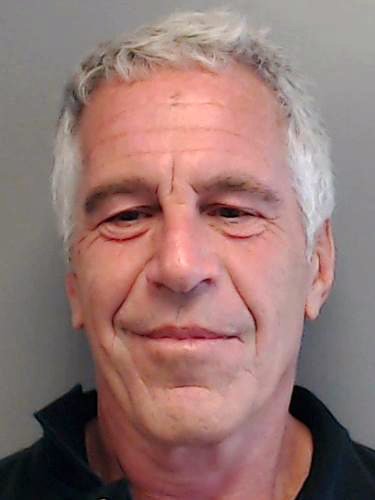 In this handout provided by the Florida Department of Law Enforcement, Jeffrey Epstein poses for a sex offender mugshot after being charged with procuring a minor for prostitution on July 25, 2013 in Florida.
Florida Department of Law Enforcement
After the 66-year-old sex offender was found hanged in his cell, New York City's medical examiner ruled Epstein's death a suicide.
However, questions about his death were raised when an autopsy report acquired by the Washington Post said that Epstein "sustained multiple breaks in his neck bones."
The report raised speculation that Epstein may have been strangled because the broken hyoid bone, which is near the Adam's apple, is more commonly broken in strangulation. However, the autopsy could not be ruled as conclusive as it is possible for the bone to break during hanging as well.
Further speculation was also caused when a Reuters report said that two security cameras outside Epstein's cell "malfunctioned." According to a source, they were sent to an FBI crime lab for examination.
As a result, whether Epstein indeed hanged himself has been the source of a large number of conspiracy theories across the internet, however, no definitive evidence has been produced to suggest he was killed.