Private Company Charging $6k for Flights Out of Afghanistan as Other Planes Leave Empty
Erik Prince, the founder of the private military company Blackwater, is charging $6,500 for seats on charter flights out of Afghanistan. Meanwhile, other flights leaving the region have been mostly empty.
Prince, the brother of former President Donald Trump's Education Secretary Betsy DeVos, has charged $6,500 in order to transport passengers safely to the Kabul International Airport and onto his planes. Prince reportedly said it would cost extra to transport passengers who have been trapped inside of their homes by Taliban forces, the Wall Street Journal reported.
It's unclear how successful Prince's venture has been. Newsweek contacted the Frontier Resource Group, Prince's newly established company, for comment.
Meanwhile, other flights chartered by private non-government groups have been departing Kabul with many empty seats.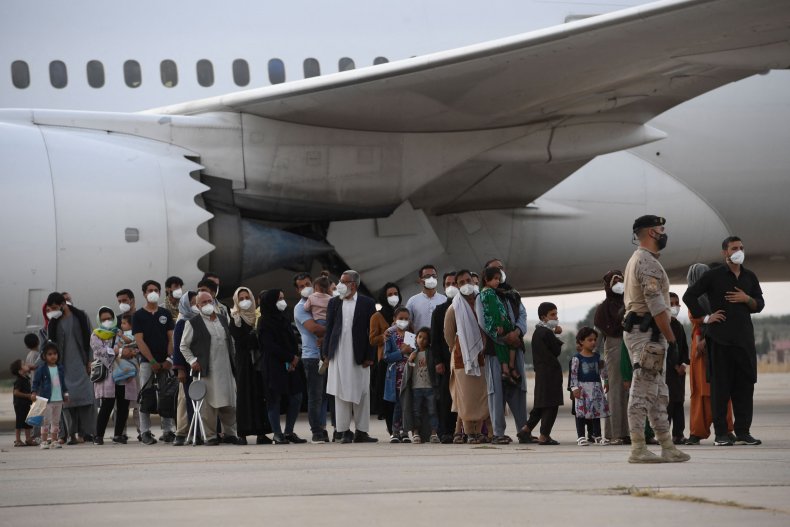 George Abi-Habib, a co-founder of the Washington-based development firm Sayara International, arranged planes to fly 1,000 Afghan refugees to Uganda. However, U.S. Marines guarding the airport gates reportedly refused to let Afghans with seats on one of the planes enter the gate area, WSJ reported.
Even though one of Abi-Habib's flights had 345 seats, it ended up leaving on Tuesday with just 50 passengers. One of the passengers had to crawl through a sewage pipe just to make it into the airport. "We can't expect everyone to crawl through a sewer pipe to safety," Abi-Habib told the publication.
Another of Abi-Habib's 240-seat charter flights heading to Ukraine left with 70 seats empty after U.S. soldiers wouldn't let passengers through to board the aircraft.
President Joe Biden has refused to extend his August 31 deadline for evacuating Americans, U.S. troops and Afghan allies. As a result, charter flights have a rapidly closing window to try and help others evacuate.
Legislators have blasted the Biden administration for not ramping up evacuation efforts earlier into the U.S. withdrawal. Now that the Taliban's extremist Islamic militant forces have taken over the country, their presence has made it more difficult for Afghans to peacefully depart.
Last week, the Pentagon said the U.S. military forces couldn't ensure safe entry for Americans entering the airport. On Saturday, the U.S. Embassy in Afghanistan warned Americans not to go to the airport because of security threats.
The U.S. State Department has also had trouble quickly processing passport and visa paperwork for "tens of thousands" of evacuees, according to Massachusetts Representative Seth Moulton. Moulton and others worry that Taliban forces will kill any Afghans who assisted U.S. forces, despite a Taliban pledge not to do so.
Despite the chaos, the U.S. and its allies have evacuated over 82,300 people since August 14.
Guards with Prince's Blackwater company hired by the U.S. during the U.S. invasion of Iraq were later convicted of killing civilians in 2014. Prince has also helped recruit ex-spies to help infiltrate teacher unions, Democratic campaigns and other liberal groups perceived as hostile to Republicans and Trump, The New York Times reported.