Private Military Groups Will 'Contribute to Chaos' in Russia: Ex-General
Former U.S. Army Lieutenant General Mark Hertling warned on Saturday that private military groups in Russia will "contribute to chaos" should Russian President Vladimir Putin's government "collapse."
Hertling posted his observation to Twitter while responding to Sergej Sumlenny, an Eastern European expert, who tweeted, "Reports in Russian social media appear, that companies like Gazprom, Rosneft and other start their own private military companies. The Russian elites prepare for a scenario of military defeat of Russia and vacuum of power after that."
The possibility of Russia collapsing as a consequence of Putin's invasion has been discussed regularly by some, amid debates of what constitutes a Ukrainian victory as Western countries continue to provide military aid to the war-torn country. Last June, French President Emmanuel Macron said the West should not "humiliate" Putin to preserve the chance of a potential diplomatic solution while speaking to regional media. He also suggested last month while speaking to French media that Russia should be "defeated, but not crushed."
Former adviser to Ukrainian President Volodymyr Zelensky, Oleksii Arestovych, said in late February during a YouTube interview with Mark Feygin, a former deputy in the State Duma, that Putin has even discussed the collapse of Russia over the last few months with former Russian President Dmitry Medvedev.
In recent months, Russian oligarch Yevgeny Prigozhin, who founded the paramilitary unit the Wagner Group, has been making significant military gains near Bakhmut, an industrial town in Ukraine's Donetsk region. Wagner troops have been credited with being a major factor in Russia's recent gains in the war in Ukraine.
Meanwhile, Prigozhin has made multiple public pleas for Russia's formal military to assist his troops with more ammunition to continue the assault on Bakhmut. However, these public pleas resulted in the Kremlin cutting Prigozhin off from all Russian government communication channels, he claimed Thursday on his Telegram channel.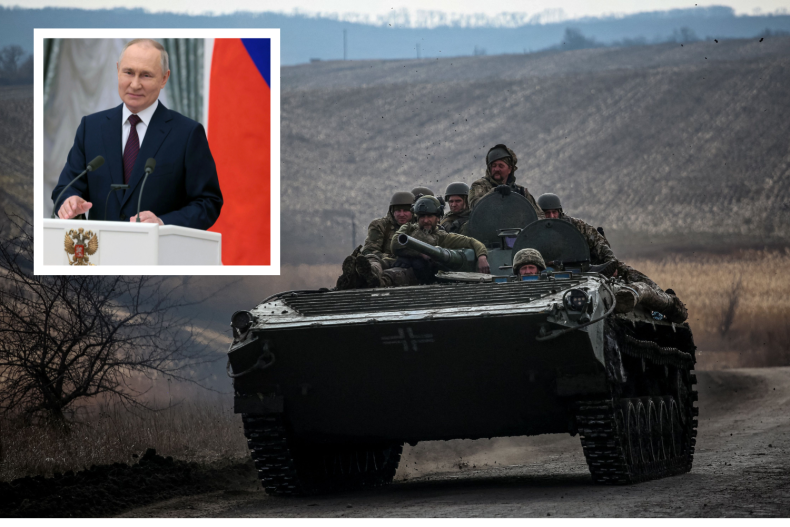 Rajan Menon, director of the Grand Strategy program at Defense Priorities, told Newsweek on Saturday, "The speculation on what might or might not happen if Putin falls is just that: speculation. In truth, we have no way of knowing how vulnerable he is or what a post-Putin Russia will look like and which groups and individuals will shape its future."
He added: "This much is clear, though: upheaval in Russia, which with its 11 time zones is far and away the world's largest country, and has thousands of nuclear weapons, could lead to outcomes nobody wants or gains from; and the bet that it would lay groundwork for democracy is, again, speculation."
Similarly, former U.S. Army General Ben Hodges told Newsweek on Saturday, "Other private military companies are anticipating Russia's collapse. Either for protection or they see themselves as Putin's protection or competition. Bottom line is that there is a lack of cohesive military structure in Russia, which has allowed Ukraine to be successful on the battlefield."