Russia's Collapse Now Considered Plausible by Putin—Ex-Zelensky Adviser
A former adviser to Ukrainian President Volodymyr Zelensky has said that Vladimir Putin has discussed the collapse of Russia over the last few months with former President Dmitry Medvedev.
Oleksii Arestovych was talking about the latest developments in the war in Ukraine during an interview on the YouTube channel Feygin Live on Monday, hosted by lawyer and former Russian opposition politician, Mark Feygin.
Medvedev, who is the deputy chairman of Russia's security council, has made remarks on his Telegram social media channel touting Russia's nuclear capability and framing Russia's invasion as a proxy war between NATO and Moscow.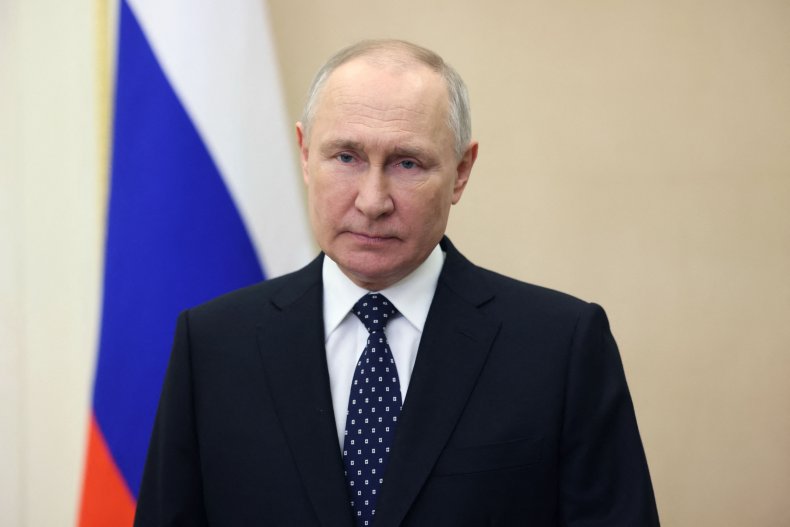 In an op-ed for the newspaper Izvestia on Monday, Medvedev wrote that if the future of Russia's existence was in doubt, "it will not be decided on the Ukrainian front," adding "we don't need a world without Russia."
Putin has expressed similar apocalyptic themes, telling Russian state TV on Sunday that the confrontation with the West was an existential battle for the survival of Russia and the Russian people in which he needed to take into account NATO's nuclear capabilities.
"They have one goal—to disband the former Soviet Union and its fundamental part — the Russian Federation," Putin said.
A potential collapse of Russia as a consequence of the war has been regularly brought up, amid debates of what constitutes a Ukrainian victory, among Western powers providing aid to Ukraine. French President Emmanuel Macron warned the West should not "humiliate" Putin to preserve the chance to find a diplomatic solution, also more recently calling for Russia to be "defeated but not crushed."
In a December 2022 op-ed for The Spectator, former U.S. Secretary of State Henry Kissinger wrote: "[T]he dissolution of Russia or destroying its ability for strategic policy could turn its territory encompassing 11 time zones into a contested vacuum."
Ukraine's National Security and Defense Council Secretary Oleksiy Danilov has recently said that the West had not yet decided how the war should end but that the world should prepare for the collapse of Russia.
Arestovych told Feygin that, taking in accounts by Putin and Medvedev "about the collapse of Russia, can you imagine what it must be like for the president of the Russian state to publicly express such a discourse and narrative about what should happen?"
Regarding the potential collapse of Russia, Arestovych said that Putin and Medvedev "consider it a completely real scenario" and that such talks between them about such a prospect have been happening "for at least three to four months."
"The president reacts only to very important and very important serious signals that have threatening tendencies," he said.
War Translated, an account that tweets about the invasion, shared a summary of the interview and said that Medvedev and Putin both discussing a potential Russian collapse "indicates that this scenario is considered to be plausible by them and that it has already been discussed for 3-4 months."
"The fact that the president himself voiced this concern indicates that this is an issue of the highest level. Russia is racing towards the abyss," War Translated added. "Arestovych believes that the war has entered its final phase, the last third."
In January, Arestovych resigned from his role as Ukrainian presidential adviser after his comments about a Russian missile strike that destroyed a building in Dnipro killing at least 40 people. He said the building was hit by a Ukrainian air defense counterattack which the Kremlin used to blame the destruction on Kyiv.