Putin Says Russia Has to Take NATO 'Nuclear Potential' Into Account
Russian President Vladimir Putin said Moscow must "take into account" the "nuclear potential" of NATO countries like the U.K. and France, as well as the U.S., after freezing a key nuclear arms control agreement.
Speaking to Russian state media channel Rossiya-1, or Russia-1, Putin said "all the leading NATO countries have declared their main goal to inflict a strategic defeat on us, so that our people suffer."
Putin then asked state media host Pavel Zarubin, according to a readout from state news agency Tass: "Under these conditions, how can we not take into account their nuclear potential?"
On February 21, Putin announced in an annual address to lawmakers that he was suspending Russia's participation in the new START nuclear arms reduction treaty.
The agreement is the only remaining nuclear arms control deal between Moscow and Washington, restricting the maximum number of strategic nuclear warheads both countries can deploy.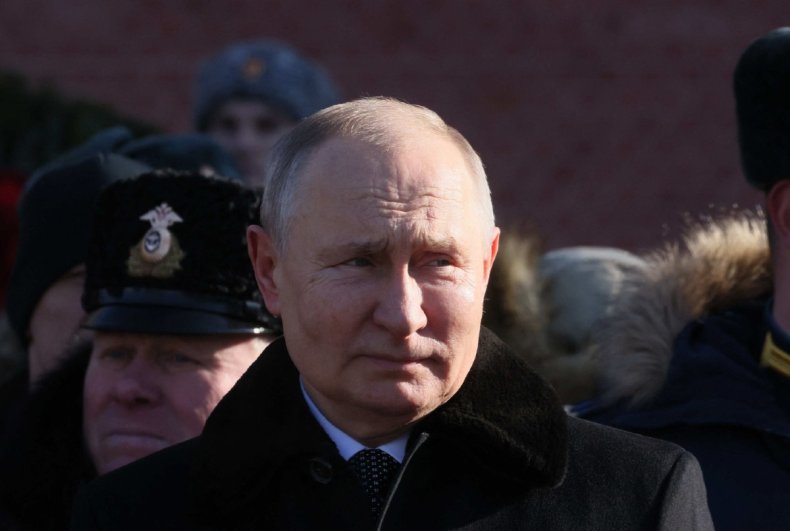 It came into force in February 2011, and was extended in 2021 for another five years. Washington and Moscow are allowed to deploy no more than 1,150 strategic nuclear warheads under the treaty.
Again phrasing the decision in terms of the goals of Western countries on Tuesday, Putin said "they want to inflict a strategic defeat on us and claim our nuclear facilities."
"In this regard, I am forced to state that Russia is suspending its participation in the strategic offensive arms treaty," he said during his State of the Nation speech.
The move was condemned by Secretary of State Antony Blinken, who called Putin's announcement "deeply unfortunate and irresponsible."
"More nuclear weapons and less arms control makes the world more dangerous," added NATO Secretary-General Jens Stoltenberg.
Russian People May No Longer Exist
During the state broadcast, Putin presented the ongoing war in Ukraine as a battle for the survival of the Russian people.
"They have one goal," he said, in the interview that was recorded on Wednesday, but released to the public on Sunday, according to Reuters.
This objective is "to disband the former Soviet Union and its fundamental part - the Russian Federation," he continued.
"I do not even know if such an ethnic group as the Russian people will be able to survive in the form in which it exists today," Putin added.
The U.S. 'Humiliated' NATO Ally
Elsewhere in the interview, Putin said the U.S. had "humiliated" France through the AUKUS defense pact, which was announced in September 2021.
The trilateral agreement between the U.S., U.K. and Australia saw Canberra go back on a previously confirmed deal with France to provide 12 diesel-electric attack-class submarines to Australia. Under AUKUS, Washington and London instead agreed to help Canberra acquire nuclear-powered submarines, in a deal involving closer military co-operation.
At the time, France's foreign minister called the move a "stab in the back" from Australia's government.
"We had established a relationship of trust with Australia, this trust has been betrayed," Jean-Yves Le Drian told French radio.
"That's it, they just humiliated the country," Putin said in his state media interview on Rossiya-1.