Putin Changes Course on Nuclear Weapons
Vladimir Putin announced on Tuesday that Russia will stop observing the New START treaty, the last remaining nuclear arms control agreement it shared with the U.S.
In a major speech to the nation, the Russian president said he wants to re-evaluate what NATO allies have in their nuclear arsenal, adding that Russia will be ready to test nuclear weapons only if the U.S. tests them first.
That doesn't mean that Russia is leaving the agreement entirely, but Putin has stressed that the country will suspend its participation, saying that "before returning to the discussion of this issue, we must understand for ourselves what such countries of the North Atlantic alliance as France and Great Britain" have in "their strategic arsenals."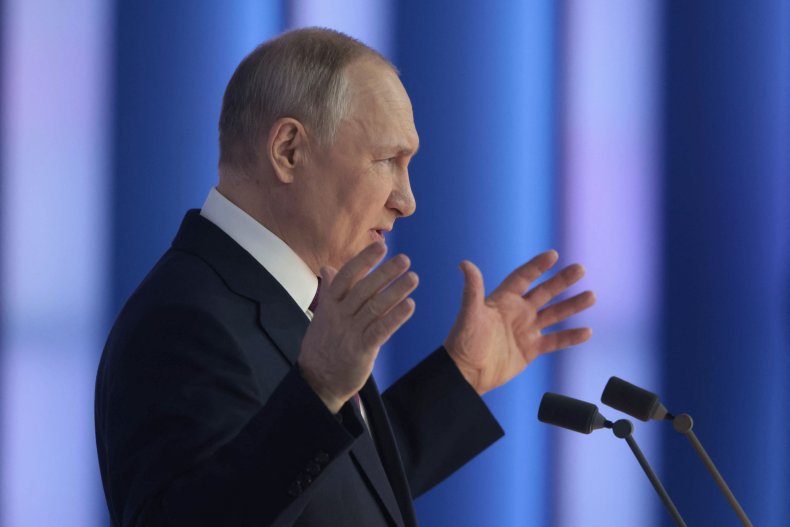 Suspending its participation from the treaty will allow Russia to block the U.S. and NATO from inspecting its nuclear facilities, something that the alliance has been calling for. Putin described the request from NATO as "a theater of the absurd."
"They want to inflict a 'strategic defeat' on us and try to get to our nuclear facilities at the same time," he said.
The New START treaty, which then-U.S. President Barack Obama and his Russian counterpart Dmitry Medvedev signed back in 2010, limits each country to no more than 1,550 deployed nuclear warheads and 700 deployed missiles and bombers.
According to the agreement, each country is allowed to ask for on-site inspections to verify the other is complying with the terms of the treaty. There have been no compliance on-site inspections for a while between the two countries, as they were temporarily suspended during the COVID-19 pandemic.
The treaty had been extended in February 2021 for another five years, just days before it was due to expire.
Before returning to the issue of its participation in the treaty, Putin said that Russia will need to understand NATO's combined strike potential and the strategic arsenals of the alliance's members.
The Russian leader stated that the country will ensure the readiness of its nuclear weapons, but won't launch a test first. "If the United States tests, then we will. No one should have dangerous illusions that global strategic parity can be destroyed," Putin said, as quoted by local media.
During his state-of-the-nation address, Putin gave no indication of when Russia's war in Ukraine is going to end, claiming that the conflict was started by Ukraine and its allies. He accused "Western elites" of trying to "transform the local conflict into a global confrontation."
Update, 2/21/2023, 8:03 a.m. ET: This article has been updated to include more context.