Russian Media Hack Hits During Putin Speech
Russian state websites streaming President Vladimir Putin's much-publicized speech on Tuesday went offline during his address, according to Russian state media.
Putin's annual State of the Nation speech, which began around 12 p.m. local time, was due to be live-streamed on several Russian state media platforms.
But a report of "technical work" appeared on the website of the All-Russian State Television and Radio Broadcasting Company (VGTRK) during the speech, according to Russian state media outlet, Tass.
VGTRK operates many of Russia's key state TV broadcasts.
The website used for broadcasting the state-run Rossiya-24 channel, Smotrim.ru, was reported as down by a group claiming to work on behalf of Russian opposition activist Alexei Navalny.
The website for state media's Channel 1 was only "working intermittently," the group said in a tweet, claiming responsibility for the disruption along with "other hackers."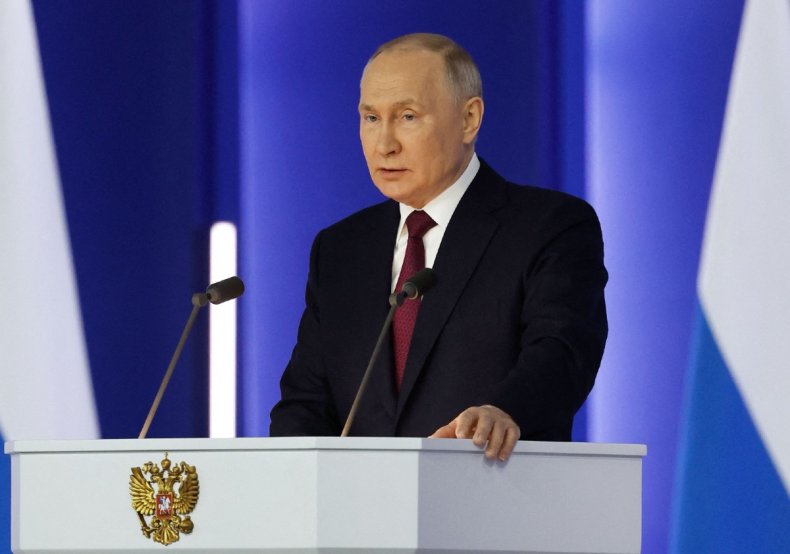 In a separate tweet, the group again claimed there had been "attacks" on the websites, including from members of its organization.
The state-run RIA Novosti news agency said the disruption was down to a distributed denial of service (DDoS) attack, according to Reuters. A DDoS attack was also cited by the group claiming links to Navalny.
However, it has not been confirmed what or which organization was behind the websites failing to broadcast the speech.
The speech came at "a time which we all know is a difficult, watershed moment for our country," Putin said during his extended address.
It is "a time of cardinal, irreversible changes around the world, the most important historic events that will shape the future of our country and our people, when each of us bears a colossal responsibility," he said, according to The Independent.
The speech largely focused on the war in Ukraine, with Putin repeatedly putting the blame for the conflict both on Kyiv and its Western backers.
"I want to repeat: it is them who are culpable for the war, and we are using force to stop it," he said, according to the BBC.
Putin also used his address to announce that Russia was suspending its participation in the new START strategic arms reduction treaty with the U.S. It was extended for five years in 2021.
"I am forced to announce today that Russia is suspending its participation in the strategic offensive arms treaty," Putin said. But this does not equate to withdrawing from the treaty, he added.