Putin Allowed Biden To Visit Kyiv Because Russia is 'Civilized': State TV
A Russian political analyst appearing on a state-run news program claimed that Russia allowed President Joe Biden to visit Ukraine because they are "civilized."
Sergei Markov is a professor of political science at the Moscow State Institute of International Relations and former adviser to Russian President Vladimir Putin. On Monday, Francis Scarr, a BBC journalist who specializes in tracking Russian state-run media, shared a clip to Twitter in which Markov claimed that Biden could visit Kyiv due to Russia's civility. He also used the point claim that Putin could not make a similar visit to parts of Ukraine that Russia has attempted to annex.
"That visit also confirms that we are absolutely right, you know," Markov said. "We're a civilized country and Biden arrived in Kyiv because—I'm sure of this—he got security guarantees from the Russian side that he wouldn't be hit while there...Because we keep our word and are on the side of good and of civilization."
Markov claimed that an air raid siren that could be heard during Biden's visit was a false alarm. This, he argued, proved his point because no officials in the video could be seen reacting to it because they allegedly knew it couldn't be real since Russia had agreed not to strike during the visit.
Markov continued, arguing that Putin or any other Russian official could not make a similar visit to parts of Ukraine due to the presence of "terrorist groups" who would pose him harm.
"Unfortunately, [Ukraine is not] like that," he added. "We know that in essence, terrorist groups are in power in Kyiv, which is why there aren't any visits to Donetsk. Because everyone knows that if someone visits, the Kyiv junta will literally flood Donetsk with fire in order to kill as many of those who visit Donetsk as possible."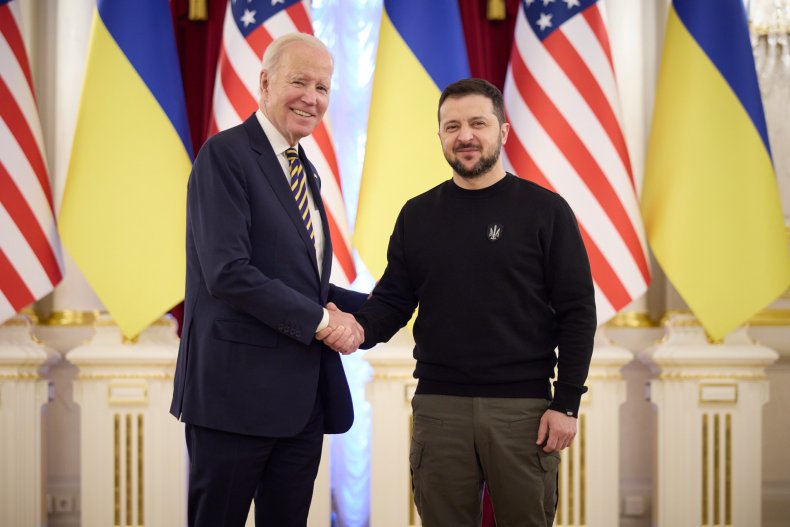 Biden made the trip to Kyiv, the capital city of Ukraine, unannounced on Monday morning, having previously dismissed the possibility of doing so while making a scheduled trip to Poland. During the visit, he spoke at length with Ukrainian President Volodymyr Zelensky and reaffirmed the U.S. commitment to providing military and financial aid to Ukraine amid the Russian invasion, despite pushback from Republicans in congress.
"One year later, Kyiv stands," Biden said during an address. "And Ukraine stands. Democracy stands. The Americans stand with you, and the world stands with you."
Newsweek reached out to the White House for comment.