Private Prison Lobby Targets House, Senate Races as Biden Pledges Crackdown
Joe Biden may have promised a federal crackdown on private prisons if he wins the 2020 election, but an analysis of the industry's political donations suggests it is more concerned about congressional races than who sits in the Oval Office.
Biden, who polling suggests is currently on course to win the election, has vowed to reduce the number of people incarcerated in the U.S. and pledged to end profiteering from incarceration and detention.
"We can and must reduce the number of people incarcerated in this country while also reducing crime," Biden's criminal justice platform states. Instead of spending money on incarceration, the government should be investing in the "communities impacted by mass incarceration," it says.
Despite the impact those promises might have on for-profit prisons, the private prison lobby seems to be more focused on shoring up its interests state-by-state than preventing a Biden victory over President Donald Trump.
Newsweek looked into campaign donations from the political action committees (PACs) of three major for-profit prison companies: GEO Group, CoreCivic, and the Management and Training Corporation.
While the first two companies have largely funneled their dollars to Republican campaigns, in the lead-up to the 2020 election MTC looks to have shifted the bulk of its support to Democrats.
What the data shows, Michael Miller, assistant professor of political science at Columbia University's Barnard College, told Newsweek, is that whereas an ideologue might throw their support behind candidates that best represent their values and ideals, corporations are often willing to be flexible—as long as they can see a path to protect their interests.
"There's often an assumption that corporate PACs have some kind of ideology. But that's really not the case," Miller said.
"What they're really buying is access to politicians after the election so that they can discuss their preferred policies. And it turns out that these PACs are quite good at determining the prevailing political winds and donating accordingly."
The 'prevailing political winds'
So far in the 2020 election cycle, patterns in the spending of both PACs for GEO Group and CoreCivic show clearly which way they believe the wind is blowing in the congressional races they are targeting.
Both of the companies' PACs have donated heavily to keeping Republicans in power. But they have also shown a willingness to donate to Democrats likely to win in the upcoming election.
The PAC for GEO Group, one of the biggest private detention companies in the U.S., overseeing "secure services" at 65 facilities across the country, including dozens of immigration detention centers and jails, contributed tens of thousands of dollars to Republican committees across the board.
Likewise, CoreCivic and its leadership team also funneled money into Republican coffers throughout the 2020 cycle, with the company's political action committee donating more than $100,000 to Republican committees since November 2016.
But while 91 percent of GEO Group's contributions to congressional campaigns have so far gone to Republicans in this cycle, the company's PAC and leadership have supported Democrats in cases where its interests aligned.
The below Statista graph shows the distribution of donations made to Republicans and Democrats by GEO Group, CoreCivic and the Management & Training Corp. in the 2020 election cycle, according to an analysis by OpenSecrets.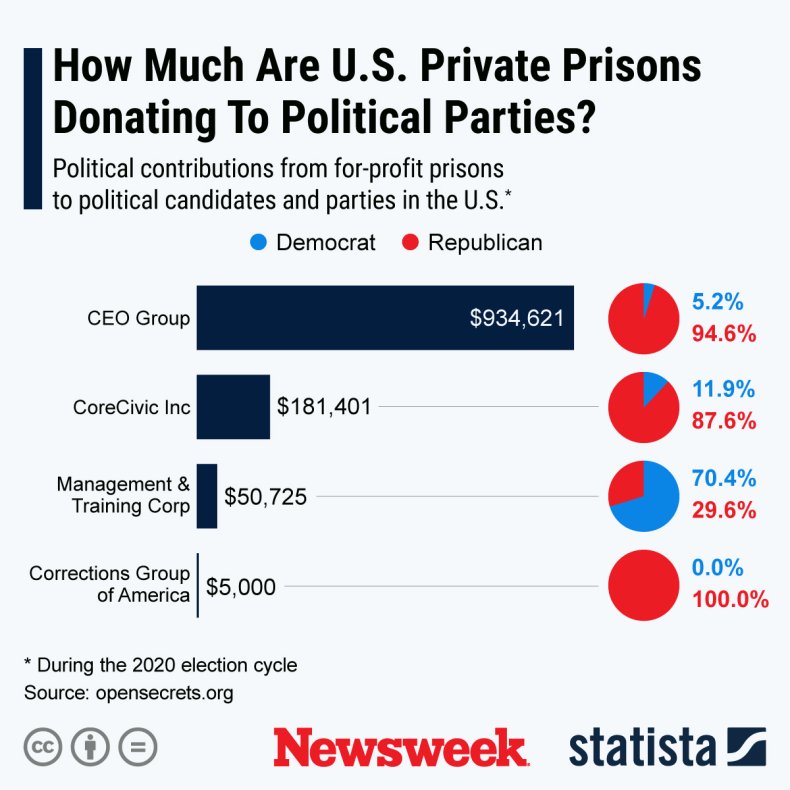 In Texas, for example, where GEO Group operates the highest number of facilities, including a number of immigration detention centers, the company has invested in the campaign of Democratic incumbent Rep. Henry Cuellar.
Widely known as one of the most conservative Democratic members of Congress, Cuellar, the U.S. representative for Texas's 28th district since 2005, has attracted support from for-profit prison companies operating in the state for years.
Since the 2010 election cycle, GEO Group's PAC has backed Cuellar with its cash and he has received at least $9,700 from during the build-up to 2020, according to data from the Federal Election Commission (FEC).
Cuellar has also received support from CoreCivic, which operates 14 facilities in the state—including the ICE-contracted Houston Processing Center.
According to donation analysis from OpenSecrets, the vast bulk of CoreCivic Inc.'s PAC spending over that time has gone toward Republican campaigns, with just a handful of Democrats, including Cuellar, receiving contributions from the company.
FEC spending data shows Cuellar received $6,000 in donations from CoreCivic between 2017 and the end of 2019 as he faced a primary challenge from the progressive immigration lawyer Jessica Cisneros, which he won.
In a statement to Newsweek, Cuellar defended the donations, saying that "both the GEO Group and CoreCivic operate facilities in my congressional district, employing many of my constituents."
He said the donations had no impact on his demands of better standards at private prisons.
"As a Member of the House Appropriations Committee, I have fought tirelessly to ensure increased transparency and oversight measures for immigration detention centers," Cuellar said.
"In 2014, I was the first Member of Congress to bring attention to the need for improving the conditions at immigration detention facilities and Border Patrol facilities."
Cuellar added that he has "enacted more measures than any Member of Congress that addresses the needs of immigrants in detention facilities and Border Patrol facilities."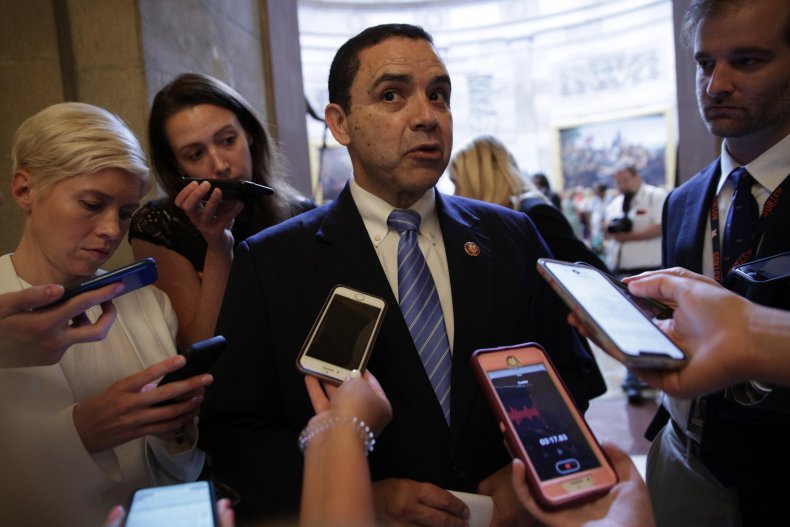 Kara Gotsch, director of strategic initiatives at The Sentencing Project, which campaigns to end life imprisonment, expressed skepticism about Cuellar's claim that donations from for-profit prison companies have had no effect on him.
"I mean, as an organization that opposes private prisons, we would certainly never take money from a private prison company," Gotsch told Newsweek. "And so, I would really question...what that lawmaker's commitment to reform is then."
Generally, she also questions how a politician can express criticisms of an industry and demand reforms while "taking money...from companies that are perpetuating a policy and institutions that they say that they don't support."
In 2018, North Carolina Rep. David Price, for example, returned a $1,000 donation from the GEO Group, citing his opposition to the Trump administration's "zero tolerance" family separation policy.
'A way in the door'
Columbia's Miller said he does not believe accepting campaign donations from a corporate PAC should automatically undermine a politician's integrity. Accepting donations, he said, does not equate to "buying the vote."
"There is a belief that if I'm a representative and you're a for-profit prison and you contribute to me as a prison that I'm going to change my mind," Miller said.
But really, corporations largely "want to be able to use the fact that they contributed as a way in the door" to access politicians in power.
Cuellar was not the only Texas politician the two PACs put their money behind. Republican Sen. John Cornyn received at least $5,000 separately from both the GEO Group and CoreCivic. Sen. Ted Cruz has received at least $5,000 from CoreCivic.
A number of GOP representatives also received smaller sums from the GEO Group, and CoreCivic has so far spent a total of at least $46,000 this cycle in the Lone Star State.
Both PACs have also donated to candidates in Georgia, where there is an effort by state lawmakers to prohibit private prisons, including facilities run by GEO Group and CoreCivic.
According to FEC data, the GEO Group's PAC made donations to the campaigns of GOP Rep. Doug Collins, who got $10,000, and Sen. David Perdue, who benefited from $7,500, ahead of the 2020 election.
Collins is running against GOP Sen. Kelly Loeffler in the Georgia special election to fill the seat of retired Republican Sen. Johnny Isakson. Georgia senators Loeffler and Perdue have also received contributions from the CoreCivic PAC.
The private prison firm's fund donated $1,000 to the Georgians for Kelly Loeffler campaign early last month, while Perdue received $2,500 from the PAC in 2019, and a further $2,000 from CoreCivic CEO Damon T. Hininger earlier this year.
Control of the upper chamber
While both the GEO Group and CoreCivic have used donations to protect their local interests, the PACs of both companies also backed several Republican senators fighting in races that will decide if the GOP maintains its control of the U.S. Senate.
Both CoreCivic and the GEO Group have donated $5,000 each to the campaign of North Carolina GOP Sen. Thom Tillis. CoreCivic donated the same amount to Arizona Republican Sen. Martha McSally's campaign. Hininger, meanwhile, donated a further $2,500 of his own money to the McSally for Senate campaign in 2018.
GOP senators Cory Gardner of Colorado and Steve Daines of Montana both received $10,000 in campaign donations from the CoreCivic PAC between 2018 and 2019, with Daines also receiving support from the GEO Group.
Cook Political Report analysis says all four of the above senators are contesting "toss up" races that could end with their seats being flipped over to Democratic challengers in November.
While that may be the case, both CoreCivic and the GEO Group told Newsweek that donations made by their PACs had less to do with party or ideology than protecting business interests.
In an emailed statement to Newsweek, CoreCivic spokesperson Amanda Gilchrist said: "The fact is there's a huge difference between the political conversation surrounding our business and the practical reality of who we are as a company, what we really care about, and the value and flexibility we provide to partners regardless of party or ideology.
"For nearly 40 years, we have successfully partnered with Democrats and Republicans at every level of government to creatively and cost-effectively meet their challenges in ways they could not do alone.
"As a result, many systems are safer and better able to provide quality programming for the individuals in their care."
Gilchrist continued: "If you remove the political games and look objectively at our track record, it's clear that one of the few things Democrats and Republicans agree on is the value of our services.
"For example, when California's prison system capacity was at 200 percent, conditions were ruled unconstitutional, and the state was ordered by the U.S. Supreme Court to reduce its population significantly.
"The state turned to CoreCivic as a relief valve for this critical situation, which we were proud to do for more than a decade."
In another statement sent to Newsweek, GEO Group spokesperson Pablo Paez said GEO PAC contributions "should not be construed as an endorsement of all policies or positions adopted by any individual candidate."
"Political contributions to federal candidates are only made through GEO's Political Action Committee (PAC), which is exclusively funded by voluntary, non-partisan employee contributions, and is not funded by any corporate revenues," Paez said.
"Our political engagement efforts are educational, with the overarching objective of informing lawmakers and policymakers of the long-standing services we have delivered on behalf of the federal government for over three decades regardless of whether Democrats or Republicans controlled Congress and under both Democratic and Republican Administrations."
Looking to diversify
Lauren-Brooke Eisen, director of the Brennan Center's Justice Program and author of Inside Private Prisons: An American Dilemma in the Age of Mass Incarceration, told Newsweek that while private prison companies say they do not directly lobby, their contributions provide them with access to politicians, which they hope leads to influence.
"The access is what's important, it's being in the same room," Eisen said.
She said companies will claim they do not lobby for changes to criminal justice policy and only "educate policymakers."
"What they mean by that is they give context on how they can be useful," Eisen told Newsweek. "They're in the room talking about why their services are needed. These relationships are important."
And at a time when calls for an end to mass incarceration and immigration detention in the U.S. are growing, having the ear of policymakers could not be more important.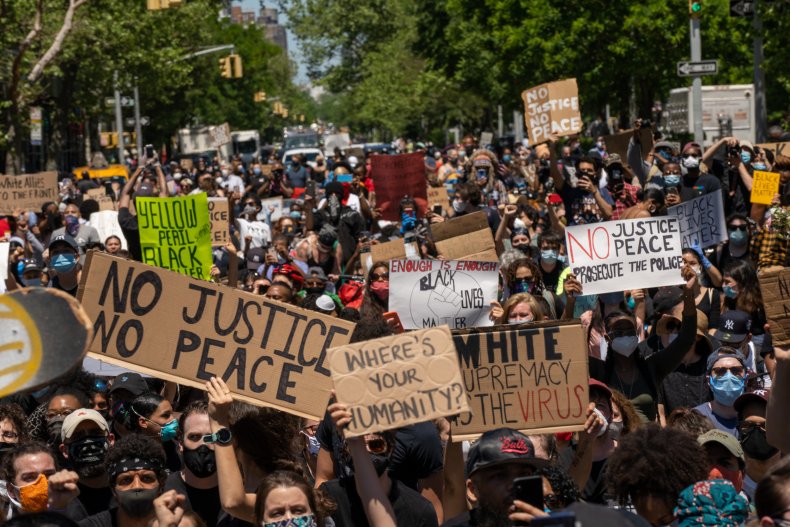 There have been widespread protests across the U.S. calling for an end to the detention of immigrants in response to the Trump administration's hardline policies, including its "zero tolerance" family separation policy.
Meanwhile, protests over the death of George Floyd have also demanded the wholesale reform, if not abolition, of the current criminal justice system, with a focus on the disproportionate number of Black people behind bars.
The coronavirus outbreak, which has spread across America's prisons, jails, and immigration detention centers, prompted more calls for an end to mass incarceration and the detention of immigrants.
Eisen said private prison companies are more than aware of what the calls for reform might mean for business. That is why leaders in the for-profit prison industry are looking to diversify rather than push against a growing wave of support for reform.
On the front page of its website, for example, CoreCivic states that "reducing recidivism and building communities is at the heart of [its] reentry mission."
"Through our residential and nonresidential services, we can help people successfully reintegrate after prison or avoid being incarcerated in the first place," it states.
GEO Group states on its website that it is also focused on "evidence-based rehabilitation programs" for individuals "while in-custody and post-release into the community" through what it calls the "GEO Continuum of Care."
If the U.S. does move further away from mass incarceration and towards transformative justice under a Biden government, companies like CoreCivic and the GEO Group have long been positioning themselves as the best candidates to help pave the way.
Still, the GEO Group is hedging its bets and its PAC has donated to Trump's reelection campaign. It contributed a total of $120,000 to Trump Victory, the president's campaign team, between January 1, 2019, and May 31, 2020, according to FEC data.
Across the aisle
Acceptance of an inevitable move away from mass incarceration might explain why the PAC for the Management and Training Corporation (MTC), a for-profit prison company that runs 24 Job Corps centers, 22 correctional facilities and five detention centers in the U.S., has shifted the bulk of its support from Republicans to Democrats in this election.
So far the MTC PAC has spent more than $290,000 in supporting federal candidates from 2012 through to 2020, according to data gathered by OpenSecrets.
In previous cycles, it has largely supported GOP candidates; 2016 was closest to an even split with 42 percent of its money going to Democrats and 58 percent to Republicans, according to an analysis by OpenSecrets.
However, this cycle it is giving greater support to Democrats, at a roughly 70 percent to 30 percent split, and has so far donated $27,500 to House Democrats compared to $10,000 for Republicans.
This lift for the Democrats was buoyed by $10,000 in donations to Rep. Ben McAdams of Utah, where MTC's head office is based, between February 2019 and January this year. McAdams is the only Democratic congressman from Utah's four districts.
MTC's PAC has also spent money supporting the Blue Dog PAC, part of the Blue Dog Coalition of self-described "fiscally-responsible" and "pragmatic" Democrats, of which McAdams is a member.
At least $10,000 has gone to the Blue Dog PAC, which, in turn, has spent the same amount on McAdams in 2019-20 over six contributions, according to the FEC.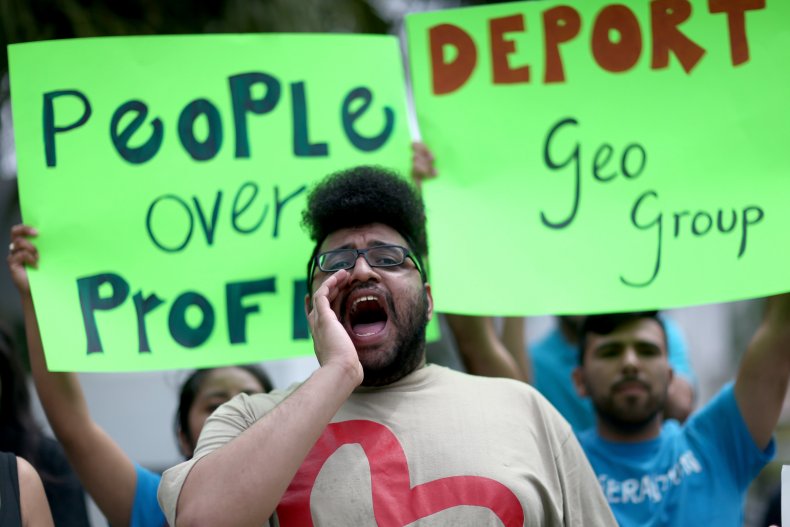 "Throughout his career in public service, Congressman McAdams has been a leader in advancing criminal justice reforms aimed at improving behavioral and mental health services, strengthening diversion programs, and reducing incarceration rates," Andrew Roberts, McAdams' campaign manager, told Newsweek.
"In Utah, we don't have private prisons and the Congressman opposed the option when he served on the Utah Prison Relocation and Development Authority.
"In our state, MTC is a provider of valuable job training programs for people exiting the criminal justice system."
The MTC PAC's support for Democrats is nothing new, however. Since 2012, the PAC has contributed $15,500 in donations to the DSCC—the Democratic Senatorial Campaign Committee—which describes itself as "the only organization solely dedicated to electing a Democratic Senate."
Despite that, in the Senate during this cycle the group's largest contribution went to Texas's Sen. Cruz in the form of a $5,000 donation on November 6, 2019.
Asked about its donations, a spokesperson for Management and Training Corporation told Newsweek: "MTC has partnered with federal and state governments for several decades to provide rehabilitation services in corrections and transitional services in detention.
"We bring cost savings to taxpayers and a commitment to help people improve lives through evidence-based rehabilitation programs. We meet with elected officials, on both sides of the aisle, to educate them regarding the value of public/private partnerships in corrections and detention.
"We make contributions to those who share our passion on the importance of rehabilitation and preparing people to making meaningful changes in their lives as they return to their communities."
Newsweek has contacted political campaigns relevant to this story, including the Biden and Trump campaign teams.
This article has been updated with a chart from Statista.