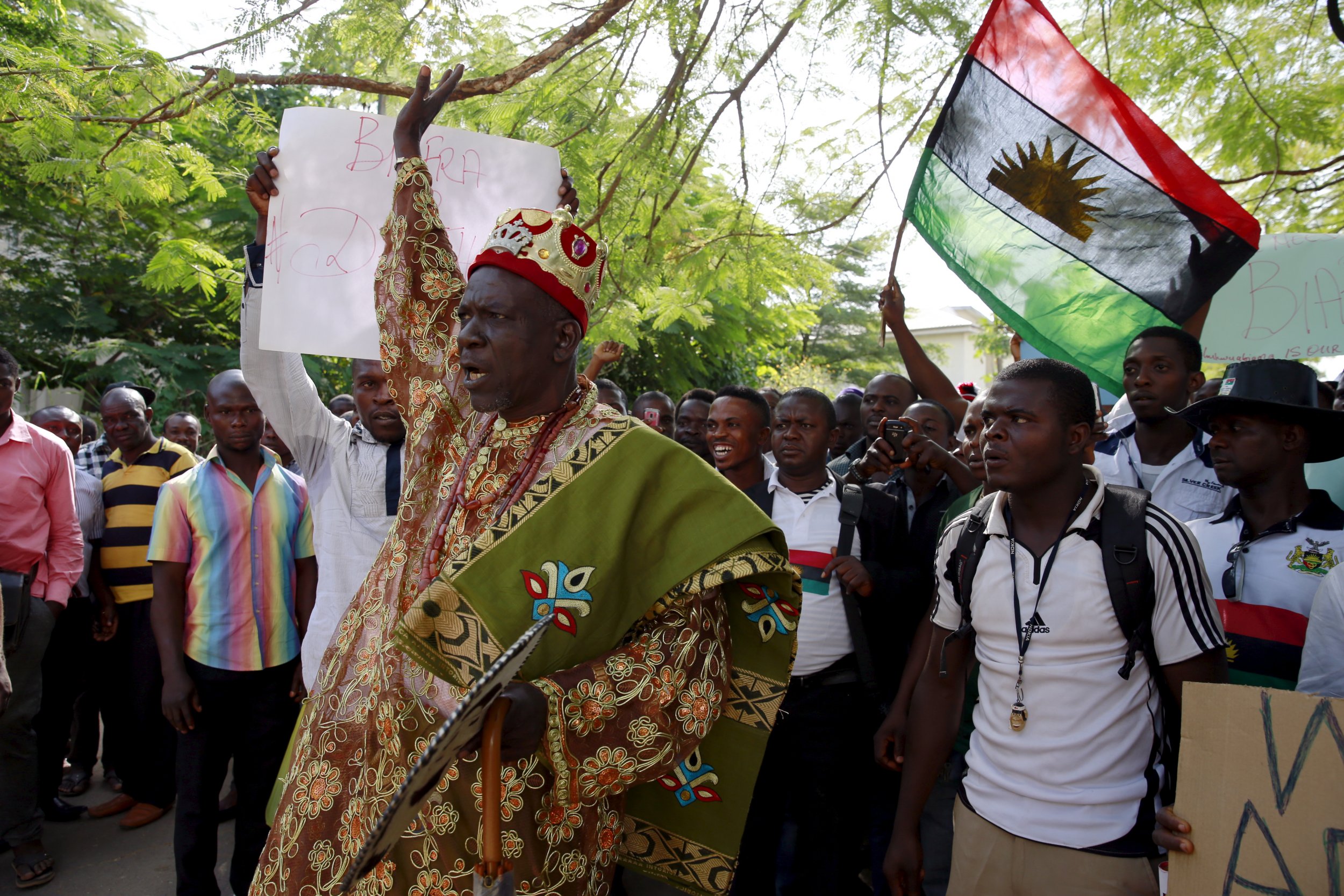 Protests by Nigerians calling for an independent state of Biafra are "completely legitimate," a Nigerian government minister has told the country's press.
Thousands of Nigerians have been attending marches and protests over recent weeks, calling for the release of pro-Biafran activists and demanding a referendum on independence from Nigeria. A number of people have died, including eight protesters and two policemen during a march at the Niger Bridge in Onitsha, Anambra state, in southeastern Nigeria, according to the International Crisis Group (ICG).
The protests were sparked by the arrest in October of Nnamdi Kanu, a London-based activist who runs a popular pro-Biafran radio station that the Nigerian government has tried to ban. But the grievances of pro-Biafrans go all the way back to the 1960s and the Nigerian civil war, when more than one million people died as the Nigerian military crushed a secessionist uprising that briefly established an independent republic of Biafra in southeastern Nigeria. The temporary state consisted largely of members of the Igbo ethnic group.
Lai Mohammed, the newly appointed minister of information in President Muhammadu Buhari's cabinet, told a forum of the News Agency of Nigeria in Abuja at the weekend that the primary cause of the protests was economic. "I have listened to the complaints of many of these agitators and right down it is economic," said Mohammed, according to the Premium Times.
Protests have so far taken place in southeast Nigeria, where pro-Biafran sentiment and the Igbo population is strongest, as well as in the capital Abuja, and further protests are reportedly planned for Lagos, Nigeria's largest city. The Nigerian military has been taking a tough line on the protests, with the army's Major-General Hassan Umaru previously saying that the military wants to "send an unequivocal warning" to all those "agitating for the dismemberment of the country" and warning that soldiers would not hesitate to use force to maintain security and avoid a breakdown in peace.
Information minister Mohammed seemed to send a conflicting message when he said the government has a "responsibility to listen to all" and address the legitimate grievances of protesters. But he also added that Nigeria would not be divided by the rise in secessionist feeling. "There will be no alternative to one united Nigeria," he said.