'Pro-Bullying' Trend Blasted on TikTok: 'Pure Evil'
A barrage of videos has shown former bullies flaunting how "mean" and "evil" they were in school, but some viewers are not amused.
The TikTok trend features users showing their current faces before cutting to photos of their younger selves, set to the tune of "SLAUGHTER HOUSE" by Phonkha and zecki. Several of the videos have gone viral.
In a clip with 11.4 million views, one woman said that she "may look like a bitch now"—but as the screen flashed to a younger photo, she described her childhood self as "PURE evil."
Another woman amassed 3.5 million views on a similar video. "I may look 'mean' now but she was literally evil," she said over a current-day video followed by an older clip.
The videos have struck a nerve with other TikTok users, who decried the trend as "pro-bullying."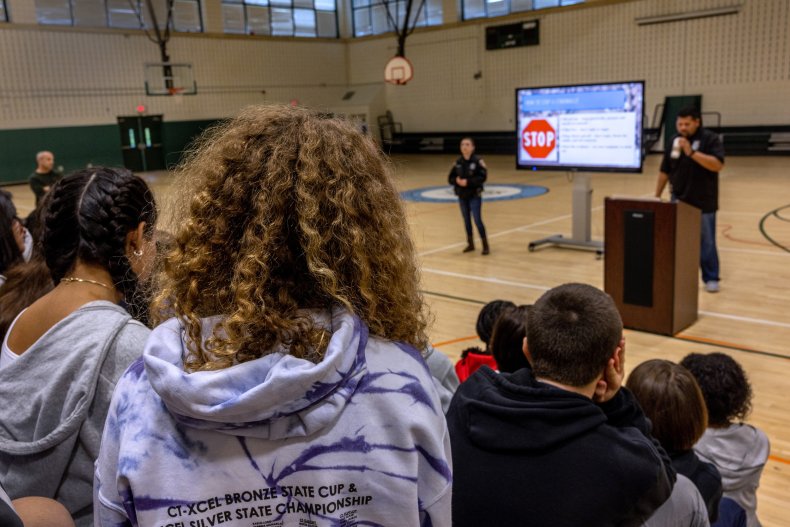 Bullying remains a pervasive element of school life.
In 2019, about 22 percent of students between the ages of 12 and 18 reported being bullied at school, according to the National Center for Education Statistics. Texting, social media apps and gaming platforms have broadened the opportunities for victimization, with 16 percent of high school students reporting they were cyberbullied in 2019.
Helen, a Los Angeles blogger, questioned why people were "bragging" about being mean in high school.
"Yeah, I remember," she said, sharing a photo of herself from a time when she was victimized by bullies.
"So many of us were made to violently hate ourselves," she added in a comment.
The impact can be long-term and severe.
Multiple studies have shown that bullied youth carry a higher risk of developing suicidality, which can be exacerbated by negative self-esteem, depression, anxiety, loneliness and feelings of helplessness. Even bystanders who witness bullying can suffer increased mental health risks, according to a 2020 study in the Cureus Journal of Medical Science.
Another TikToker named Hollie called the trend "vile" and slammed former bullies in a video with 2.2 million views.
"A grown man in his 30s told me he could never have the confidence to wear glasses like mine because it would make the unhealed teenage-self part of him nervous he'd get bullied again, like he had been bullied in high school," said Hollie.
She continued, "Why are y'all proud of creating that kind of lasting damage on people? I would feel eternally ashamed and never post about it online for the whole world to know what type of person I was."
Newsweek reached out to the National Association of People Against Bullying (NAPAB) for comment.