Pro-Death Penalty Legislators Demand Hearing on Richard Glossip's Execution
More than 60 Oklahoma lawmakers—many of them Republicans who support the death penalty—are calling for a new evidentiary hearing in the case of Richard Glossip ahead of his upcoming execution.
The Oklahoma Court of Criminal Appeals set a September 22 execution date for Glossip, 59, after a federal judge rejected a challenge to the state's lethal injection protocol.
But a group of 61 Oklahoma legislators—44 Republicans and 17 Democrats—have urged Oklahoma Attorney General John O'Connor to join their request for a new hearing, citing an independent investigation by a Texas law firm that raised concerns about Glossip's guilt and conviction.
"The report concluded that no reasonable juror who heard all the evidence would find Mr. Glossip guilty," the legislators wrote in a letter to O'Connor last week.
"As elected officials representing the citizens of this great state, we believe it is vitally important to conduct a serious review of this case so that the truth might be conclusively found," the letter said. "Only in this way will we be certain the State of Oklahoma is not executing an innocent man."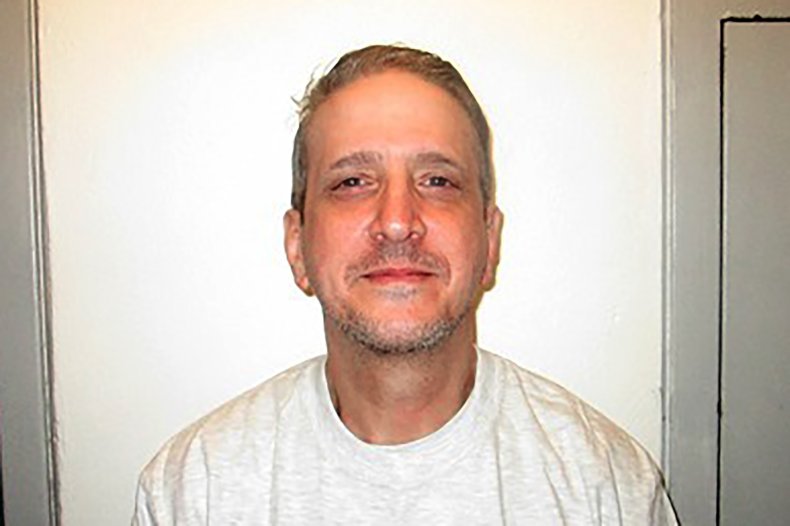 More than 40 percent of the Oklahoma legislature has called on O'Connor to join Richard Glossip's request for an evidentiary hearing, state Representative Kevin McDugle, a Republican, said in statement provided to Newsweek.
"It is my hope and belief that AG O'Connor will move quickly and join this request to the Oklahoma Court of Criminal Appeals," the statement said.
Don Knight, Glossip's attorney, added that no jury in Oklahoma has "heard the whole story, or seen all the evidence in this case."
"We are gratified by the support of so many legislators in Oklahoma who see the value in looking at this new evidence, and urge the Attorney General's office to join our application for an evidentiary hearing," Knight said in a statement to Newsweek.
"This will give us the opportunity to present this evidence in court and show that Richard Glossip is an innocent man."
O'Connor's office did not immediately respond to Newsweek's request for comment. But prosecutors in his office have urged the Court of Criminal Appeals to reject Glossip's request for an evidentiary hearing, suggesting it is a delay tactic.
Glossip has long maintained his innocence in the 1997 killing of Barry Van Treese, the owner of a motel in Oklahoma City where Glossip worked.
The report by the Houston law firm Reed Smith did not find definitive proof of Glossip's innocence, but it raised concerns about lost or destroyed evidence and a detective's conduct in leading Glossip's co-defendant, Justin Sneed, to implicate Glossip in the killing.
Sneed admitted beating Van Treese to death, but said he did so at Glossip's direction. Sneed avoided the death penalty and was sentenced to life in prison. Glossip was sentenced to death based primarily on Sneed's testimony against him.
Glossip has survived three prior execution dates. He was just hours away from being put to death in September 2015 when officials realized they had received the wrong lethal injection drug. That mix-up and others led to a moratorium on the death penalty in Oklahoma that ended with the execution of John Grant in October last year that critics described as "botched."
Three more executions have been carried out since then without noticeable complications.