France's far-right leader and presidential candidate Marine Le Pen, who has voiced support for Russian President Vladimir Putin in the past, could take control of the third largest army in NATO if she defeats incumbent candidate Emmanuel Macron.
On Sunday, the results from the first round of voting for the French presidential election were released and showed Macron receiving 27.8 percent of votes, compared with 23.1 percent received by Le Pen.
The results released on Sunday indicate that Macron and Le Pen will meet in the second round of France's presidential elections, which is a rematch of the race in 2017, when Macron defeated Le Pen. The second round of elections is set for April 24.
Le Pen is known as the leader of France's far-right Nationalist Party, and she has previously expressed support for Putin. Prior to her defeat in the 2017 presidential elections, Le Pen traveled to Russia to meet with Putin and pictures captured the two shaking hands at the time. Reuters also reported that Le Pen has expressed interest in removing France from NATO's integrated command if she is elected president. According to France's Foreign Ministry, the nation is "the third-largest contributor to NATO's military and civil budgets."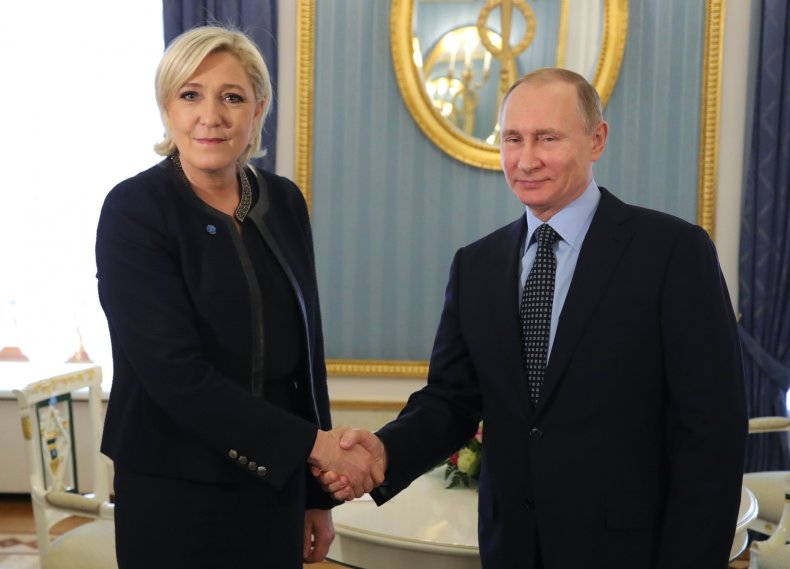 According to Reuters, Le Pen received a loan from a Russian bank in 2014, however, following Russia's invasion of Ukraine, she has attempted to distance herself from Putin. Reuters also reported that she has since condemned Russia's invasion of Ukraine.
"I have expressed my solidarity for the Ukrainian people several times, and have said we should give Ukrainian refugees a decent welcome," Le Pen recently said, according to Politico.
Despite her attempts to distance herself from Russia, many have still accused Le Pen of being an ally of Putin
Ahead of the second round of presidential campaigning on Monday, France's Finance Minister Bruno Le Maire told RTL radio that Le Pen is an "ally of Vladimir Putin," Bloomberg reported.
"Another battle is commencing with two visions of France," Le Maire, according to Bloomberg.
Macron has also criticized Le Pen's past ties to Putin, telling reporters this past weekend, "You should not be looking at me if you want to find complacency towards Vladimir Putin, or Russian financing," according to the Agence France-Presse (AFP).
"You should be looking at the other candidates. Don't forget that," Macron added.
While speaking to supporters over the weekend, Macron said, "I want a France in a strong Europe that maintains its alliances with the big democracies in order to defend itself, not a France that, outside Europe, would have as its only allies the populist and xenophobic international. That is not us," the New York Times reported.
While Macron defeated Le Pen by a wide margin in 2017, recent poll published on Sunday showed this years race ending in a closer result. According to a poll released by IPSOS France, Macron is projected to win the election by an eight-point margin (54 percent to 46 percent).
Newsweek reached out to Le Pen's campaign and Macron's office for comment.