A Delaware Superior Court judge slammed pro-Trump attorney Lin Wood in a Monday decision, revoking Wood's right to represent ex-Trump aide Carter Page in a defamation suit stemming from the Mueller investigation.
"The conduct of Mr. Wood, albeit not in my jurisdiction, exhibited a toxic stew of mendacity, prevarication and surprising incompetence," Judge Craig Karsnitz wrote.
Karsnitz said that he is required to "ensure that those practicing before me are of sufficient character, and conduct themselves with sufficient civility and truthfulness," particularly when out-of-state counsel is selected. Wood is based in Georgia.
Noting Wood's involvement in the Trump campaign's unsuccessful efforts to challenge the results of the 2020 presidential election, the judge wrote that he became concerned after reviewing the decisions made in lawsuits Wood filed in Georgia and Wisconsin courts.
He noted that the case in Georgia was "textbook frivolous litigation," which included "an error-ridden affidavit," and that the complaint Wood filed in Wisconsin "would not survive a law school civil procedure class."
"What has been shown in Court decisions of our sister States satisfies me that it would be inappropriate and inadvisable to continue Mr. Wood's permission to practice before this court," Karsnitz said. "I acknowledge that I preside over a small part of the legal world in a small state. However, we take pride in our bar."
"Prior to the pandemic, I watched daily counsel practice before me in a civil, ethical way to tirelessly advance the interests of their clients," he added. "It would dishonor them were I to allow this pro hac vice order to stand."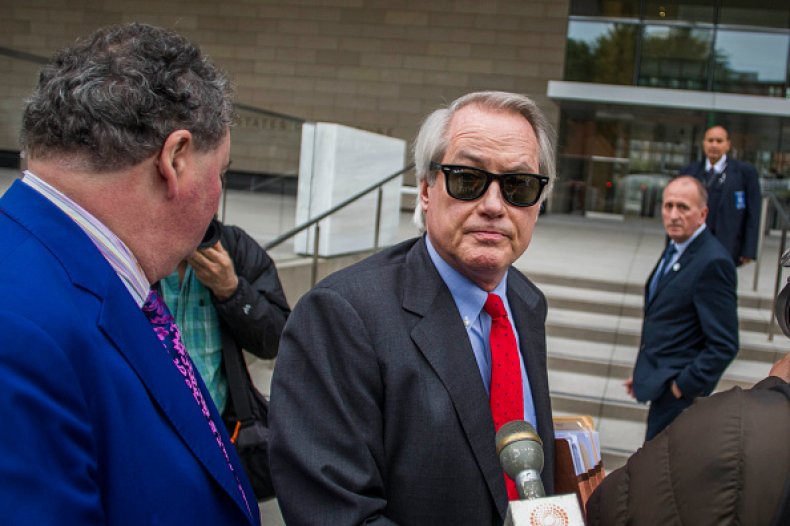 Karsnitz also made mention of Wood's tweets, specifically one calling for the arrest and execution of Vice President Mike Pence and another against Supreme Court Chief Justice John Roberts "too disgusting and outrageous to repeat"—tweets which the judge said partly "incited" the January 6 storming of the U.S. Capitol.
Karsnitz said while he is "not here to litigate if Mr. Wood was ultimately the source of incitement," there is "no doubt these tweets, and many other things, incited these riots."
The decision comes three weeks after Karsnitz ordered Wood to explain why his involvement in the election lawsuits would not disqualify him from representing Page, who is accusing Oath Inc.'s subsidiary Yahoo! of "maliciously" publishing "false accusations" that Page was "secretly plotting with Russian leaders to sabotage the 2016 presidential election."
Page, a former foreign-policy adviser to Trump during his 2016 presidential campaign, was investigated by the Department of Justice but never charged in connection to the election interference.
In his response submitted last week, Wood focused on the fact that none of the conduct Karsnitz pointed too had taken place in his court.
Karsnitz wrote that Wood's response "was not helpful regarding the issue of the appropriateness and advisability" of allowing the attorney to represent Page in Delaware and revoked Wood's privilege to represent Page in the case.
Newsweek reached out to Wood for comment but did not hear back before publication.