Pro-Trump Capitol Rioter Dressed as Antifa Jailed After Saying 'I Got Away With Things'
William Robert Norwood III, a 37-year-old insurrectionist who claimed to have disguised himself as an Antifa protester during the January 6 Capitol riots, has been arrested. He allegedly bragged to family members in a text message group, "I got away with things" during the riots.
The South Carolina resident's own family members reported him to legal authorities. FBI agents believe Norwood broke into Democratic House Speaker Nancy Pelosi's office and stole a souvenir drink coaster from the Capitol before leaving, according to court records. He now faces four federal charges connected to his actions.
Norwood's sibling, identified in court documents as T.D., shared screenshots of text messages in which Norwood allegedly bragged about assaulting a Capitol police officer and stealing the officer's helmet and vest.
"I'm dressing in all black. I'll look just like ANTIFA... I'll get away with anything," Norwood allegedly texted a small chat group on January 5, according to the legal news website Law & Crime.
Two days later, he texted the group, "It worked. I got away with things that others were shot or arrested for."
Norwood allegedly texted that during the riot, he saw Antifa—an abbreviation for anti-fascist protesters—being bussed to the Capitol and escorted into the building by police. However, FBI Assistant Director Steven D'Antuono has said that the investigative federal law enforcement agency has found "no indication" to support any claims of Antifa's involvement.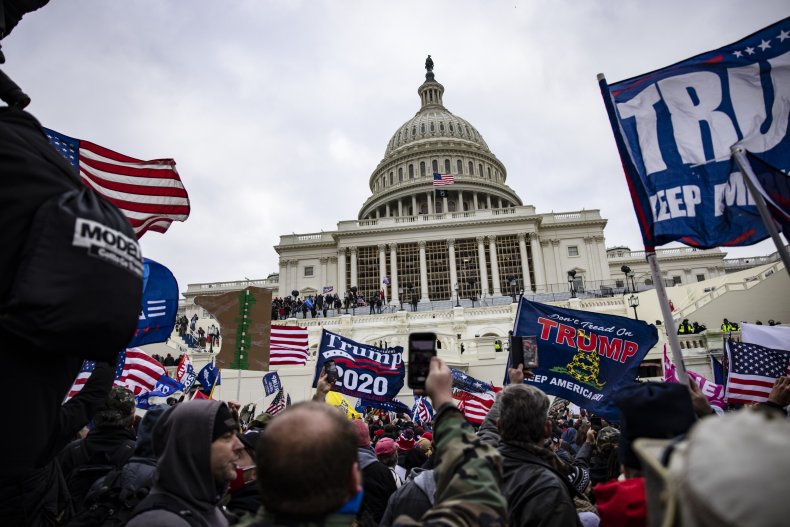 Norwood further allegedly claimed that after an officer shot Ashli Babbitt, an insurrectionist killed while trying to force her way into the House antechamber, the officer "then allowed 'ANTIFA Trump Supporters' to assault him."
"They were ordered to allow Antifa to get away with anything," he allegedly texted. "I was one of them. I was there. I took his shit... I got a nice helmet and body armor off a cop for God's sake and I disarmed him."
Norwood then allegedly shared an image showing himself wearing the police vest under his shirt.
Court documents state that Norwood allegedly claimed to have saved the lives of "several" police officers who had been attacked by Antifa, even though the same officers had allegedly attacked him earlier in the riot. Norwood claimed the officers had attacked him after they saw him wearing his red Make America Great Again hat, a ballcap often worn by supporters of former President Donald Trump.
Text message screenshots included in court documents allege that Norwood called Brian D. Sicknick, the police officer who died in the riots, a "shitty cop" who "deserved it."
When questioned by federal authorities on January 22, Norwood claimed that the large crowd in front of the Capitol had involuntarily shoved him inside of the building.
He told FBI agents that someone else had found the police vest abandoned near the Capitol and put it on him. He also said that he had only bragged about attacking a police officer in the text message group to "sound tough." Investigators said that Norwood claimed most of his text messages were untrue and meant mainly to provoke his sibling over their deep political disagreements.
Benjamin T. Stepp, the assistant federal public defender who represented Norwood during his bond hearing in Greenville, South Carolina, told Newsweek that Magistrate Kevin McDonald ordered Norwood to be held without bail. McDonald also approved Norwood's transfer to Washington D.C. where his trial will be held. As such, Stepp's legal representation of Norwood is complete and non-continuing, Stepp said.
Norwood traveled to Washington D.C. to attend Trump's "Stop the Steal" rally in which Trump continued to baselessly claim that an unprecedented nationwide conspiracy of voter fraud "stole" the election from him.
Five people died in the insurrection and roughly 140 police officers were injured, including one with a broken spine, a lost eye, lost fingers and some with brain damage.
Insurrectionists also shattered windows while trying to access congressional chambers, smeared feces in the hallway and stole computer equipment, potentially constituting a national security breach.
Norwood's claim about Antifa-related insurrectionists echoes a similar conspiracy theory pushed by Republicans like North Carolina Representative Madison Cawthorn, Florida Representative Matt Gaetz and Alabama Representative Mo Brooks. All three previously blamed Antifa and Democratic-sponsored instigators for the violence on January 6.