Pro-Trump Lawyer Lin Wood Swears Under Oath He Has Evidence Mike Pence Is 'Traitor'
Lawyer Lin Wood, a prominent booster of conspiracy theories involving former President Donald Trump, has claimed under oath that he has evidence proving that former Vice President Mike Pence is a "traitor."
Wood stated that he had already handed evidence proving Pence's alleged treachery to the U.S. Secret Service in a court filing on Tuesday. The filing was made in response to an attempt to remove him as the lawyer for Roslyn La Liberte, the plaintiff in a defamation lawsuit against MSNBC anchor Joy Reid.
Reid's attorney cited Wood's claim that Pence is a "traitor" and several other controversial remarks as evidence of his misconduct. Although the Reid suit is being adjudicated in New York state, where Wood is not licensed to practice law, he had previously been granted pro hac vice status, which grants lawyers permission on a case-by-case basis.
"I have credible evidence to support the truth of my description of Former Vice-President Pence as a traitor," Wood wrote in the filing, according to Law & Crime. "I have turned over whistleblower evidence to the United States Secret Service related to Former Vice-President Mike Pence and other high-ranking government officials."
"If desired by this Court, I am prepared to file that evidence along with a considerable amount of evidence of election fraud," Wood continued. "I am not doing so at this time as I do not believe those issues are relevant to the present motion which I believe is nothing more than an effort to smear my reputation and interfere with Plaintiff's Constitutional right to counsel of her choice."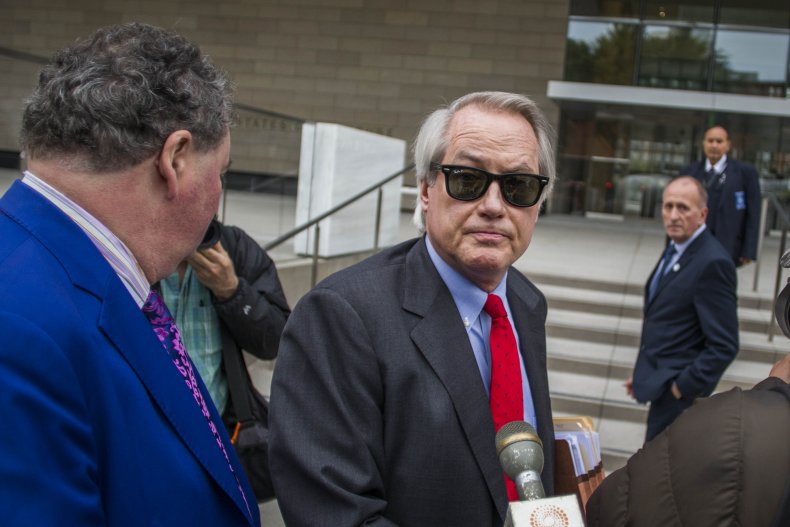 Wood was the subject of considerable media attention in the aftermath of the 2020 presidential election due to his promotion of false claims that Trump did not legitimately lose to President Joe Biden but was instead the victim of widespread voter fraud. Although Wood insisted that many of his claims were backed up by "credible evidence" in Tuesday's filing, he did not provide any further details about the purported evidence.
"The statement in my pleading speaks for itself and I am happy to provide a copy of the entire interview of the whistleblower to Newsweek if you would like to review it to confirm the accuracy of my statements about its contents and former Vice-President Pence," Wood wrote in a statement to Newsweek.
Pence became a target for Wood shortly after the former vice president indicated that he would fulfill his constitutional obligation to certify Biden's win in Congress. Wood tweeted a call for Pence's "execution by firing squad" on January 1. Following the January 6 U.S. Capitol riot, he was suspended from Twitter over fears that another tweet might incite further violence.
Wood was later banned from conservative social media platform Parler over a new call to execute Pence, posting that he hoped to "get the firing squads ready" with Pence first in line to be executed. Other Republicans who refused to commit to the legal impossibility of overturning the election outcome in Trump's favor, including Senate Minority Leader Mitch McConnell, were also referred to as "traitors" by Wood.
During the breach of the Capitol building, while Pence was presiding over a joint session of Congress held to certify Biden's win, pro-Trump rioters could be heard chanting "hang Mike Pence." Trump was impeached by the House for an unprecedented second time for allegedly inciting the insurrection on January 13, with his second impeachment trial in the Senate currently ongoing.
Although it is not clear whether the effort to remove Wood from the Reid case will succeed, questionable pro-Trump rhetoric has already landed him in hot water in other states. A Delaware judge revoked Wood's pro hac vice status in a case involving former Trump campaign adviser Carter Page last month. Georgia bar officials have also asked that he undergo a psychiatric evaluation to avoid being disbarred, although he has declined to do so.
Update 2/10, 4:28 p.m.: This article has been updated to include a statement from Lin Wood.