Pro-Trump Lawyer Lin Wood Urges Supporters to Stock Up on '2nd Amendment Supplies'
Lin Wood, a supporter of President Donald Trump who has also been filing lawsuits on Trump's behalf to overturn the election's results, tweeted on Monday that Trump supporters should stock up on "2nd Amendment supplies," a reference to firearms and ammunition. Wood's tweet seemed to predict coming social unrest over the Electoral College casting its ballots to seat President-elect Joe Biden in the White House.
"Better to be safe than sorry," Woods wrote in his tweet. "Make sure you have PLENTY of water, food, flashlights & batteries, candles, radio, 2nd Amendment supplies, & a plan to meet with leaders of your communities. Remember we only have 1 President at a time. Our leader is @realDonaldTrump, not Biden."
The supplies Woods listed are commonly associated with preparing for civil unrest or disasters in which people's utilities, electricity and access to survival essentials are disrupted.
Linn's tweets came after a weekend of Trump supporters on social media calling for civil war violent uprisings in response to the Supreme Court's decision on Friday to not hear Texas Attorney General Ken Paxton's bid to invalidate election results in Georgia, Michigan, Pennsylvania and Wisconsin.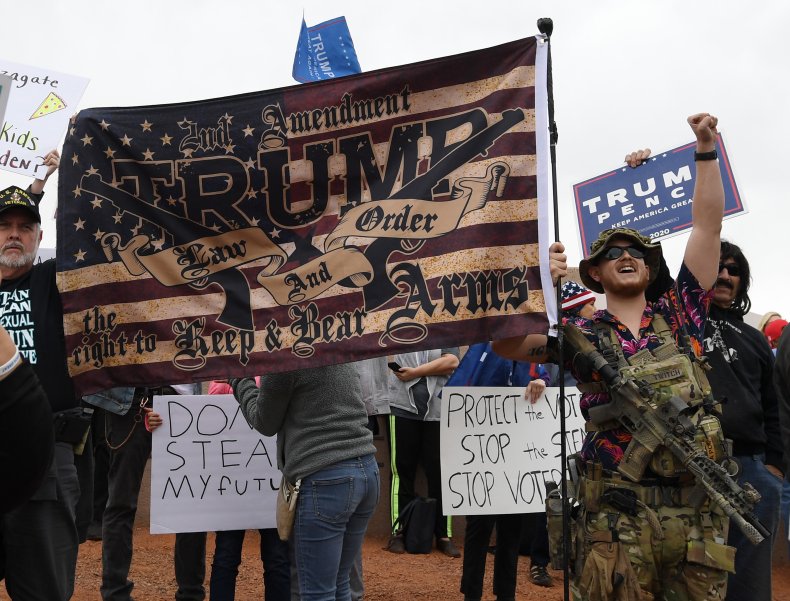 Wood has long repeated Trump's claims that Biden won the last election due to widespread voter fraud. Thus far, Trump and Republicans have had over 50 legal challenges claiming voter fraud dismissed or withdrawn from courts for lack of evidence. None of the challenges have significantly changed the number of votes in Trump's favor.
Nevertheless, Wood joined former Trump campaign attorney Sidney Powell in alleging that rigged voting machines to swung the election's outcome in Biden's favor. A Trump-appointed judge in Georgia, a state that voted for Biden, denied a legal filing that Powell and Wood asking to examine voting machines.
At a December 2 Georgia rally, Wood discouraged Republicans from voting in the state's January 5 runoff election that will determine party control of the U.S. Senate.
"They have not earned your vote," he said. "Don't you give it to them. Why would you go back and vote in another rigged election for god's sake! Fix it! You gotta fix it!"
In response to Wood's comment, Gabriel Sterling, an election official in Georgia, called Wood's statement "Looney Tunes," "crazy" and "insanity."
Wood is also representing Kyle Rittenhouse—the 17-year-old militia member charged with killing two men and injuring a third during a late August uprising in Kenosha, Wisconsin—in court. Wood alleges that Rittenhouse killed the two men in self-defense.
Wood is also a believer in QAnon, a conspiracy theory that believes a shadowy international child trafficking ring of Satan-worshipping Democrats, Hollywood elites and lizard-humanoids are sexually abusing and torturing children in order to extract an allegedly psychedelic, youth-rejuvenating chemical called adrenochrome from their victims' pituitary glands.
Newsweek contacted Wood for comment.