Pro-Trump Pastor Claims Satan Used John Fetterman to Help Democrats
Pro-Trump pastor Shane Vaughn said that Senator John Fetterman, a Pennsylvania Democrat, was used by Satan to help his party keep power in Washington.
Vaughn, a far-right religious leader known for his support of former President Donald Trump and his opposition to vaccines, made the comments about Fetterman during a recent broadcast, playing off the senator's recent announcement that he is receiving treatment for clinical depression. Right Wing Watch, a watchdog group dedicated to monitoring conservative extremism, shared an excerpt from the broadcast to Twitter on Friday.
"Trump cultist/MAGA pastor Shane Vaughn says that Satan used Sen. John Fetterman to help the Democrats keep control of the Senate," the tweet from Right Wing Watch read.
In the clip, Vaughn claimed that Fetterman has been suffering from "mental health problems" since before his 2022 Senate campaign. He also said that he was not glad to see the senator in the hospital, while later dismissing his condition as "being crazy."
"Satan used him to take that [2022 midterm] election and to keep the Senate and now that Satan's done with him, now we send him to the mental nuthouse," Vaughn said. "He just checked himself in for being crazy."
Fetterman, 53, previously served as the mayor of Braddock, Pennsylvania, from 2006 to 2019. He later gained national attention while serving as the lieutenant governor of the state under Governor Tom Wolf from 2019 to 2023, during which time he was outspoken in his opposition to Trump's claims of election fraud.
Last year, Fetterman was elected to the U.S. Senate, filling a seat vacated by departing Republican Pat Toomey and defeating the Trump-backed GOP nominee, TV medical personality Dr. Mehmet Oz. His victory was key in helping the Democratic Party grow its slim Senate majority to 51 seats during last year's midterms.
Republicans have frequently targeted Fetterman's health in attacks against his fitness for office. As a Senate candidate, he notably suffered a stroke on the campaign trail, but was able to bounce back and continue making public appearances, though some noted the occasional rough delivery during his speeches. His sometimes halting speech patterns during a debate with Oz were highlighted by many Republicans and media outlets, with some using it to claim that he was not fit to hold the office of a senator.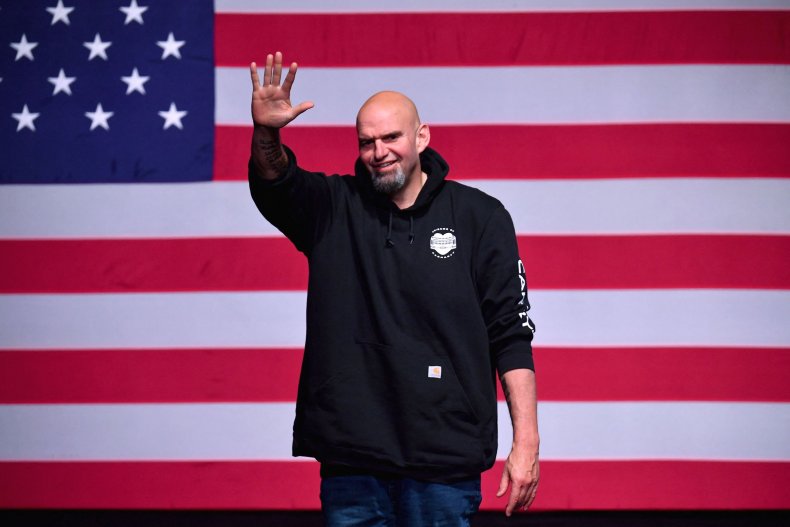 Fetterman checked himself into Walter Reed National Military Medical Center on Wednesday evening to receive treatment for clinical depression, following an evaluation from the Senate's attending physician. Along with the expected Republican criticism, he also received an outpouring of support from fellow lawmakers and voters for being open about his mental health struggles, including from the White House, with President Joe Biden's official Twitter account offering support to him and his wife, Gisele Fetterman.
"John, Gisele — Jill and I are thinking about your family today," Biden tweeted. "Millions of people struggle with depression every day, often in private. Getting the care you need is brave and important. We're grateful to you for leading by example."
Newsweek reached out to Fetterman's office for comment.