Pastor Mark Burns, a loyal supporter of former President Donald Trump and a Republican congressional candidate, said earlier this week that parents and teachers who communicate with children about LGBTQ issues pose a "national security threat" to the United States and added that those found guilty of "treason" should be executed.
He also said that Congress should relaunch the House Un-American Activities Committee (HUAC) to hold people "accountable for treason," a belief he reiterated to Newsweek when reached on Friday for comment.
Burns is currently running for Congress in South Carolina's 4th District against three other Republicans. Ahead of next week's primary election, he has encouraged his supporters on social media to donate to his campaign and vote for him "to help fight to bring God back to the center of American politics and culture."
The pastor was asked how he intends to "fight" to rid the country of the "LGBTQ indoctrination" of children during an appearance on The Stew Peters Show earlier this week. Burns responded by saying he would vote to ensure "abusive parents" are "held for child abuse."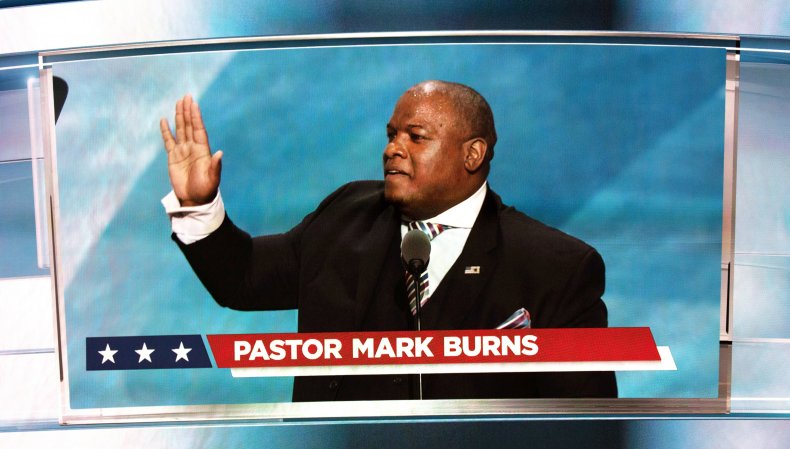 "Because there's no such thing as trans kids, there's only abusive parents. Period," Burns said. He suggested jailing parents "for abusing their child's mind" and added that teachers who are "teaching that LGBT, transgenderism, furries, you know, the groomers, any sexual orientation communication in the school system should be immediately terminated" and "held for abusing young children."
Burns went on to compare the "indoctrination" he said is taking place in America with Nazi Germany.
"That is 1922 Nazi Germany all over again when they were indoctrinating children before Hitler came to power in 1933," Burns said. "They were children in 1922, and they were indoctrinating those young minds then. They are doing the very same thing here in America."
If he is voted into office, Burns said he intends to relaunch HUAC, the committee founded in 1938 and best known for its mission to weed out communist threats. The committee was dismantled in the 1970s, but Burns suggested it is needed to address present-day threats to national security.
"The LGBT transgender grooming [of] our children's minds is a national security threat because it is ultimately designed to destabilize the republic we call the United States of America," Burns said. "That's why, when I'm elected, I don't want to just vote. I want to start holding people accountable for treason to the Constitution. I am going to push to reenact HUAC."
He believes that the committee should be revived to "start holding these people accountable for treason"—as well as South Carolina Senator Lindsey Graham and Senate Minority Leader Mitch McConnell of Kentucky, for signaling a willingness to consider proposed gun legislation.
"Lindsey Graham should be held accountable for treason for supporting Joe Biden's gun-grabbing Second Amendment law that he is trying to push forward," Burns said. Meanwhile, he said McConnell encouraged "other Republican senators to support Lindsey Graham to come after our guns, to confiscate our guns."
"We need to hold people for treason," he added, "start having some public hearings and start executing people who are found guilty for their treasonous acts against the Constitution of the United States of America. Just like they did back in 1776."
Burns told Newsweek that "liberal media like CNN have gone easy on sex abuse and trafficking and grooming of minors, which should be a capitol [sic] offense punishable by death."
"Congress needs the House Un-American Activities Committee to hold accountable any and all members of society—whether they be elected officials, members of the media, or citizens—who work with foreign governments such as China, Ukraine, or any other nation which subverts the national security interests of the United States of America," Burns said.