Biden on Second Amendment: When It Was Passed, 'You Couldn't Buy a Cannon'
President Joe Biden on Monday briefly discussed new gun control options, including a potential ban on assault weapons. He said the Second Amendment of the Constitution, which protects the right to keep and bear arms, "was never absolute."
"You couldn't buy a cannon when the Second Amendment was passed," Biden said. "You couldn't go out and purchase a lot of weaponry."
The president's remarks were made to reporters outside the White House after he had returned from Uvalde, Texas. On Sunday, he and first lady Jill Biden comforted families in the Texas city who lost loved ones in the mass shooting at an elementary school on Tuesday. In that massacre, authorities say 18-year-old Salvador Ramos killed 21 people—including 19 children—using an AR-15 assault rifle. Ramos was killed by law enforcement officers.
Biden has pledged to take measures to help prevent such tragedies in the future.
"It makes no sense to be able to purchase something that can fire up to 300 rounds," Biden said on Monday. "The idea of these high caliber weapons—there's simply no rational basis for it in terms of, about self-protection, hunting—and, remember, the Constitution, the Second Amendment was never absolute."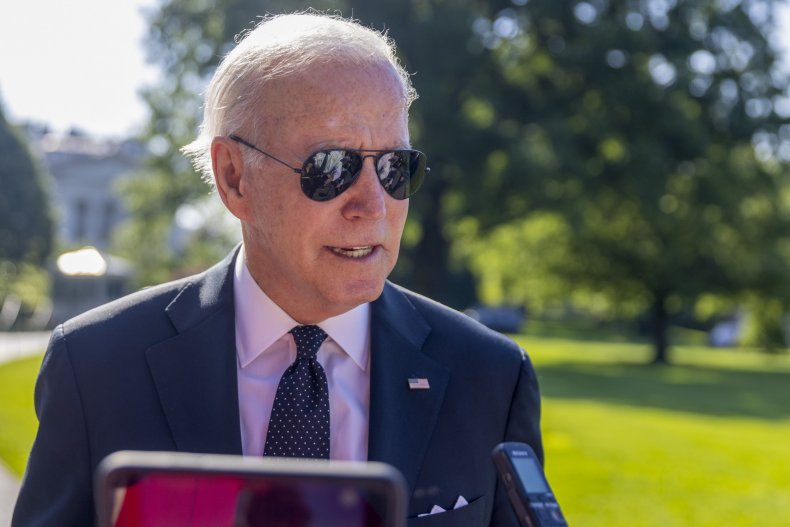 The Bidens visited Robb Elementary School, the scene of the deadly shooting, during their visit to Uvalde. The Associated Press reported that Jill Biden left a bouquet of white flowers for a memorial set up outside the school, and the couple later attended Mass at a local church where several victims' families are members.
The AP wrote that as the president was leaving the church, a crowd of around 100 people outside began chanting "Do something." Biden responded, "We will."
On Monday, Biden told reporters he made a point of not discussing any potential legislation with Republican lawmakers during his Texas trip and instead focused on consoling families who had lost loved ones. However, he said changes would need to be addressed to current gun laws.
NBC News noted Biden seemingly referenced a previous federal assault rifle ban, which expired during former President George W. Bush's administration in 2004, as having affected gun deaths.
"I know what happened when we had rational action before," he said, adding the ban "cut down mass murders."
"So, it's just, as I say, I think things have gotten so bad that everybody's getting more rational about it," Biden said. "At least, that's my hope and prayer."
But while gun control is favored by some leglistators on both sides, there are still some who are reluctant to make changes to the gun control laws in place.
A number of GOP lawmakers, including Senator Ted Cruz and Representative Dan Crenshaw, both of Texas, and Representatives Mo Brooks and Marjorie Taylor Greene have already spoken out against bringing in stricter gun laws in the wake of the Uvalde shooting.
One expert, Joseph Blocher, a professor of law at Duke University whose research interests include constitutional law and the Second Amendment, told Newsweek that he thinks the "real thing" that's going on in the U.S. is a "fear of slippery slopes."
"Gun rights advocates have been very successful over the years in suggesting that to give an inch on guns is to give a mile, that if we allow background checks then the next thing will be registration," Blocher said. "And if there's nationwide registration, the next thing will be a nationwide confiscation."
"Those arguments play on fears and that makes them very hard to rebut, but it's just nowhere near the proposals that people are putting forward today, all of which operate at the margins about keeping prohibited persons from acquiring guns in the first place, having a background check system or keeping guns out of the hands of the dangerously mentally ill with red flag laws," he added.
Newsweek reached out to the White House for comment.