Pro-Trump ReAwaken America Event Canceled Amid Fear of 'White Supremacists'
A pro-Trump ReAwaken America tour event was canceled due in part to concerns about white supremacists.
The ReAwaken America tour is a conservative conference that travels across the United States, featuring several controversial speakers, including former National Security Adviser Michael Flynn and Roger Stone. The tour had a planned stop in Rochester, New York, on August 12 and 13 but was canceled following community concerns.
An online petition urging Scott Donaldson, owner of the Main Street Armory, to cancel the event received more than 2,000 signatures and raised concerns about the impact it might have on the area.
"The 'Reawaken America' tour is likely to draw white supremacists and other members of hate groups from around the northeast to our community," the petition said.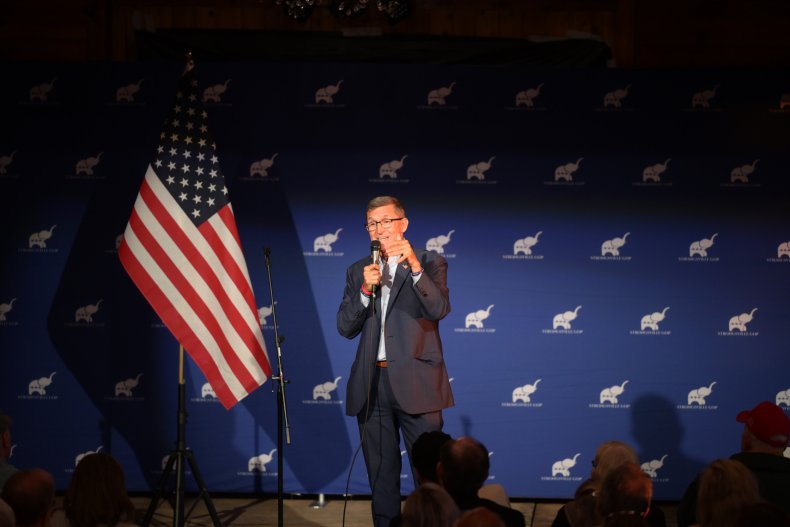 On Monday, Donaldson confirmed in a statement reported by WROC that he was canceling the event. He wrote that while he believes everybody "has a right to their own opinions and beliefs," he decided to cancel due to "concern from our community, both good and bad."
"I have always appreciated the support from our city and I believe it is my turn to show my support back," he wrote.
Since April of 2021, the ReAwaken America tour has stopped in cities across the country. Most recently, on July 8 and 9, the tour held an event in Virginia Beach, Virginia.
In May, during a stop in Myrtle Beach, South Carolina, speakers touched on topics such as "demonic territory" and a "satanic portal" over President Joe Biden's White House. The tour has also faced scrutiny for featuring speakers who have promoted the far-right conspiracy theories of QAnon.
Clay Clark, the tour's organizer, told WROC that finding venues willing to allow the event has been a problem in the past, and he has been trying to find a different venue in Rochester for the past few months.
The conservative event prompted one band to announce it would not play at the venue.
"Re Rochester show at the Armory. We have cancelled the event because a number of people reached out letting us know they were boycotting the venue because of the Reawaken America tour. We were told the event was cancelled and later learned it was secretly still moving forward," alternative pop band Japanese Breakfast tweeted.
Community leaders, including Monroe County legislator Mercedes Vazquez Simmons, also spoke out against the event.
"We don't want it here. We don't want it in Rochester. We don't want it in the county of Monroe. We don't want it in the state of New York," she said, WROC reported.
The debate about the event comes just weeks after tension arose when a "freedom convoy" was scheduled for the area. And last week, a local police officer was placed on leave after allegedly handcuffing an EMT trying to get a patient into a hospital, adding to the tension.
Newsweek reached out to Main Street Armory for comment.