Pro-Trump Senate Candidate Josh Mandel Suggests 'Liberal Forces' Behind Pandemic, Capitol Riot
Ohio Republican Senate candidate Josh Mandel voiced support for conspiracy theories that "liberal forces" and possibly the "deep state" were behind the COVID-19 pandemic, anti-racism protests in 2020, and the attack on the U.S. Capitol that was actually carried out by supporters of former President Donald Trump.
Mandel has expressed staunch pro-Trump views and has already been endorsed by the former president's former legal adviser Jenna Ellis. The GOP Senate hopeful made his conspiratorial remarks during a recent interview with American Media Periscope.
He said that with "respect to coronavirus, [the] January 6th [Capitol riot] and all—the entire BLM [Black Lives Matter] and Antifa riots and looting—I think a lot of this stuff were organized operations and a lot of it was funded by [liberal billionaire George] Soros and money liberal forces."
Mandel continued, saying that his "guess is that the deep state was very involved with a lot of these operations as well."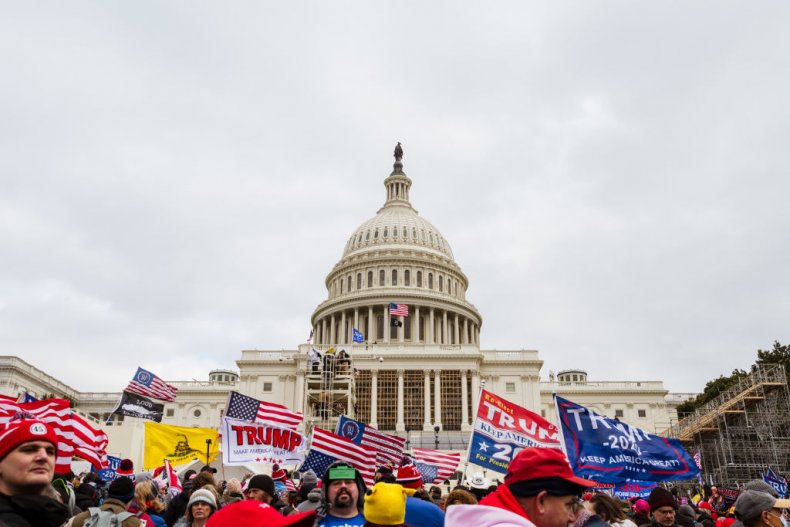 Barbara Comstock, a Republican who formerly served Virginia in the House of Representatives from 2015 to 2019, criticized Mandel's remarks in a Saturday tweet.
"I don't think @JoshMandelOhio actually believes this. But he says it because he thinks promoting conspiracies will get him the nomination - which is worse and makes him both unfit and unelectable," Comstock wrote.
A number of pro-Trump Republicans have falsely claimed that the January 6 attack targeting the U.S. Capitol was actually carried out by left-wing groups. This claim has no basis in fact. The rioters were Trump supporters and some have even defended themselves in court by asserting they were simply doing what they thought the then-president wanted them to do.
The Black Lives Matter and antifa protests began in mass following the May 2020 murder of George Floyd at the hands of a Minneapolis police officer. Floyd, an unarmed Black man, became an icon for the left-wing protest movements that spurred large-scale demonstrations against racism and police brutality.
Conservatives have long blamed Soros for a range of political issues. The billionaire has donated large sums to a number of liberal causes in the U.S. and Europe in a stated effort to encourage stronger democracies. Defenders of Soros, who is Jewish, have said that criticism towards him often uses anti-Semitic tropes—that wealthy Jews use their money and influence to control the world.
When it comes to the COVID-19 pandemic, the novel virus is known to have first emerged in Wuhan, China. Although some conspiracy theorists have claimed that liberals helped create the pandemic with China in a bid to bring Democrats to power, this allegation is baseless and not substantiated by evidence. Some scientists believe the virus may have leaked from a lab in China, but many also believe COVID-19 developed through a natural process in nature.
Newsweek reached out to Mandel's campaign for further comment but did not immediately receive a response.