What We Know About George Floyd's Death So Far
The death of George Floyd has sparked national outrage since video of his final moments emerged earlier this week, with politicians, police and other high-profile names demanding justice for the 46-year-old.
The footage shows Floyd being pinned to the ground by a Minneapolis police officer who knelt on Floyd's neck for several minutes.
During this time, Floyd can repeatedly be heard saying "I can't breathe"—reminiscent of the final words uttered by Eric Garner before his death at the hands of an NYPD officer during a chokehold in July 2014.
The Federal Bureau of Investigation is looking into the incident involving Floyd, with calls mounting for the four officers involed in the arrest to face criminal charges.
The Minneapolis Police Department confirmed that body worn cameras were on and activated during this incident, but it is unclear if the footage will be made public.
The Minneapolis Parks Police Department has released redacted body camera footage after bystander video showed one of the department's squad cars in the background.
George Floyd's arrest
According to the Minneapolis Police Department's original statement, Floyd was detained after officers responded to a report of a forgery in progress. It is alleged that Floyd had tried to use a counterfeit $20 bill at a deli store.
Police said they later found a suspect sitting on top of a blue car who appeared to be under the influence.
"He was ordered to step from his car. After he got out, he physically resisted officers. Officers were able to get the suspect into handcuffs and noted he appeared to be suffering medical distress. At no time were weapons of any type used by anyone involved in this incident."
Surveillance video appears to show Floyd was not resisting arrest after being placed in handcuffs, but it is unclear what occurred prior to him being handcuffed or before he is pinned to the ground.
Video of George Floyd
The outcry surrounding Floyd's death stems from a nine-minute video posted online which shows one of the officers kneeling on his neck.
The officer's knee remains on Floyd's neck for several minutes, even while the 46-year-old repeatedly cries out "I can't breathe."
Around five minutes into the video, Floyd seems to lose consciousness. Several onlookers urge that his pulse be checked. The officer's knee remains on Floyd's neck during this entire time.
Minutes later, an ambulance arrives and transports Floyd to Hennepin County Medical Center, where he was later pronounced dead.
The Minneapolis Police Department titled the news release detailing the incident as "Man Dies After Medical Incident During Police Interaction."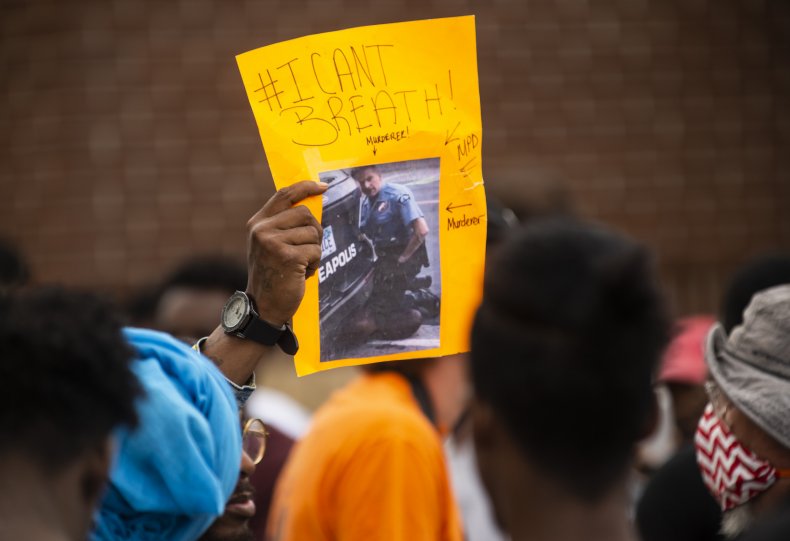 Police officers fired
The four police officers seen in the footage were later fired. They have been identified as Officers Derek Chauvin, Thomas Lane, Tou Thao, and J Alexander Kueng.
Chauvin has been revealed as the officer who placed his knee on Floyd's neck for several minutes. As reported by The Star Tribune, Chauvin has been involved in several police shootings over his 19-year-old career with the department.
Images of Chauvin purportedly wearing a "Make Whites Great Again" hat and standing onstage at a Donald Trump rally have since been dismissed as hoaxes.
There have also been demonstrators outside the homes of Chauvin and Mike Freeman, the Hennepin County prosecutor who will decide if charges are to be brought forward over Floyd's death.
Minneapolis Mayor Jacob Frey questioned why Chauvin has not faced criminal charges over Floyd's death.
"I've wrestled with, more than anything else over the last 36 hours, one fundamental question: Why is the man who killed George Floyd not in jail?" Frey said during a press conference.
"If you had done it, or I had done it, we would be behind bars right now. And I cannot come up with a good answer to that."
An online petition demanding all four officers face criminal charges has gained one million signatures.
Minneapolis protests
There have been two days of protests in the city of Minneapolis from people demanding justice for Floyd's death.
Tear gas and rubber bullets have been fired at protesters in an attempt to break up the demonstrations. Several businesses have also been looted or vandalized during the disorder.
At least one person died after being shot during the second night of protests in the city.
Police said they were called to reports of a stabbing in the vicinity of Bloomington Avenue and Lake Street shortly after 9 p.m. on Wednesday and found a wounded man on the sidewalk.
It was later found that the man was suffering from a gunshot wound and not a stab wound as originally reported.
"Officers checked and found that the man had trauma present and he was not breathing, nor did he have a heartbeat," Minneapolis police spokesman John Elder said.
The victim was transported to Hennepin County Medical Center, where he was pronounced dead.
Mayor Frey condemned the violence which had erupted on the second night.
"Please, Minneapolis, we cannot let tragedy beget more tragedy," he tweeted. "The area along Lake has become unsafe. We are asking for your help in keeping the peace tonight."
Politicians demand answers
Several lawmakers have spoken out about the actions of the officers and decried the latest incident of an unarmed black male dying at the hands of the police.
New York Congresswoman Alexandria Ocasio-Cortez tweeted that Floyd would still be alive today if it wasn't for the "status quo" of police brutality.
"The impunity of police violence is a systemic problem we must face to save lives," she said. "Police brutality is now a leading cause of death for young Black men in the US. The status quo is killing us."
Minnesota Rep. Ilhan Omar also said she is "heartbroken [and] horrified at the needless death" of Floyd while also urging peace in the city amid the protests.
"Frustrated that we keep finding ourselves in this position as a city. Angry that justice still seems out of reach," Omar tweeted.
"Violence only begets violence. More force is only going to lead to more lives lost and more devastation. We must prioritize the safety of our community. We can rebuild, but we cannot bring back lives. We should and must protest peacefully. But let us end the cycle of violence now."
Presumptive Democratic presidential nominee Joe Biden said: "George Floyd deserved better and his family deserves justice. His life mattered. I'm grateful for the swift action in Minneapolis to fire the officers involved-they must be held responsible for their egregious actions."
President Donald Trump said the FBI and the Department of Justice are already "well into an investigation as to the very sad and tragic death in Minnesota of George Floyd."
"I have asked for this investigation to be expedited and greatly appreciate all of the work done by local law enforcement," Trump said. "My heart goes out to George's family and friends. Justice will be served!"
Sports stars including LeBron James and Dallas Cowboys linebacker DeMarcus Lawrence are also among those to have spoken out against Floyd's death.
The University of Minnesota announced that it will limit its relationship with the Minneapolis Police Department in the wake of Floyd's death.
"Our hearts are broken after watching the appalling video capturing the actions of Minneapolis Police Department (MPD) officers against George Floyd leading to his tragic death," School president Joan Gabel said in a letter to staff and students.
"As a community, we are outraged and grief-stricken. I do not have the words to fully express my pain and anger and I know that many in our community share those feelings, but also fear for their own safety. This will not stand."
Gabel said the department will now no longer be contracted to control crowds at large on-campus events such as football games.