New George Floyd Video Shows Him Compliant and Handcuffed Early in Fatal Encounter
Newly discovered video footage of George Floyd, a black man who died on Monday after Minneapolis police kneeled on his neck during his arrest on the same day, seems to show Floyd handcuffed and cooperating with police during his arrest.
While the video only shows one phase of the arrest process and has no audio, it potentially contradicts the officers' claims that they knelt on Floyd's neck because he was resisting arrest.
In the video, Floyd can be seen handcuffed and sitting against a wall along the sidewalk. An officer hoists Floyd from his seated position and begins walking behind him towards the squad car. While Floyd turns to address the officer and shakes his head at a second officer who walks up to assist, Floyd doesn't seem to resist the officers' handling or their walk towards the car.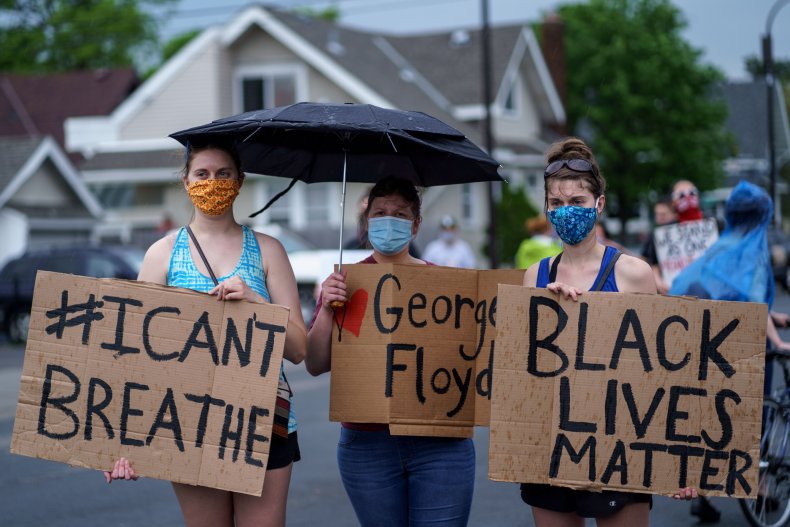 This video is just one of several that documented Floyd's arrest on Monday. In another video, Floyd seems to struggle with officers as they pull him from his vehicle. Yelling can be heard in that video as two officers approach to remove Floyd from his vehicle.
In the video showing his final moments, Floyd can be heard repeatedly saying he cannot breathe and he later appears to lose consciousness as an officer kneels n his neck. Floyd was later pronounced dead at the Hennepin County Medical Center.
On Tuesday, the Minneapolis Police Department fired four officers involved in Floyd's death. The department didn't release the names of the four officers.
On Tuesday evening, Minneapolis police appeared to use tear gas on a group of protesters demonstrating against police for Floyd's death. Thousands of protesters met at the scene of Floyd's death. Some carried signs reading "I can't breathe," the words Floyd said as officers detained him.
Protesters threw objects, including water bottles, at police vehicles as part of the demonstration. Windows in the SUVs were broken.
Floyd's family is being represented by attorney Ben Crump, the lawyer who is also representing the families of slain Georgia jogger Ahmaud Arbery and Kentucky EMT Breonna Taylor who was killed in her home by police officers.
"Being black in America should not be a death sentence," Minneapolis Mayor Jacob Frey said in an apology to Floyd's family and the black community on Tuesday. "When you hear someone calling for help, you're supposed to help. This officer [who knelt on Floyd's neck] failed in the most basic, human sense."
Newsweek reached out to Minneapolis Police Department for comment. This story will be updated with any response.