Professor Suspended for Calling Students 'Vectors of Disease' Requests Return to Work
A Michigan professor at Ferris State University asked a judge to reinstate him after being suspended for making a video that included profanity and called his students "vectors of disease."
Barry Mehler, whose LinkedIn states he teaches "the history of science and the interface between science and racism" and claims he "is the founder and director of the Institute for the Study of Academic Racism, released a 14-minute video and the beginning of the term.
Newsweek previously reported that in the video, he wore an astronaut-style helmet and said students have no control over their grades and covered topics including attendance, plagiarism and COVID-19 policies. The video has more than 500,000 views.
Mehler was suspended with pay on January 11 and is currently being investigated for violating his contract and the university's employee dignity policy.
"I was shocked and appalled by this video. It is profane, offensive and disturbing and in no way reflects our university or its values," said university President David Eisler.
However, Mehler's attorneys argued his First Amendment rights were violated.
"COVID-19 is deadly. But at Ferris State University, freedom of speech and academic freedom are deadlier," they wrote.
Speaking to Inside Higher Ed, Charles Bacon, the Ferris State faculty union president and professor, said the union views the suspension as an "attack on academic freedom and a part of the continued attempt nationally to enforce uniformity on faculty and intimidate higher education faculty by suppressing intellectual discourse."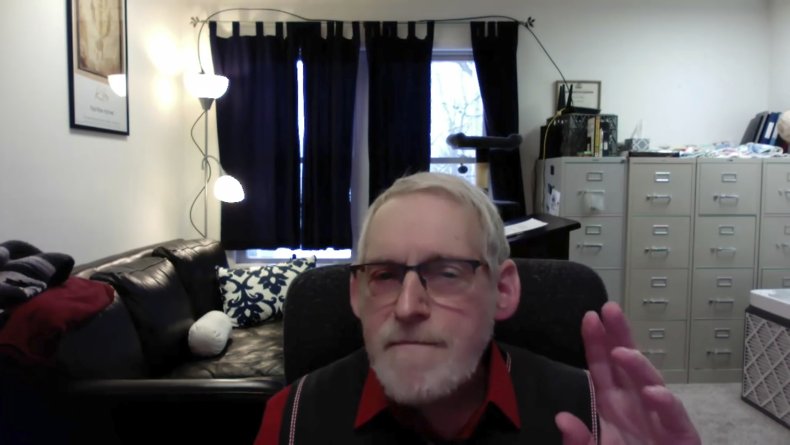 Mehler, who is 74, also said in the video, "If you won't expose your grandpa to a possible infection with COVID, then stay the f--k away from me."
In a 31-minute interview with WTVG, Mehler explained his video, saying he wants to encourage his student to think.
According to the AP, Mehler's attorneys echoed this statement in federal court filings, saying he was "making his students think critically about the issues of the day."
In the interview with WTVG, Mehler said he received support from his video.
"The letters are from people who are vulnerable, people who are afraid to speak, people for who my talk really touched 'thank god there is someone who can speak up for us,' and it was all about COVID," Mehler said. "People don't want to die. Institutions need to require vaccine mandates."
According to the AP, Ferris State encourages vaccination but does not require students to be vaccinated.
"It's putting its faculty at risk, putting students at risk," Mehler said.
Bacon added the union tried to create accommodations over growing concerns for face-to-face classes; however, the university denied the option to convert classes to online. However, according to Inside Higher Ed, students may request remote accommodations.
In the interview, Mehler said that he published his initial video as an unlisted video, which people could only access if they had the link.